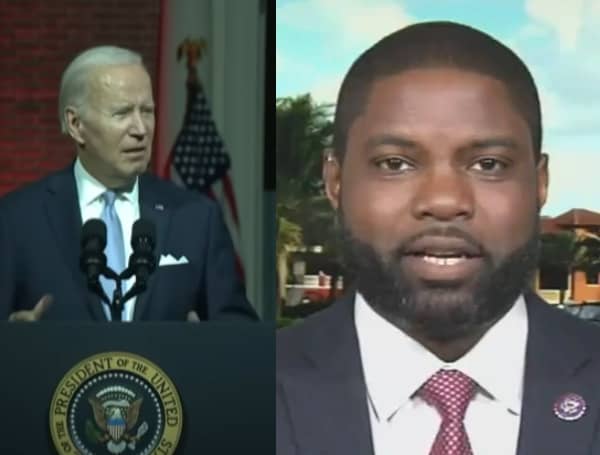 U.S. Rep. Byron Donalds pushed back against President Joe Biden's narrative about "MAGA Republicans" being a threat to the survival of the country.
Rather, it is "us MAGA Republicans," said Donalds, who are trying to save the country from Biden.
The Naples Republican made his remarks Tuesday on Fox News. Host John Roberts asked the GOP congressman about Biden recently walking back his rhetoric from last week's hateful, dystopian speech in which he demonized Republican leaders and voters as a threat to the nation.
Roberts noted Biden castigated "extreme MAGA Republicans" in Congress as being filled with "anger, violence, hate and division" in a speech earlier this week, even after he campaigned as a unifier who in his inaugural address advocated "unity, hope, and optimism."
"There is no unity, Joe Biden does not want unity," Donalds said. "What Joe Biden wants is for every American to bend the knee to his agenda. What these Senate Democrats want is for you to do the same."
In the news: Florida Gubernatorial, U.S. Senate Races Close As Battles Loom For "Persuadable Voters"
"They don't want competition, they don't want debate, they want to actually squelch and put down free speech. That's why they are working with social media companies to stop Americans from communicating on a myriad of topics, including COVID-19."
"People need to understand this," added Donalds. "Joe Biden's idea of unity is you do it his way, and then you don't challenge him. Because everybody sees it any time he's challenged by a member of the press or even a citizen in the audience, what does he start doing? He starts yelling, he starts pointing fingers. That's not leadership. That's demagoguery, that's actually an autocrat."
Donalds noted that looking at Biden's actions, "whether you want to talk about student loans or the fact that he ignores immigration law or anything else in between, this man does not care about the Constitution or the rule of law." said Donalds.
"Actually," he added, "Republicans do, that's why us MAGA Republicans, we are the ones fighting for the soul of America, we are the ones having to save America from Joe Biden and the Democrats."
Donalds also pointed out the hypocrisy of Democrats claiming "these Republicans are dangerous," but then supporting for election "America-first Republicans," who are "people who are committed conservatives, who are not interested in the games of Washington, D.C., they're interested in actually getting the job done for the American people."
As The Free Press recently reported, Democratic PACs and operatives have spent more than $46 million in supporting Trump-style Republicans in primary elections nationally, believing they could be more easily beaten in the general elections.
In the news: Georgia GOP Senate Candidate Herschel Walker Draws Clear Comparison Between Him And Opponent
"That's because what the Democrats believe – I think it's wrong – but what they believe is that if you make Donald Trump the center of the ballot, they win and Republicans lose and they get to keep their majorities," Donalds told Roberts.
"But I've got a funny thing to tell them: they're going to be flat wrong. Because what the American people have seen in 19 months with Joe Biden at the helm is that the Democrat agenda has failed all Americans and people really want in our country, they want to go back to 2019 America."
That was a moment "when our economy was growing, our streets were safe, our border was secure, our standing around the globe was number one, numero uno, and we actually had a president who was doing the job," Donalds said. "You might have disagreed with something he tweeted here or there but you knew the job was done by the American president. Nobody has confidence in Joe Biden right now."
Roberts then played a clip from the 2012 election, when then-Vice President Biden told black voters that GOP candidate Mitt Romney was going to "put y'all back in chains."
Donalds replied that such "demonizing" and "gaslighting" was typical for Biden.
"He always does this when he's not getting his way," Donalds told Roberts. "Because the man is not terribly bright, he's obviously wrong when it comes to all the issues facing America, and he's never actually had to hold a job in the real world and actually live up to the consequences of what he has actually done."
"It's time for America to turn the page. That starts this November."
The views and opinions expressed in this commentary are those of the author and do not necessarily reflect the opinion of The Free Press.
Visit Tampafp.com for Politics, Sports, and National Headlines. Support journalism by clicking here to our GiveSendGo or sign up for our free newsletter by clicking here.
Android Users, Click Here To Download The Free Press App And Never Miss A Story. Follow Us On Facebook Here Or Twitter Here.
Copyright 2022 The Free Press, LLC, tampafp.com. All rights reserved. This material may not be published, broadcast, rewritten, or redistributed.
Login To Facebook From Your Browser To Leave A Comment