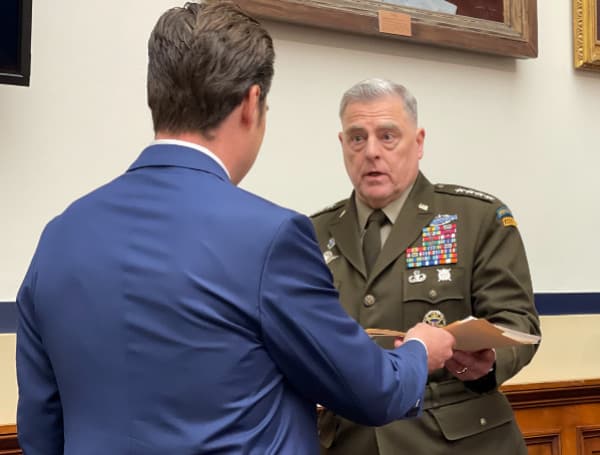 Rep. Matt Gaetz on Wednesday proclaimed victory after a U.S. Air Force base in Nevada canceled a planned event featuring drag queens.
The news came a week after the Fort Walton Beach Republican issued a letter to Defense Secretary Lloyd Austin and Joint Chiefs of Staff Chairman Gen. Mark Milley complaining about the "pervasive and persistent use of taxpayer dollars for drag events."
As The Free Press reported last week, Gaetz believed he had secured a commitment from the Pentagon earlier this year to end taxpayer-funded drag shows on military installations.
In the news: After Commitment From Gen. Milley, Rep. Gaetz Drills Pentagon About New Military Drag Shows
Yet in his letter to Austin and Milley, the congressman noted Nellis Air Force Base in Nevada had recently announced a "family-friendly" drag show organized by the Nellis LGBTQ+ Pride Council. The event was scheduled for June 1.
"In this latest outright attack on children, this event is being advertised as having no minimum age requirement," Gaetz wrote. He also called on Austin to formally retract and apologize for his March 29 testimony to the House Armed Services Committee that the Pentagon does not fund or support drag shows.
The letter apparently struck a chord.
In the news: Rep. Matt Gaetz: FBI Paid Cash Bonuses To Leaders Who Targeted Conservative Americans
"Secretary of Defense Lloyd Austin and Chairman of the Joint Chiefs of Staff Gen. Mark Milley told the Air Force it is not Defense Department policy to fund drag shows on bases and the show should be canceled or moved off base," NBC News reported on Wednesday about the Nellis AFB event.
Gaetz took a victory lap Wednesday night.
"HUGE VICTORY: The Department of Defense has CANCELED a scheduled 'child-friendly" drag show after I demanded answers from @SecDef Austin and General Milley!" Gaetz tweeted.
"Drag shows should not be taking place on military installations with taxpayer dollars PERIOD!"
Android Users, Click To Download The Free Press App And Never Miss A Story. Follow Us On Facebook and Twitter. Signup for our free newsletter. 
We can't do this without your help; visit our GiveSendGo page and donate any dollar amount; every penny helps.
Login To Facebook To Comment