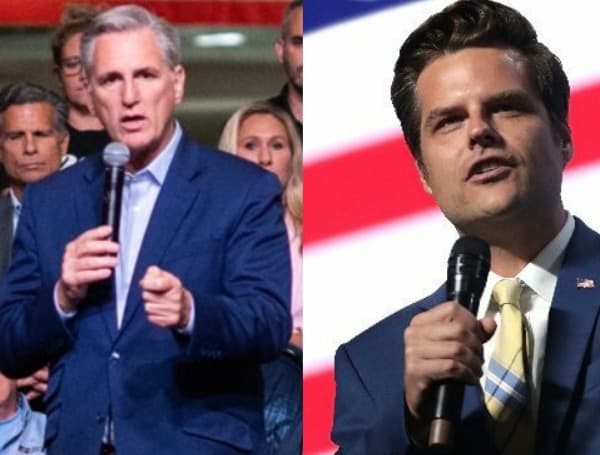 Rep. Matt Gaetz praised House Speaker Kevin McCarthy for pledging to release thousands of hours of previously unseen video footage of the January 6, 2021, riot at the U.S. Capitol.
The Fort Walton Beach Republican said the videos could reveal the extent of federal involvement in the riot and whether there is any evidence that may undermine the government's case against some of the rioters.
"Bravo, Speaker McCarthy," Gaetz told Fox News host Tucker Carlson in an interview on Friday.
"Speaker McCarthy, to his great credit, understood this was important to a great many of us. And when we get these 14,000 hours out, we're going to be able to see the extent to which the federal agents and assets that were present that day may or may not have increased the level of criminal acuity. We're going to be able to see their coordination with one another."
Gaetz was reacting to McCarthy's recent announcement that House Republicans would release 14,000 hours of surveillance camera footage from the riot.
In the news: Rep. Gaetz Pushes Allowing C-SPAN's Cameras To Roam The House Floor As Action Happens
"I think the American public should actually see all what happened instead of a report that's written for a political basis," McCarthy told reporters recently, referring to the Democrats' special Jan. 6 committee that dumped the blame on former President Donald Trump.
In his interview, Gaetz also noted that the videos could reveal exculpatory evidence indicating people inside the Capitol never intended to violate the law, "even though they may have been technically out of compliance."
Rather, they argued the government has refused to show the video to protect the FBI.
"It is interesting, though, that at every time — from the JFK files to 9/11, to now January 6th — it's our own government, it's our own Department of Justice that seems to stand in the way of transparency," Gaetz told Carlson.
Gaetz maintained that, based on whistleblower interviews, there were federal agents and assets on the Capitol grounds that day. 
In the news: Rep. Gaetz Said It Was 'About Draining The Swamp' Before Fellow Republican Went On Attack
"What they really want to do is protect those people," added Gaetz. "They don't want the answers to the questions about coordination, exculpation, criminal acuity, and I think that is what they are trying to preserve."
"Usually when the Department of Justice is standing in the way of disclosure, it is because they are trying to protect against embarrassment, not protect our safety," Gaetz said.
In a follow-up tweet on Friday, he added, "The American people deserve to know the truth about what happened on January 6th. We have demanded to see all the footage. Transparency is coming."
Android Users, Click Here To Download The Free Press App And Never Miss A Story. Follow Us On Facebook Here Or Twitter Here.
Login To Facebook From Your Browser To Leave A Comment