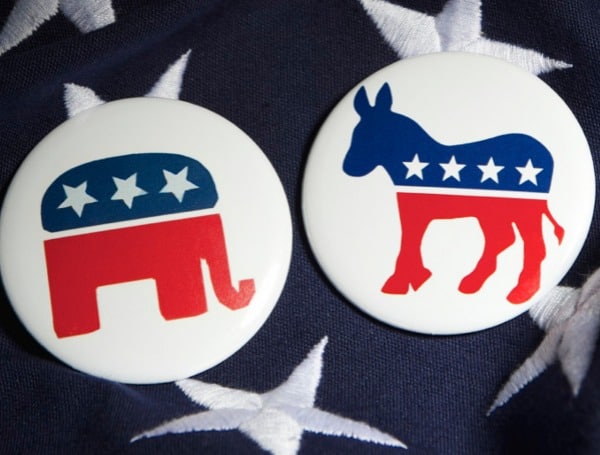 While they chant "diversity is our strength" and relentlessly advocate "equity" and "inclusion," the Democrats had no problem turning to more than a dozen 'Great White Hopes' to keep minority Republicans out of Congress, a conservative website has noted.
"Republicans nominated a historically diverse, equitable, and inclusive slate of candidates in the 2022 midterms elections," the Washington Free Beacon reported last week. Yet, the Democrats stood "athwart the GOP's efforts to abolish hate and create a culture of diversity and inclusion."
"Alas, more than a dozen Republican minorities were swept away Tuesday by what some are calling the Democratic Party's 'white wave.' In what can only be viewed as a deliberate act of bigotry, Democrats nominated white candidates to run against GOP candidates of color and proceeded to defeat those candidates, thereby excluding them from the halls of power."
The Free Beacon noted there were some GOP victories.
Sens. Marco Rubio of Florida and Tim Scott of South Carolina were two of them. Rubio is Hispanic, while Scott is black.
Also on the Republicans' plus side were Texas Gov. Greg Abbott, who remains America's only wheelchair-bound governor, and Rep.-elect Josh Brecheen of Oklahoma, who will be the only House member from the Choctaw Nation.
The Free Beacon also pointed out that if Republican Herschel Walker beats Democratic Sen. Raphael Warnock in Georgia's runoff election next month, the Republicans will have more blacks in the U.S. Senate than the Democrats do.
But then there was the liberal "white wave" that washed away 15 prominent GOP candidates.
They included:
Dr. Mehmet Oz, Senate candidate in Pennsylvania. Oz is Turkish-American.
Joe Pinion, Senate candidate in New York; Carla Spalding, House candidate in Florida; Jennifer-Ruth Green, House candidate in Indiana; John Gibbs, House candidate in Michigan; La'Ron Singletary, House candidate in New York; and Charlotte Bergmann, House candidate in Tennessee. They are all black.
Catalina Lauf, House candidate in Illinois; Jenny Garcia Sharon, House candidate in Texas; and Yesli Vega, House candidate in Virginia. They are all Hispanic.
Dean Tran, House candidate in Massachusetts; Whittney Williams, House candidate in Michigan; Aaron Bashir, House candidate in Pennsylvania; Allan Fung, House candidate in Rhode Island; and Hung Cao, House candidate in Virginia. They are all Asian-American.
"Anyone familiar with the mainstream media's coverage of Hillary Clinton and Barack Obama knows that simply running against a woman or person of color is the moral equivalent of trying to exclude all women and all people of color from ever holding political office," the Free Beacon argued.
"It is tantamount to committing violence against an entire community of vulnerable citizens."
Android Users, Click Here To Download The Free Press App And Never Miss A Story. Follow Us On Facebook Here Or Twitter Here.
Login To Facebook From Your Browser To Leave A Comment