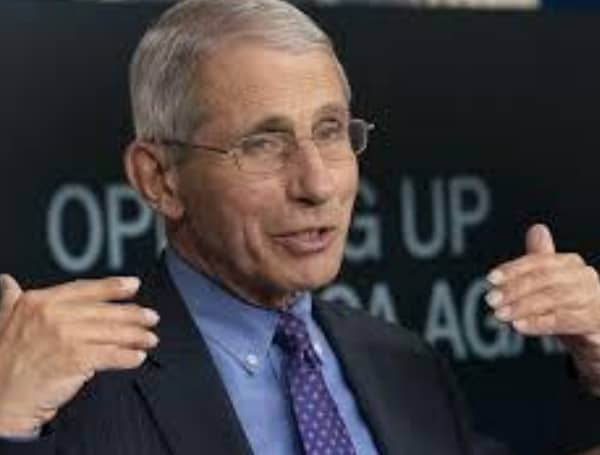 Dr. Anthony Fauci would give Cruella De Vil a run for her money.
The activist group White Coat Waste Project, or WCW, has offered its latest installment on the federal government's Fauci-funded experiments on dogs — which ultimately led to the canines suffering and being euthanized
The group reported on Wednesday that it had obtained documents revealing that the National Institutes of Health and the Fauci-led National Institute for Allergy and Infectious Diseases, or NIAID, spent $10 million to subject dogs to vicious attacks by sand flies.
Related: Post "Beaglegate" Rep. Steube Introduces Legislation To Cut Funding For NIH Testing On Dogs
The project, conducted at the University of Iowa, involved "drugging abandoned pet dogs, locking them in mesh cages, and strapping capsules full of hungry sand flies to the dogs' ears so the insects can 'feed' on the dogs," WCW reported. "When the experiment is over, the dogs are killed and dissected."
According to records released by WCW, researchers were studying the transmission of Visceral leishmaniasis, commonly known as the "black fever." The flies reportedly transmit black fever from canines to humans.
Left untreated, black fever is extremely fatal, as 95% of people who contract it die. But the disease is also highly treatable, and patients who receive medication and care recover within a few months.
It's also extremely rare. The WHO says between 50,000 and 90,000 cases are reported worldwide annually. They occur primarily in South America and the Middle East.
The WCW noted that to learn more Iowa studied at least a dozen foxhounds that were "donated" by unnamed individuals between 2017 and 2019.
"The documents show that all of the dogs were killed," WCW reported.
Related: Activist Group That Exposed Dr. Fauci's Ghastly Beagle Research Says It Was Being Set Up For A Smear Job By Media
Researchers admitted to destroying some records of their trials and have refused to answer questions about where the dogs came from.
The federal grants funding the research are expected to expire in June.
With this report, WCW has built on its file of previous Fauci-funded dog experiments, in which dogs were routinely abused and later killed in the name of science, including testing an experimental seasonal allergy drug.
The most heartbreaking case involved beagles being subjected to sand flies with their vocal cords cut so researchers did not have to listen to their cries of agony.
Because of WCW, Congress seeks to adopt legislation that defunds all of the NIH's canine experiments.
In a statement, Desiree Bender, WCW's campaign manager, noted, "As White Coat Waste Project's #BeagleGate investigations have revealed, NIH-funded white coats in the U.S. and abroad are wasting millions of taxpayer dollars to inject puppies with cocaine, de-bark, and poison dogs, infest beagles with flies and ticks, and force dogs to suffer bleeding disorders and septic shock."
Related: US Sen. Paul, Colleagues Demand Fauci Answer For 'Inhumane' Experiments On Beagle Puppies
"Now, we've made the disturbing discovery that discarded pet dogs are being drugged, caged, and eaten by sand flies in painful and deadly taxpayer-funded experiments by the NIH."
"A supermajority of Americans across the political spectrum wants Congress to cut NIH's wasteful spending on dog experiments, which has already been done at other federal agencies like the VA following WCW's investigations and lobbying," Bender added.
"We're proud to be working with Congress to pass the bipartisan Protecting Dogs Subjected to Experiments Act to ensure taxpayers aren't forced to pay for painful, deadly, and wasteful NIH testing on puppies and dogs."
"The solution is clear: Stop the money. Stop the madness!"
Android Users, Click Here To Download The Free Press App And Never Miss A Story. Follow Us On Facebook Here Or Twitter Here. Signup for our free newsletter by clicking here.
Login To Facebook From Your Browser To Leave A Comment