May 18, 2020
Ruth Eckerd Hall
Announces The 2020-21 Broadway Season
Which Includes Tony Award®-Winner Beautiful – The Carole King Musical Along With Other Favorites Including Tony Award®-Winner Jersey Boys, Rodgers & Hammerstein's South Pacific As Well As The FRIENDS! The Musical Parody And The Simon & Garfunkel Story At The Nancy And David Bilheimer Capitol Theatre
Tickets Go On Sale Thursday, May 21 At 10 AM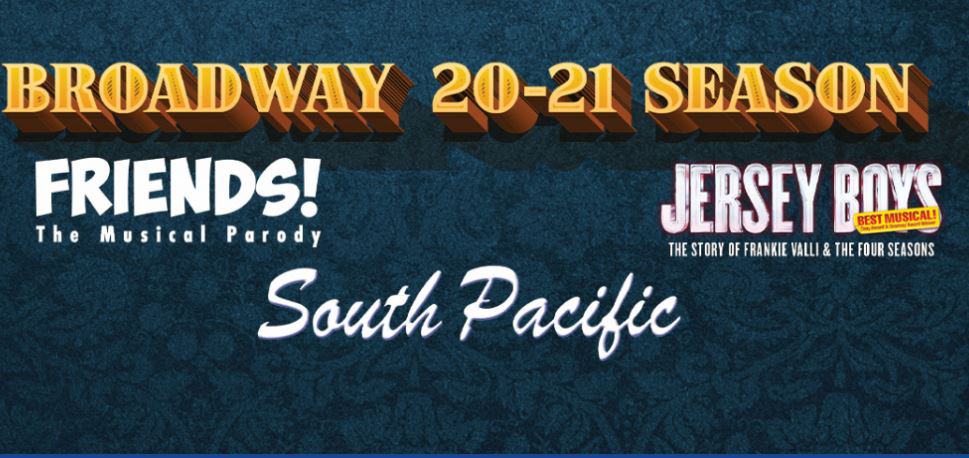 (CLEARWATER) Ruth Eckerd Hall announces the 2020-21 Broadway season, which includes the Tony Award®-winner Beautiful – The Carole King Musical, along with other favorites including Tony Award®-winner Jersey Boys, Rodgers & Hammerstein's South Pacific, RAIN: A Tribute To The Beatles and Riverdance, as well as FRIENDS! The Musical Parody and The Simon & Garfunkel Story at the Nancy and David Bilheimer Capitol Theatre.
"We look forward to welcoming our guests this coming season to Ruth Eckerd Hall and the Bilheimer Capitol Theatre to enjoy Broadway's most memorable musicals, like Rodgers & Hammerstein's South Pacific, along with special treats like The Simon and Garfunkel Story, " commented Ruth Eckerd Hall President and CEO Susan Crockett.
Tickets for the performances of Beautiful – The Carole King Musical, Jersey Boys, Rodgers & Hammerstein's South Pacific and Riverdance are priced at $100, $75, $50 and $35. Tickets for RAIN: A Tribute To The Beatles are also priced at $100, $75, $50 and $35 and tickets for this performance originally scheduled for April 19 will be honored on this new date. Tickets for FRIENDS! The Musical Parody are priced at $75, $50 and $35. Tickets for The Simon & Garfunkel Story are priced at $100, $75, $55 and $39.
Tickets for all performances will go on sale to the general public on Thursday, May 21 at 10 am. To purchase tickets and for more information, including membership, please visit www.RuthEckerdHall.com. The Raymond James Central Ticket Office at Ruth Eckerd Hall and The Nancy and David BIllheimer Capitol Theatre Ticket Office will open one hour prior to show time. For information on Group Sales, patrons are encouraged to email the Group Sales Department at groupsales@rutheckerdhall.net or call at 727.712.2717.

Prior to the performances, enjoy a pre-show party in the Dimmitt Lounge at Ruth Eckerd Hall, which includes high-end appetizers, dessert and beverages, plus your choice of one beer, wine, single liquor drink or soda ($10 value) for only $29 per person (includes tax and gratuity). Doors open two hours prior to the performance. Due to limited capacity, advance purchase is suggested. For reservations or for more information, please visit www.RuthEckerdHall.com
Photos and b-roll of the 2020-21 season performances are available by contacting Katie Pedretty at Kpedretty@RuthEckerdHall.net or Robert Sorak at rsorak@RuthEckerdHall.net.
Times, dates, performances and description of performances are subject to change.
FRIENDS! The Musical Parody
Thursday, February 4 at 8 pm
Friday, February 5 at 8 pm
The Nancy And David Bilheimer Capitol Theatre

FRIENDS! The Musical Parody is the comedic musical that lovingly pokes fun at TV's Friends, celebrating the adventures of your favorite group of 20-something friends as they navigate the pitfalls of work, life and love in 1990s Manhattan. It's a typical day at New York's only coffee shop, Central Perk, until an unexpected runaway bride enters the picture and kicks the whole gang out of second gear! The musical recreates our favorite moments from all 10 years of Friends through an uncensored, fast-paced, music-filled romp.
The Simon & Garfunkel Story
Saturday, February 13 at 8 pm
The Nancy And David Bilheimer Capitol Theatre

The immersive concert-style theater show chronicles the amazing journey shared by the folk-rock duo, Paul Simon & Art Garfunkel. It tells the story from their humble beginnings as Tom & Jerry to their incredible success as one of the best-selling music groups of the 1960s to their dramatic split in 1970. It culminates with the famous "The Concert in Central Park" reunion in 1981 with more than half a million fans in attendance. Using state of the art video projection, photos and original film footage, the show also features a full live band performing all of their hits, including Mrs. Robinson (featured in the 1967 film The Graduate), Cecilia, Bridge Over Troubled Water, Homeward Bound and many more.
Jersey Boys
Tuesday, February 23 at 8 pm
Wednesday, February 24 at 8 pm
Ruth Eckerd Hall
JERSEY BOYS is the behind-the-music story of Frankie Valli and The Four Seasons. They were just four guys from Jersey, until they sang their very first note. They had a sound nobody had ever heard… and the radio just couldn't get enough of. But while their harmonies were perfect on stage, off stage it was a very different story –a story that has made them an international sensation all over again. The show features all their hits including Sherry, Big Girls Don't Cry, Oh What A Night, Walk Like A Man, Can't Take My Eyes Off You and Working My Way Back To You.
Beautiful – The Carole King Musical
Tuesday, March 23 at 8 pm
Ruth Eckerd Hall

Beautiful tells the inspiring true story of Carole King's remarkable rise to stardom, from being part of a hit songwriting team with her husband Gerry Goffin, to her relationship with fellow writers and best friends Cynthia Weil and Barry Mann, to becoming one of the most successful solo acts in popular music history. Along the way, she made more than beautiful music, she wrote the soundtrack to a generation.
Featuring a stunning array of beloved songs written by Gerry Goffin/Carole King and Barry Mann/Cynthia Weil, including I Feel The Earth Move, One Fine Day, (You Make Me Feel Like) A Natural Woman and You've Got A Friend. BEAUTIFUL has a book by Tony Award®-nominee and Academy Award®-nominated writer Douglas McGrath, directed by Marc Bruni, choreography by Josh Prince and took home two 2014 Tony Awards® and a 2015 GRAMMY® Award.
Rodgers & Hammerstein's
South Pacific Saturday, April 3 at 7:30 pm
Ruth Eckerd Hall
Love transcends the harsh realities of war and prejudice in this sweeping Pulitzer Prize-winning tale centered around two unlikely love affairs. Set on a tropical island during World War II, this timeless Rodgers & Hammerstein classic features some of the most beautiful music ever composed woven into an inspiring story cherished the world over. Winner of ten Tony® Awards, the beloved score's songs include Some Enchanted Evening, I'm Gonna Wash That Man Right Outa My Hair and There is Nothin' Like a Dame amidst big, Broadway performances and a chorus of American sailors and Navy nurses ready to take you to Bali Ha'i.
Riverdance 25th Anniversary Show
Friday, April 16 at 8 pm
Saturday, April 17 at 2 pm & 8 pm
Ruth Eckerd Hall
Riverdance began its journey as the interval act in the 1994 Eurovision Song Contest, produced for television by Moya Doherty. This electrifying and innovative seven-minute dance piece was then developed into a full-length stage show by Producer Moya Doherty, Composer Bill Whelan and Director John McColgan. With its fusion of Irish and International music and dance, the show broke all box office records during its world première run in Dublin in 1995. When the show transferred to London the reaction was unprecedented. There followed a hugely successful tour starting in New York in March 1996, where 8 sold-out shows at Radio City Music Hall heralded the start of two decades of touring by Riverdance companies throughout North America. Since its inception, Riverdance has packed theatres throughout North America, Oceania, Asia, Europe, South Africa and South America.

Twenty-five years on, composer Bill Whelan has rerecorded his mesmerizing soundtrack while producer Moya Doherty and director John McColgan have completely reimagined the ground-breaking show with innovative and spectacular lighting, projection, stage and costume designs. Riverdance 25th Anniversary Show has been designed by lead designer Peter Canning, featuring set by Alan Farquharson, lighting by Andrew Voller and video by Cosmo AV along with costumes by Joan Bergin and sound by Michael O'Gorman.

RAIN – A Tribute to the Beatles
Saturday, May 8 at 7 pm
Ruth Eckerd Hall
*Tickets purchased for the April 19 show will be honored on the new date
In celebration of the anniversary of Abbey Road, RAIN will bring the greatest hits of this epic recording to life, in addition to all your early Beatles favorites. This mind-blowing performance takes you back in time with the legendary foursome delivering a note-for-note theatrical event that is "the next best thing to seeing the Beatles" (Associated Press). Experience the worlds' most iconic band and come celebrate the best of Abbey Road with RAIN – A Tribute To The Beatles.

Contact
Katie Pedretty, Director of Public Relations – p. 727.712.2774 – kpedretty@rutheckerdhall.net
Rob Sorak, Public Relations Assistant – p 727.724.5383 – rsorak@rutheckerdhall.net
---
Ruth Eckerd Hall, Inc., a 501(c)(3) nonprofit organization, that manages and operates the City of Clearwater-owned 2,200-seat Ruth Eckerd Hall, the 200-seat Murray Theatre, the 250-capacity ballroom, the Margarete Heye Great Room, the Marcia P. Hoffman School of the Arts, the 750-seat Nancy and David Bilheimer Capitol Theatre and Ruth Eckerd Hall On The Road. For the first time in the history of the performing arts center, Ruth Eckerd Hall was awarded a Top Workplaces 2020 honor by The Tampa Bay Times. In the most competitive category of small businesses (50 – 149 employees), Ruth Eckerd Hall was ranked #39 and was the only entertainment venue to make the list. Our mission is: Changing lives through the performing arts.

Ruth Eckerd Hall was named #1 venue in Tampa, #3 in Florida, #7 in the United States and #9 in the world of theatre venues of 2,500 seats or less by industry trade publication Pollstar in 2019. Designed by the prestigious Frank Lloyd Wright Foundation, Ruth Eckerd Hall is known for its fantastic sightlines and near-perfect acoustics. As part of the Expanding the Experience, Ruth Eckerd Hall recently completed an $11 million renovation, which includes a stunning three story floor to ceiling windows surrounding the new 6,000 square foot Grand Lobby, home to the Kate Tiedemann and Ellen Cotton Cabaret Theatre and the Holt Family Stage. The private Dress Circle Lounge has doubled in size, giving members a spectacular view and additional comfort, adjacent to the new Grand Lobby, In addition, patrons can enjoy enhanced food and beverage service, stunning décor including additional seating, custom acoustical and lighting features and a 34-foot, 5-inch wide x 6-foot, 5-inch tall video wall.

The Nancy and David Bilheimer Capitol Theatre, located in downtown Clearwater's Cleveland Street District, was constructed in 1921 and is one of Florida's oldest operating theaters. In 2019, industry trade publication Pollstar named the Bilheimer Capitol Theatre the #1 club venue in Tampa, #1 in Florida, #4 in the United States and #4 in the world of club venues with 800 seats or less. In 2013, the theater underwent a complete $10 million renovation and is the catalyst for downtown development. In 2019, Nancy and David Bilheimer donated $2.5 million to Ruth Eckerd hall as part of the theatre's ongoing "Expanding the Experience" Capital campaign. In recognition of the generous donation, the Capitol Theatre's name was changed to the Nancy and David Bilheimer Capitol Theatre.


Login To Facebook From Your Browser To Leave A Comment