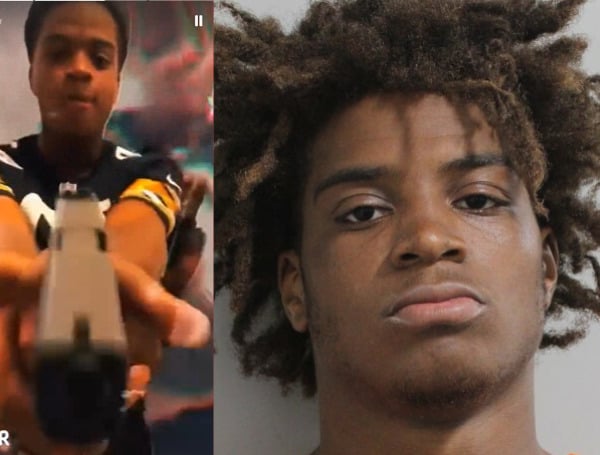 LAKELAND, FL.a – Detectives charged 19-year-old La'Darion Chandler, of Lakeland, with first-degree murder in the shooting death of a 33-year-old Lakeland man.
Chandler shot the man in December 2022. The victim died several weeks later.
"Our crime is at a 51-year low, and our violent crime was down last year — shootings like this one don't represent what's going on all over Polk County. But there is a problem with very young gangsters shooting at each other – a problem that we aim to solve. The suspects in shootings like this one aren't even supposed to have guns. We need your help to get illegally owned guns off the streets. Contact Heartland Crime Stoppers – remain anonymous – and get $500.00 in cold hard cash. Anonymity is guaranteed," said Polk County Sheriff Grady Judd.
Chandler was arrested on February 22nd for aggravated assault with a deadly weapon after pointing a gun at and threatening another victim in the Secret Cove subdivision in Lakeland.
In the news: Florida Gov. DeSantis Demands Prosecutor's Internal Records Over Release Of Murder Suspect
He's been in the Polk County Jail since that arrest, being held on no bond. While investigating the December 2022 shooting, detectives developed probable cause to charge Chandler with murder in the first victim's death.
On December 17, 2022, a 33-year-old male was shot in the back on Pirates Way within the Secret Cove subdivision of Lakeland. He was transported to a local hospital in critical, but stable, condition.
Detectives received tips from the community and were able to identify other victims and witnesses to the shooting, several of whom are documented gang members, including La'Darion Chandler. The victim – who belonged to a rival gang of Chandler's – succumbed to his injuries on January 9, 2023.
Chandler was arrested for the February 22nd aggravated assault incident at an apartment where he lives on Pirates Way, which is near both crime scenes (the fatal shooting, and the aggravated assault).
In the news: Florida Man Arrested After Dumping 1,700 Pounds Of Hotel Mattresses In The Street
Detectives served a search warrant in the apartment and discovered ammunition in a black duffel bag. Chandler was convicted of three felonies as a juvenile – for fleeing to elude, grand theft of a motor vehicle, and vehicle burglary – and was additionally charged with convicted delinquent in possession of a firearm or ammunition, with a gang enhancement (which elevates the charge from a second degree felony to a first degree felony).
"We will pay FIVE THOUSAND DOLLARS to recover the gun used in this homicide. Contact Heartland Crime Stoppers – we get the gun, and you get a whole lot of cash," said Polk County Sheriff Grady Judd.
Detectives also located a rap video on Chandler's social media pages where he talks about shooting someone in the back – details that had not been publicly released.
---
---
Other rap songs on Chandler's social media pages include lyrics about always being armed and photos of himself holding firearms.
Chandler is being held on no bond and has been charged with the following:
First degree murder (capital felony)
Convicted delinquent in possession of a firearm (F1)
Android Users, Click Here To Download The Free Press App And Never Miss A Story. Follow Us On Facebook Here Or Twitter Here. Signup for our free newsletter by clicking here.
Login To Facebook From Your Browser To Leave A Comment