HILLSBOROUGH COUNTY, Fla. – Hillsborough County Sheriff Chad Chronister announced today that crime is down in Hillsborough County, despite the population increasing.
Between 2019 and 2020, the population grew from 988,250 to 1,012,384, while the crime rate continued to decrease, down 21% in 2020, as compared to 2019 (per 1,000 population).
The reduction rate is an all-encompassing average of crimes committed in Hillsborough County during that time frame. In the last 14 years, this is the 13th year crime is down from the year prior.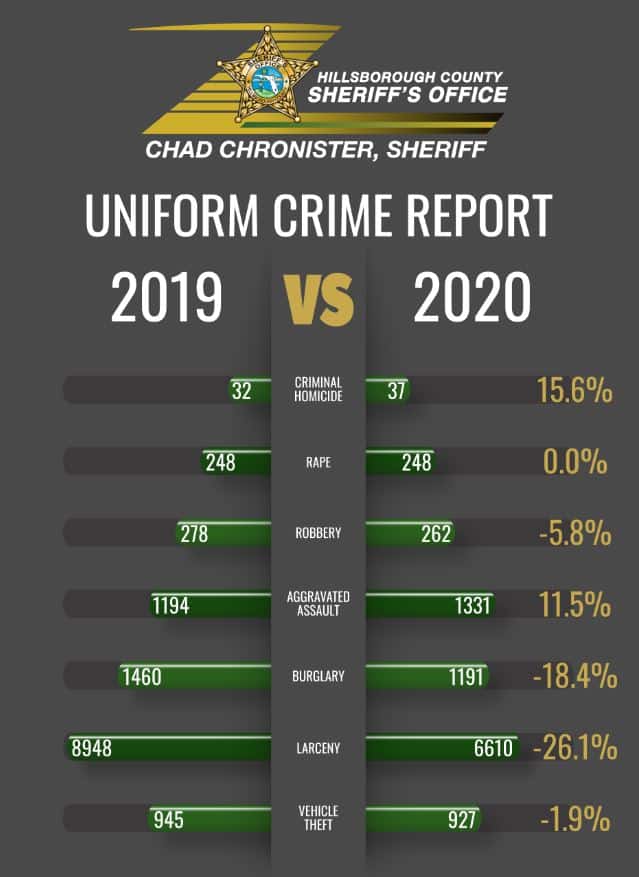 Sheriff Chronister says this wouldn't be possible without the support of the community.
"The Hillsborough County Sheriff's Office is dedicated to cultivating and growing community partnerships that help build trust and educate the public about how to avoid becoming a crime victim," said Chronister.

"I am so proud of the men and women of the Hillsborough County Sheriff's Office," said Chronister. "When we say our mission is to serve, protect and defend, these men and women breathe life into these words. Their actions are making a difference and I am honored to be their Sheriff."
As displayed above, according to Uniform Crime Report (UCR) data, from 2019 to 2020, there were fewer robberies, aggravated assaults, burglaries, larcenies and vehicle thefts.
Sheriff Chronister released a Public Service Announcement (PSA) highlighting the 2020 crime reduction:
---
---
Login To Facebook From Your Browser To Leave A Comment