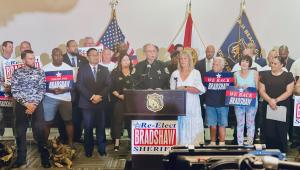 Sheriff Ric Bradshaw Announces Endorsements From Major Law Enforcement Organizations & Dozens of Local Elected Officials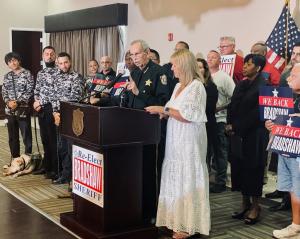 Sheriff Ric Bradshaw Announces Endorsements From Major Law Enforcement Organizations & Dozens of Local Elected Officials
Sheriff Bradshaw's endorsements highlight his experience and leadership to continue serving as Sheriff of Palm Beach County
PALM BEACH COUNTY, FLORIDA, UNITED STATES, May 23, 2023/EINPresswire.com/ — Today, Tuesday, May 23, 2023, Sheriff Ric Bradshaw announced the endorsement of three local law enforcement organizations, community groups, a bi-partisan group of elected officials, and Palm Beach County's top civic and business leaders.
With over 100 supporters in attendance, ranging from local police and deputies to Palm Beach County faith leaders, Sheriff Bradshaw outlined his plans to keep Palm Beach County safe. The announcement and rally took place at the Palm Beach County Police Benevolent Association Union Hall.
In addition, Sheriff Bradshaw shared new mental health initiatives his office is helping to coordinate that, in assistance with Big Dog Ranch Rescue, connect veterans suffering from PTSD with local service dogs to help them with their treatment. The program has been heralded as a national model for helping veterans and tackling the growing mental health crisis across the county.
John Kazanjian, Palm Beach County PBA President: "For almost 20 years, Sheriff Ric Bradshaw has worked vigorously to enhance the salaries and benefits of our members to make the Palm Beach Sheriff's Office the top Sheriff's Office in the state for employee benefits. From improving our working conditions to negotiating superior contracts, Sheriff Bradshaw has always had our backs. He holds everyone to the highest standards and so do we. For all of these reasons, the Palm Beach County PBA is proud to endorse Sheriff Bradshaw for re-election."
State Attorney Dave Aronberg: "Sheriff Ric Bradshaw is the experienced law enforcement professional Palm Beach County needs. He is a strong partner of mine as we work together to keep Palm Beach County safe. His commitment to public safety, prioritization of supporting mental health programs, and his leadership on law enforcement initiatives ranging from community policing to homeland security, make him the only choice for Palm Beach County Sheriff."
Clerk and Comptroller Joseph Abruzzo: "Sheriff Ric Bradshaw is tested, proven, and the most prepared to serve as Sheriff of Palm Beach County. He is a partner our office relies on and has a track record that speaks for itself. He has made our community safer, prioritized mental health, invested in new technology, protected our neighborhoods, and secured our borders. Our families, seniors, veterans, and residents are safer today thanks to Ric Bradshaw."
Charlotte Wright, Manifest Network: "We are proud to support Sheriff Ric Bradshaw in his re-election campaign. Under Sheriff Ric Bradshaw, we have seen over $13 million in confiscated funds redirected to support community programs for children, families, and seniors. His emphasis on addressing community needs has helped create meaningful relationships between residents and law enforcement so that we can continue to prioritize safe and secure neighborhoods for all the residents of Palm Beach County."
Association of Hispanic Ministers of Palm Beach County: "The Association of Hispanic Ministers of Palm Beach County are proud to endorse Sheriff Ric Bradshaw. He has prioritized programs that increased diversity and inclusion within the office and launched additional community initiatives that focus on regular conversations with Hispanic leaders throughout the county. Sheriff Bradshaw's efforts have led to increased trust between the Hispanic community and law enforcement so that people feel safe in their homes, and safe to call for help when they need it. Ric Bradshaw has the experience, commitment, and leadership we want in our Sheriff."
In response to support from leaders throughout the county, Sheriff Bradshaw stated, "I am incredibly grateful for the support from our local law enforcement, community groups, elected officials, and our county's top civic and business leaders. As Sheriff, I am focused on key priorities to keep Palm Beach County safe – addressing our County's mental health crisis, putting in place the best technology to improve efficiency and safety, like body cameras, and ensuring our County remains a leader on homeland security. I am running for re-election to finish the job and to keep public safety priority one."
In addition, dozens of local organizations, elected officials and community and civic leaders have endorsed Sheriff Bradshaw's re-election.
Organizations
* Palm Beach County Police Benevolent Association
* Florida Police Benevolent Association
* National Association of Police Organizations
* Broward County Police Benevolent Association
* South Florida Police Benevolent Association
* International Union of Police Associations, Local 6020
* Palm Beach County Human Rights Council
* Association of Hispanic Ministers of Palm Beach County
* HISPAC Political Action Committee
Elected Leaders
Florida
* State Senator Lori Berman, District 26
* State Representative Kelly Skidmore, District 92
* State Representative David Silvers, District 89
Palm Beach County
* State Attorney Dave Aronberg
* Clerk and Comptroller Joseph Abruzzo
* County Commissioner Michael Barnett
* County Commissioner Mack Bernard
* County Commissioner Maria Sachs
* School Board Member Alexandria Ayala
* School Board Member Karen Brill
City of Belle Glade
* Mayor Steve Wilson
* Vice Mayor Joaquin Almazan
City of Boynton Beach
* Mayor Ty Penserga
* City Commissioner Angela Cruz
* City Commissioner Aimee Kelley
City of Delray Beach
* Vice Mayor Ryan Boylston
* Deputy Vice Mayor Rob Long
* City Commissioner Adam Frankel
City of Greenacres
* Mayor Joel Flores
* Deputy Mayor John Tharp
* Councilwoman Paulette Bousquet
City of South Bay
* Mayor Joe Kyles
* City Commissioner Albert Polk
Town of Palm Beach Shores
* Mayor Alan Fiers
* City Commissioner Dr. Scott McCranels
* City Commissioner Brian Tyler
* City Commissioner Tracy Larcher
* Mayor Myra Koutzen (former)
Village of Wellington
* Vice Mayor Michael Napoleone
* Councilman John McGovern
* Councilman Michael Drahos
* Councilwoman Tanya Siskind
West Palm Beach
* Mayor Keith James
* City Commissioner Christy Fox
* City Commissioner Christina Lambert
* City Commissioner Joe Peduzzi
* City Commissioner Cathleen Ward
* City Commissioner Shalonda Warren
City of Westlake
* Vice Mayor Greg Langowski
Community Leaders
* Sal Faso
* Jimmy Matthews
* Lewis Pope
* Harry Raucher
* Beth & Steven Rappaport
* Myrna Rosoff
* Sheri Scarborough
* Lori Vinikoor
* Steve Wallace
* Ellen Winikoff
* Charlotte Wright, Manifest Network
Jonathan Cooper
Sheriff Ric Bradshaw Campaign
email us here
Login To Facebook From Your Browser To Leave A Comment