By BOB D'ANGELO
RIVERVIEW − The Silver Ring Cafe opened early during the first week of September, but not for customers, who would have jumped at the chance to get an early start gorging on Cuban sandwiches, deviled crab cakes or stuffed potatoes.
The longtime restaurant, at 7419 U.S. 301 S., opened 90 minutes early each day to accept donations for Hurricane Dorian relief to the Bahamas.
Water, pet food, toys, medicine and trash bags were collected and taken to St. Petersburg's Albert Whitted Airport. Representatives from Sol Relief transported the supplies to the islands that were devastated by the Category 5 storm.
"We got a lot of stuff," Silver Ring owner Dana Neville said. "None of the people were our customers. One lady brought four cases of water.
"I was thinking about the people in the Bahamas. When a hurricane hits us, we can always leave. They can't."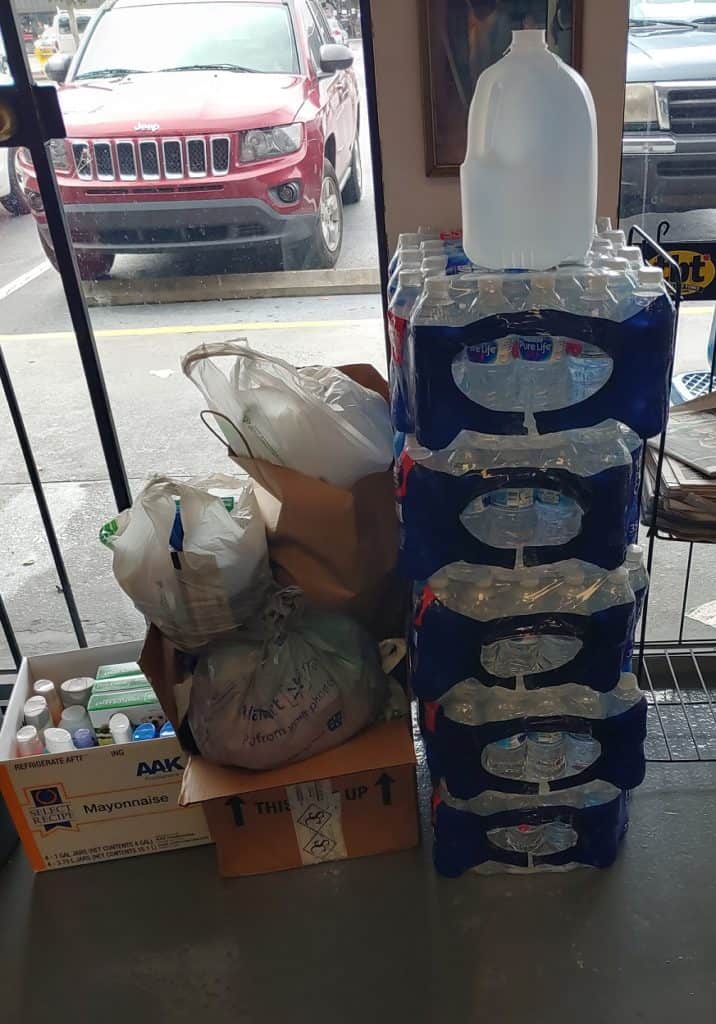 Serving great food — and serving the community — has been on the menu since Neville and her mother, Rosemarie, bought the Silver Ring franchise in Riverview in 1994. Helping people in need has been a family tradition. Neville's mother assists at Metropolitan Ministries, and her grandfather helped at the Mary Help of Christians Church in Tampa.
"That's the kind of family we are," Neville said. "We like to give back."
Neville and the Silver Ring staff have a passion to help. On Dec. 10, 2017 − a Sunday − the restaurant opened to help raise donations for the family of Noelia Whitlock, a Riverview teen who had cystic fibrosis and had received a double lung transplant three days earlier in St. Louis. While insurance covered the transplant, living expenses in St. Louis were piling up.
"No one got paid," Neville said. "We donated money from the tip jar."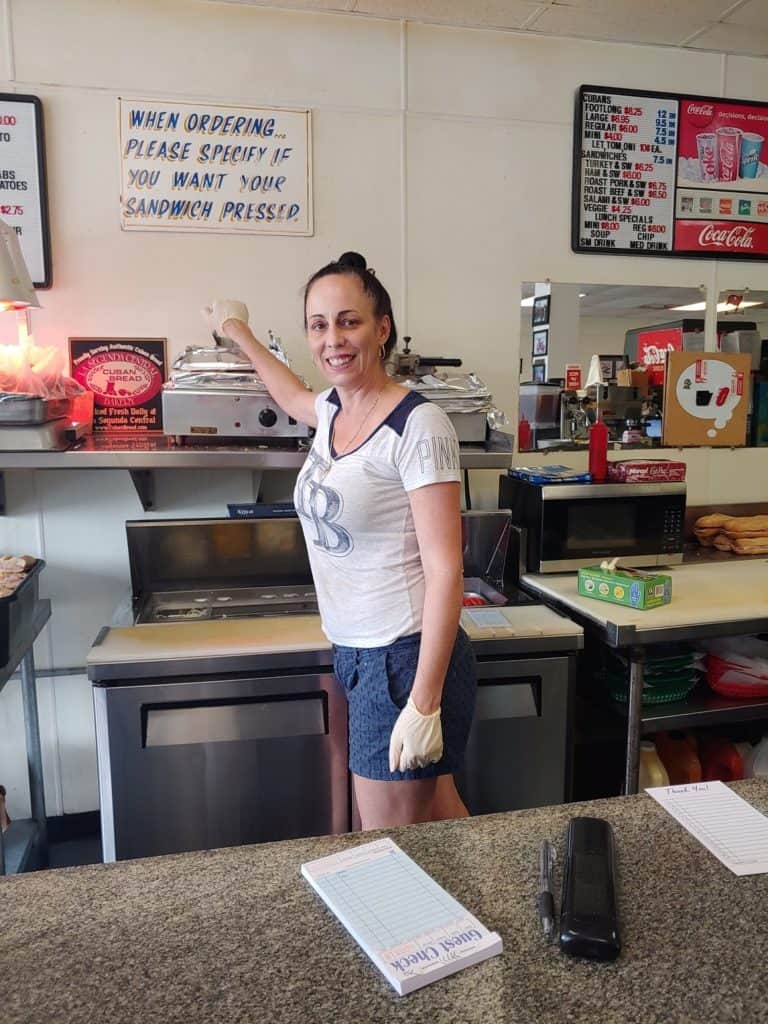 The money helped. Noelia got the transplant to extend her life in December 2017, and Silver Ring sponsored another fundraising campaign to help Noelia stay at Walt Disney World's Fort Wilderness. Noelia was able to swim with the dolphins at Discovery Cove shortly before the 15-year-old died this past April 18.
"Discovery Cove comped the whole thing," Neville said. "Noelia said it was her best day ever."
Neville's passion extends to her business, which she has run for 25 years. She has spent her entire adult life working at a Silver Ring. The original, in Ybor City, was sold by founder Angelo Cacciatore to Tim Booth in 1985.
Booth is Neville's uncle, and she began working at the Silver Ring on Ybor's Seventh Avenue after turning 18. When Booth began to franchise the cafe, Neville went to work at the Land O' Lakes location in 1992.
Two years later, Neville and her mother bought the struggling Riverview franchise, which had been housed in a former Mr. Swiss restaurant (now the location of an O'Reilly Auto Parts store). Silver Ring moved to its present location in 2001.
Neville begins each working day at 7 a.m., heading to La Segunda Bakery Central in Ybor City to pick up Cuban bread. She buys her meats from Four Star Meats, run by another one of her uncles, Pat Booth.
Neville said being choosy about her ingredients is what makes Silver Ring's Cuban sandwiches so distinctive.
"It's the bread and the meat," she said. "They must be consistent with what they use in Ybor."

She follows that Ybor tradition faithfully, deviating only to press the sandwiches. The original Ybor store did not have a presser, but sandwiches were simply heated in an oven. There are no other variations to her formula.
"I'm not putting bacon on the Cuban. I'm not putting ranch on it. I'm not putting honey mustard on it," Neville said.
That is a nod to Cacciatore, nicknamed "Speedy Brown."
"Speedy used to come in (to the Ybor cafe) and get coffee," Neville said. "It was important for him to keep the sandwiches the same."
A footlong Cuban at Silver Ring in Riverview costs $8.25 and a large (9½ inches) goes for $6.95. A 7½-inch regular sells for $6, while a 4½-inch mini costs $4. Fountain drinks and sweet tea are readily available, along with sides such as black beans and rice, collards and chips.
The restaurant's walls are filled with autographed photos of area athletes, including former Tampa Bay Buccaneers fullback Mike Alstott and current Bucs tight end O.J. Howard and offensive lineman Ali Marpet.
There are also a few shots of Neville's father, Dan, who played in the Cincinnati Reds organization for most of his eight seasons in professional baseball. The elder Neville was a right-handed pitcher who went 15-4 in 1961 for the Tampa Tarpons and won 13 games for Macon in the South Atlantic League in 1963.
Dan never pitched a regular-season game for the Reds but was called up to the parent club in September 1964. In a questionnaire he filled out for statistician William Weiss, Dan listed his biggest thrill as being invited by the Reds to spring training in 1963.
"He made it to the show once," Dana Neville said.
Neville was born in Cincinnati but moved to Florida when she was 7. Her dad was a local high school baseball star in nearby Covington, Kentucky, and met Dana's mother in Tampa after Rosemarie Pollock's family moved south from the Canarsie section of Brooklyn, New York.
"I was born in Cincinnati by default," Neville said. "But my mother is the epitome of a New York Catholic Italian."
The couple married in February 1962 but were divorced in December 1977. In Florida, Dana attended Villa Madonna in Tampa, while her older brother went to Jesuit High School. David Neville is now an attorney in Pinellas Park.
All three of Dana Neville's children — Alec and Michael Hassey, and Nikki Neville — have taken turns helping out at Silver Ring.
After living in South Tampa and Valrico, Neville has settled into a town house near Spoto High School.
"After all these years, I am back in Riverview," Neville said.
And she plans to stay there. Neville said she has never been away from her business for any extended length of time.
"I've worked six days a week for 25 years," she said. "I've never been gone for more than four days in a row. We might go to Italy next year, but that would be for almost two weeks, and I don't know if I can do it."
One thing Dana Neville can do is produce some of the best Cuban sandwiches in the Tampa Bay area. For the first time, the Riverview store's Cubans were awarded a Best of the Best designation by the Tampa Bay Times. That is no surprise to the noon-time crowd that fills the restaurant, sending Neville into perpetual motion.
She will also keep backing worthy causes, whether it is for hurricane relief or to help an area resident.
"We're little people," Neville said. "If we can help, that's cool."
Login To Facebook From Your Browser To Leave A Comment