June 2, 2020
By: Sarah McCormick
CAPE CANAVERAL, Fla – The United States witnessed a proud moment over the weekend as the SpaceX Falcon 9 rocket flew off into orbit, headed for the International Space Station as a test flight, two US Astronauts on board.
The veteran astronaut duo, Doug Hurley, Spacecraft commander, and Bob Behnken, veteran astronaut, blasted off from launch pad 39A at the Kennedy Space Center in Cape Canaveral, Florida at 3:22 PM ET.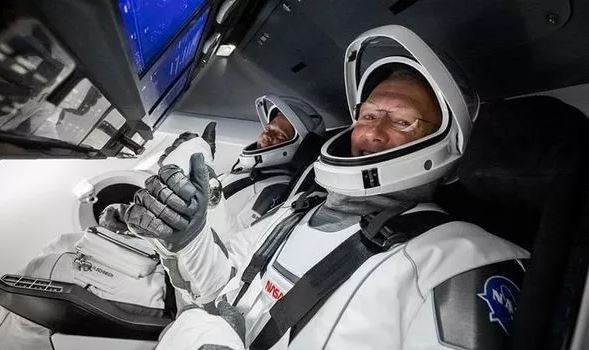 A historic moment for America, as the first launch from American soil in a commercially built American spacecraft, with American astronauts on board.
SpaceX, owned by Tesla pioneer Elon Musk, is worth more than his electric car company by far – and as of 2019, it was valued at $33.3 billion. Founded in 2002, this space flight has truly been history in the making.
When the astronauts arrived to the launch complex, they suited up in their SpaceX specially made pressure suits, and took a ride in a Tesla Model X to the launch pad where they would board the space shuttle, and prepare for launch.
President Donald Trump and Vice President Mike Pence were present to witness the launch in person, and President Trump followed the launch up with a short speech following Saturday's launch. Many bystanders and members of the community parked in their vehicles nearby, excited to watch the launch first hand and witness a pivotal moment in American history.
Said Hurley to SpaceX Mission Control in California, "It's been a spectacular spaceship so far."
The spacecraft was given the name 'Endeavour' after the retired NASA space shuttle with the same name. "We chose Endeavour for a few reasons — one because of this incredible endeavor NASA, SpaceX, and the United States have been on since the end of the shuttle program back in 2011. The other reason we named it Endeavour is a little more personal to Bob and I," Hurley said, "We both had our first flights on shuttle Endeavour, and it just meant so much for us to carry on that name," said Hurley on the shuttle's live feed.
Approximately 19 hours later, the space shuttle docked at the ISS, and the two astronauts were greeted by the 3 American astronauts already on board the station. Hugs and handshakes were exchanged with smiles.
It's unclear as to how long the 2 astronauts will stay in space aboard the station, but NASA states it could be as long as 4 months before they are to return home. The solar panels on the spacecraft will begin to deteriorate over time, making it unsafe for an attempt to re-enter Earth's atmosphere, which is why there is a 4-month cap on their stay.
The record for space travel is held by Russian astronaut Valery Polyakov, who holds the record at 438 consecutive days onboard Russia's former space station, known as Mir, in 1994-1995.
While in space, Behnken and Hurley will be able to assist the ISS crew with refurbishment work like the installation of new lithium-ion batteries which arrived in a Japanese cargo ship recently.
Another shuttle is expected to launch a Starlink mission on June 3rd, 2020, at 8:55 PM ET from the Cape Canaveral Air Force Station.
Login To Facebook From Your Browser To Leave A Comment