TAMPA, Fla. – Charles Ira Berridge of Tampa, found Jessica Brooke Merchant on an alleged escort website. The two chatted up for three days and arranged to have dinner. Berridge took an Uber to St. Petersburg apparently expecting sex from an escort, although he later told police there was no discussion of fees for sexual favors. As the pair were en route to Three Birds Tavern in St. Petersburg, Merchant said they needed to stop at Winn Dixie to pay her babysitter for the night, which Berridge funded. According to Berridge in his police statement, Merchant was constantly texting while they ate, claiming she was dealing with her 12-year-old son.
He stated the couple returned to Rialto Apartments located at 550 50th Street in St. Petersburg, where Merchant lived. She then told Berridge to leave the door unlocked, which he found peculiar and locked against her wishes. She then settled him in the bedroom, telling him to "get comfortable."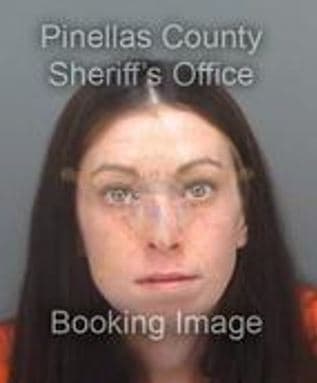 She left Berridge alone in the bedroom, then suddenly claimed someone was at the door. Joshua Kelly burst onto the scene as Berridge came out of the bedroom.
Kelly raged something about "his girlfriend," struck Berridge in the left arm with a crowbar type of object, and pinned him to the floor as Merchant rummaged through Berridge's backpack and stole $250 in cash. Merchant told Kelly to stop hitting Berridge and let him go. Upon release, Berridge fled and called the St. Petersburg Police Department.
During police questioning, Merchant claimed that Berridge was acting very creepy and wouldn't leave the apartment, but admitted that she was texting Joshua Kelly, not a 12-year-old son when out to dinner with Berridge.
Prosecution seemed highly probable until Berridge backed out and dropped charges against Merchant and Kelly. However, the incident resulted in more trouble for Merchant who admitted she deleted texts between herself and Kelly and Berridge. At the time of her arrest on July 28 for what Alexander Kerr, St. Petersburg Police Detective believed was "robbery with a weapon," she was charged with possession of a controlled substance. That substance was a combined mixture of heroin, fentanyl and methamphetamines according to a Pinellas County Complaint/Arrest Affidavit. Her criminal past includes two-time grand theft and trafficking in stolen property during 2018 and 2019. According to the St. Petersburg Police Department, "Merchant is still in jail."
Berridge could not be reached for comment as to why he withdrew his charges. His story is officially closed.
Publishers Note: While The Free Press will always be free for our readers, and ad-supported, we are asking our loyal readers to consider a monthly donation of $3 to maintain our local journalism and help us grow, as we ramp up ad sales locally.
We thank you all for your consideration and for supporting local journalism
Login To Facebook From Your Browser To Leave A Comment