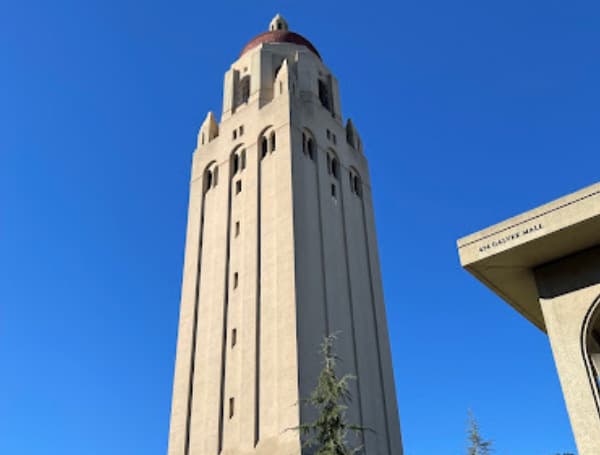 Stanford has sent the wokeism into overdrive in recent weeks.
Here's a recap of the elite California university's appearances in The Free Press over the past few weeks.
In November, a former Trump administration official sued the school after it gave black students free tickets and priority seating on shuttles to a screening of the movie "Black Panther: Wakanda Forever." Also last month, a report was published that showed Stanford was among the 58 percent of elite medical schools that force students to endure indoctrination into Critical Race Theory.
Then in December, we learned that the Biden administration was actually investigating Stanford for offering women exclusive access to student clubs while banning men, a potential civil rights violation.
In the news: Florida iPhone Technician Sends Himself A Text Of Customer's Explicit Video
Now, as the New York Post reported on Tuesday, Stanford released a guide that spelled out language that must be removed from its websites because it is "harmful." The guide targets lingo administrators see as "racist, violent, and biased."
One of the words on that list: American.
As the Post reported, "Under a section titled 'Imprecise Language,' the guide advises readers to replace the term 'American' with 'U.S. citizen.'"
The word American "often refers to people from the United States only, thereby insinuating that the US is the most important country in the Americas," the guide points out, adding that American could be applied to citizens of the 42 countries between North and South America.
"The purpose of this website is to educate people about the possible impact of the words we use," Stanford said of its guide.
In the news: Actor Tim Robbins Says "Demonizing" People Who Disagreed With Left's COVID Narrative Was "Repugnant" And "Dangerous"
"Language affects different people in different ways. We are not attempting to assign levels of harm to the terms on this site. We also are not attempting to address all informal uses of language."
Fox News noted the guide seeks to expose "disability bias, ethnic bias, ethnic slurs, gender bias, implicit bias, sexual bias."
Of course, Stanford's administrators may not realize what can of worms they may have just opened.
That's because another entry under the "imprecise language" section calls for replacing the slur "Karen" with "demanding or entitled White woman."
Android Users, Click Here To Download The Free Press App And Never Miss A Story. Follow Us On Facebook Here Or Twitter Here. Signup for our free newsletter by clicking here.
Login To Facebook From Your Browser To Leave A Comment