TAMPA, Fla. – Travis Garrett will be prosecuted for first-degree premeditated murder of a law enforcement officer, the most serious charge in all of Florida law, for intentionally killing Hillsborough County Sheriff's Deputy Brian LaVigne on January 11.
Garrett faces a total of nine felony charges, which will be discussed with Judge Catherine Catlin and attorneys in a status hearing Friday, January 22, at 12:30 p.m.
"This was a deliberate attack on law enforcement; he targeted a cop. When you commit a crime like this—when you cause pain like this—you should expect consequences like this," Hillsborough State Attorney Andrew Warren said. "Despite losing a friend, the detectives handling this case are completely focused. They're doing an incredible job working with our prosecutors to build the strongest possible case."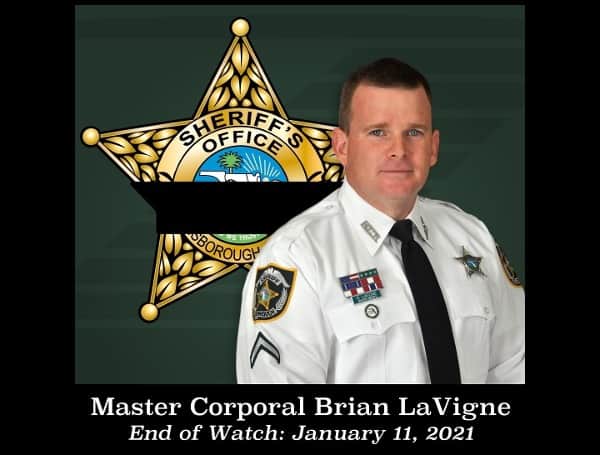 The Hillsborough State Attorney's Office has decided to pursue these charges against Garrett:
First-Degree Premeditated Murder – Capital felony
Fleeing to Elude (at High Speed Causing Serious Bodily Injury or Death) – 1st degree felony
Vehicular Homicide – 2nd degree felony
DUI Manslaughter – 2nd degree felony
Battery on a Law Enforcement Officer – 2 Counts – 3rd degree felony
Resisting Officer with Violence – 2 Counts – 3rd degree felony
Criminal Mischief (with $1,000 or More in Damage) – 3rd degree felony
The State Attorney's Office will seek a grand jury indictment for the charge of first-degree murder, as Florida law requires. As a result of the COVID pandemic, grand jury proceedings are currently suspended in Hillsborough County until February 8.
Additionally, the State Attorney's Office has filed a motion for pre-trial detention, asking to hold Garrett in custody without bond until his trial.
The detention hearing is scheduled for Monday, January 25 at 11:30 a.m. via Zoom before Judge Catlin. Garrett has been in the hospital due to injuries sustained in the crash and is not expected to appear at Friday's status hearing.
Login To Facebook From Your Browser To Leave A Comment