June 12, 2020
By: Martin Fennelly
TAMPA — They're back.
For the first time in nearly three months, they're back.
And their demons are right behind them.
The Lightning hit the ice Tuesday at Amalie Arena, or at least some of them did, to pass and shoot and build up endurance to begin Phase Two of the National Hockey League's post-COVID return-to-play plan. We still aren't sure there be a season or at least the completion of it with a 24-team playoff tournament. We're also not sure if we are post-COVID yet.
But isn't it nice to have a real, live Tampa Bay sports team returning to work?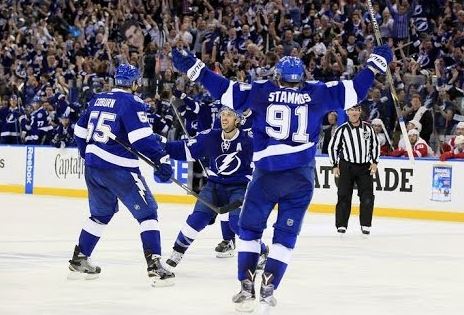 One of my great sports memories in this town is the first Bucs at their training complex, a haughty name for the dump that was old One Buc Place, after 9/11. Suddenly, for the first time in a few days, a jet took off at Tampa International Airport. Players and coaches stopped and stared. America was back on its game.
It feels a little like that right now. Not completely, but close enough.
COVID knocked us down. We have struggled to our feet. But we are standing.
And the Lightning are skating.
Real, live mini-training camp might begin in July. Or so they say. Precaution is everywhere. Players are being tested at home and at the rink. One positive could turn – or end – the entire thing for this team and this league.
But it does Lightning fans' hearts good to hear that the boys are back, even if it was just a handful of them Tuesday, including captain Steve Stamkos, reigning league MVP Nikita Kucherov, big body/scorer Alex Killorn, defensemen Mikhail Sergachev and Kevin Shattenkirk and goaltender and reigning Vezina Trophy winner Andrei Vasilevskiy. More to come.
Their workout wasn't labor-intensive. They had just enough for pond shinny. But. the Lightning are back in business, or at least business enough for a team and a community starved for redemption after last year's epic first-round fold that derailed that a 62-win runaway train of season.
I bet it's still on a lot of Lightning minds.
Good.
They'll need it, and more, to navigate a Stanley Cup playoff run.
I hope that fold is burned into their brains.
It better be.
The Lightning were one of two teams that had reservations over the revised NHL playoff, which gives the Lightning the No. 2 seed in the Eastern Conference, behind Boston, and with it, a first-round bye as 16 other playoff teams battle it out in a first round. Granted, the Lightning will play a round-robin tournament with the three other Eastern top finishers in the Eastern Conference. The same thing will happen in the Western Conference.
But don't expect the Lightning to be stale.
They want to be back. They need to be back.
They have waited for this.
The bizarre resumption of the NHL season, with its quirky playoff format, might be just what was needed for this team and its coach, Jon Cooper. Imagine that Lightning-Maple Leafs playoff series in Las Vegas.
I wouldn't bet against the Lightning.
They are right where they want to be to make a run at redemption.
They are in the weeds, with everyone else.
A lot of people have forgotten last season and what happened to the Lightning. And they're dusting off an asterisk for the winner of the Stanley Cup. It's a crazed season. This NHL season, if it happens, and I think it will produce half a champion.
It'll be half more than these Lightning players have been to this point in their careers.
There is a clock and it is ticking. On Stamkos, who is in his 12th NHL season, and back-line anchor Hedman, who is in his 11th season. They are both 30, far from done, but they seem older given all they have been through, miss after near miss, before the big kaboom last playoff season.
Think Kucherov doesn't want to rebound from that mess, where he earned a game suspension for a cheap shot? Think the entire Lightning team still feels the sting? It's great motivation as the league heads a strange new world and postseason.
First things first. The boys are back on the ice. Just small workouts. Lightning coach Jon Cooper hasn't gotten their attention just yet. That will happen soon enough.  What can Cooper say at this point? It's all in front of them. And it's all about burying last season and making sure that the corpse doesn't sit up again this summer.
The boys are back. The work of redemption has begun.
The demons are just beginning to warm up, too
Login To Facebook From Your Browser To Leave A Comment