by: Deborah Childress
TAMPA. Fla.- Ursule Martin and her business, Martin Business Consulting, LLC located in Tampa, have been sued by Omar Bencheikh as an individual for not paying $400,606 in owed monies from a 2017 business agreement arranged between the parties.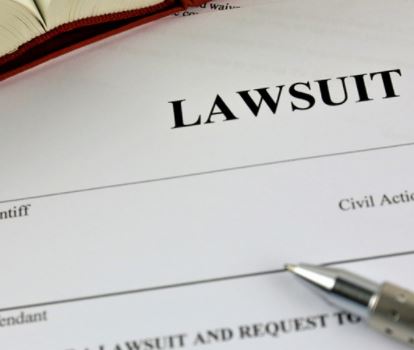 According to the lawsuit, Ms. Martin and/or Martin Business Consulting were to serve either as broker, or individually as guarantor(s), drafting agreements between themselves and borrowing third parties, where the Plaintiff provided the loan amounts to be issued to numerous borrowing individuals and businesses, a total of approximately twenty different parties. Ms. Martin and her business collected payments from borrowers and was somehow responsible to pay back the Plaintiff based on an arrangement or agreement undisclosed in the lawsuit and not described by the Defendant during a brief interview. When contacted, the Defendant was not aware that she had been sued by the Plaintiff.
Lending transactions occurred between November 2017 and June 2019, and Bencheikh's lawsuit states that Martin initially paid monies back to Bencheikh, less agreed-upon commissions she could lawfully retain. However, the reimbursements from Martin ceased, leaving over $400,000 of indebtedness, including interest, to Bencheikh, of which Martin said she would re-pay. No monies were forthcoming, so an Affidavit of Payment Arrangement was signed on January 23, 2020, a copy of which is attached to the lawsuit as an exhibit. In it, Martin agrees to pay $2,500 per month until the loan is paid in full.
However, on March 10, 2020, a Settlement Agreement was signed, where Bencheikh demanded and Martin agreed to full payment of the owed funds by June 30, 2020. It states that she admits she kept monies due to Bencheikh, agreed that all parties had paid their loans in full, and would pay $2,500 per month, with the owed funds paid in full no later than the June 30, 2020 deadline. However, the exhibited March 10 Settlement Agreement appears to contradict a statement in the actual lawsuit filed later, on September 3.
The lawsuit claims that "quite a few" of the third-party borrowers responded to an inquiry about the status of their loan repayments, and indicated they repaid their loans in full. Thereafter, it states that when Ms. Martin was confronted that the parties had said they had paid, she allegedly confessed that all borrowing parties had paid. In the new Settlement Agreement, it is stated:
"Whereas all the loans were paid in full to Ms. Martin and/or "MBC" but Ms. Martin and "MBC" failed to forward approximately $400,606 of the loan payments ("Owed Funds") to Mr. Bencheikh, instead, retaining such funds personally…" and "Whereas all borrowers have paid their debts in full and nothing of the loans remain…"
The lawsuit does reiterate what the Settlement Agreement states, that all loans were paid, but there is no indication that the Plaintiff verified that important fact himself, only that a previous inquiry with partial responses from borrowers was made, with "quite a few" indicating they had paid in full. It is not known if he is relying solely on admissions made by Ms. Martin that all borrowers are paid in full, or merely relying on her willful signature etched on the new Settlement Agreement, of which she stated in an interview she has tried to make Mr. Bencheikh happy. "I have never had legal troubles," she said.
Verbatim, the lawsuits states:
"In the Settlement Agreement, Ms. Martin admits to collecting and retaining all of the Owed Funds, that debts have been paid to Defendants with nothing remaining but the payment of the Owed Funds by Defendants to Plaintiff…"
Lingering is the question of whether all the debts were in fact paid, or if Ms. Martin simply wished to agree they were, especially in the Settle Agreement, because as she explained in an interview, she was expecting a financial settlement in her favor that would pay off the debt, and she wished to make Mr. Bencheikh happy. The lawsuit stating Ms. Martin confessed that all borrowers had paid off their loans, is not the same as verifying such facts oneself, by examining accounting records. While interviewing Ms. Martin, it was clear there was a communication barrier, which raises the question as to how accurate the understandings were between Mr. Bencheikh and Ms. Martin. Ms. Martin is a tri-linguist.
Complicating the case is another issue. In the January 23, 2020 Affidavit of Payment Arrangement, Ms. Martin, as an attorney and LLM (Master's of Law) from the Universite de Lille in France, incorrectly denoted herself as a "debtor," which the Plaintiff claims she is not, as he never gave money to loan to her, but rather to borrowing customers. Nonetheless, Bencheikh and Martin established their repayment agreement with Ms. Martin signing only as an individual and not on behalf of Martin Business Consulting, per her attorney's advice that she only sign as one or the other.
In the telephone interview conducted on September 5, 2020, after no response to an email request to communicate, Ms. Martin stated she wants to pay what is owed to the Plaintiff and had hoped the pending financial settlement in her favor would be forthcoming to pay Bencheikh in full to resolve the debt as agreed in the new settlement, by June 30. It did not come to fruition. She also said COVID-19 was an impediment on resolving the issue.
Ms. Martin's Martin Business Consulting, LLC is a document service for tax preparation, immigration, financial services, and other matters. As is stated in the lawsuit and Settlement Agreement, Ms. Martin was to pay $2,500 a month, beginning February 28, 2020. By four months later on June 30, 2020, she was to pay the entire balance owed on $400,606.
Ms. Martin said it just wasn't possible to pay that amount in 2020 over a four-month period without the pay-out from the pending financial settlement, although she did pay a total of $5,000 during that time. Despite a communication barrier apparent in the interview, she was asked if she collected money from borrowers but did not pay what was owed to Mr. Bencheikh. She seemed to reply "No." She added, "I paid Mr. Bencheikh regularly for two years, even when borrowers were not paying. I had a financial hardship in 2019, and I signed the new Settlement Agreement because I was expecting a financial settlement."
Perhaps she kept unlawfully kept the money. Perhaps there are misunderstandings. She mentioned that Mr. Bencheik did not want to wait for money based on the borrower's loan terms.
Count I of the lawsuit is for "Breach of Contract Against Ms. Martin," Count II is for "Breach of Implied-in-Fact Contract Against Defendants," and Count III is for "Unjust Enrichment."
An Implied-in-Fact Contract pertains to instances where no actual contract exists. It is a verbal promise or an understanding or promise known by "conduct."
The lawsuit was filed as Omar Bencheikh, an Individual v. Ursule Martin individually and Martin Business Consulting, LLC, a Florida Limited Liability Company.
The Plaintiff's attorney is Joseph Kennett of Brick Business Law, P.A. in Tampa. He could not be reached for comment.
Publishers Note: While The Free Press will always be free for our readers, and ad-supported, we are asking our loyal readers to consider a monthly donation of $3 to maintain our local journalism and help us grow, as we ramp up ad sales locally.
We thank you all for your consideration and for supporting local journalism
Login To Facebook From Your Browser To Leave A Comment