July 7, 2020
By: Martin Fennelly
TAMPA, Fla. – The Rays are coming to life, preparing for their COVID-shortened season, fingers crossed. The Lightning won't be far behind them, though they won't be playing around here. The Bucs and Tom Brady, with all those expectations, will eventually have a training camp, then a season, whether they are in front of fans or not.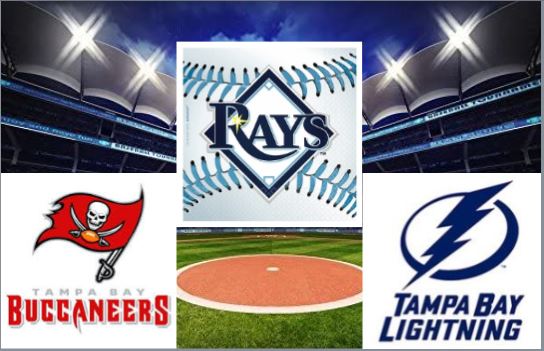 All three teams will deal with unique challenges and obstacles. Coincidentally, all three teams have a serious shot at making their seasons special. Even less coincidentally, all three possess talent from the top down, and that might matter more than ever.
Tampa Bay might have the best collection of coaches in professional sports. Period. In Rays manager Kevin Cash, Lightning head coach Jon Cooper and Bucs head coach Bruce Arians, Tampa Bay has it locked down. Now it's just a matter of them proving it.
Cash has made a career out of surprising people. He took over the Rays after the departure of the one-man show that was Joe Maddon with no designs on being anyone but himself: normal, self-deprecating. Cash was the real average Joe. Cash did it so well it was easy to see him as a yes man, a mere messenger for the metrics-driven Rays front office's cutting-edge ways.
But he has done quite well for a messenger, with 187 wins over the past two seasons, including 96 last year, on into the playoffs, where the Rays were stopped in five games by the cheater Astros and the sound of those garbage cans. It was a remarkable performance, the definition of doing the most with the least, Ray's specialty, a Cash specialty too. The Sporting News named Cash American League Manager of the Year. The shadows couldn't hold him anymore. He isn't a secret. Nor is the comfort level he creates for his ballclub.
Now comes the test. This 60-game makeshift season will put a premium on cohesiveness, unflappability, eyes on the prize. The Rays are primed to have a great shot at the playoffs and beyond. I wouldn't feel that way if they had most other managers. But Cash's casual, imperturbable way could be even more valuable in a season that might not have any fans watching, a normal enough Rays occurrence, mind you, soon to be all the rage in Rays owner Stu Sternberg's ridiculous Montreal twin-cities plan.
Then there is Jon Cooper. Don't look now, but Cooper is the longest-tenured coach in the NHL, amazing but true. Cooper has always described himself as more of a motivator/psychologist than a tactician. Either way, his has been a spectacular run, which included a record-tying 62 wins last season, as well as 2014-15, when Cooper guided the upstart Lightning to within two wins of the Stanley Cup. The Bolts came close twice after that, reaching the Eastern Conference Finals.
Never too high or low, measured, with a puckish sense of humor, Cooper uses the stage to remove the spotlight and pressure off his players, usually to the franchise's benefit.
Now comes the test. The record-tying Lightning were summarily shocked and swept from the playoffs by Columbus in the first round. And in the dying embers of that sweep, superstar Nikita Kucherov imploded, getting suspended for a cheap hit. It wasn't Cooper's finest hour as a manager. The question arose: For all his success, is Cooper the man to put the Lightning over the top?
This new post-COVID NHL format is his chance, maybe his best chance. The Lightning are intact, poised. It will be short and sweet, this season, with a premium on focus, tunnel vision. Cooper's job is to tunnel on in and get it done. It is time.
Lastly, there is Bruce Almighty, the Bucs coach and quarterback whisperer. Arians has made a career out of surviving and thriving. He stepped into the breach in Indianapolis in 2012 when his friend Chuck Pagano was sidelined by leukemia and won Coach of the Year honors. Arians has always been engaging and free-spirited and inclusive, coarse language a specialty, and wonderful with players and media alike. He is a leader. He isn't afraid to make hard decisions. Actually, Jameis Winston made this easy it Arians with all those mistakes, but Arians isn't afraid of change or expectations.
Now comes the test. Arians has worked with great quarterbacks, but never Brady, the greatest. Arians has worked with expectations before, but never like this, the complete flip of a franchise, to the playoffs for the first time in 13 years … and more, much more. And all against the backdrop of this pandemic and what it might do to the NFL season as we know it, complete with empty stadiums. Masterful motivation will never be at more of a premium. Once we wondered if Arians, given previous health scares, would be long for this job. But he is all in, with Brady in his camp, and we're about to see how far all in goes.
We have no idea what kind of seasons these will be for the Rays, Lightning, or Bucs, or even if the seasons will take place. We just don't know. What we do know is that it will put a premium on leadership, and that means coaching in a lot of cases. In Tampa Bay, we have some of the best coaches going. We have seen them at work, and very good work it has been, from Cash to Cooper to Arians.
Now come the tests.
Publishers note: While The Free Press will always be free for our readers, and ad-supported, we are asking our loyal readers to consider a monthly donation of $3 to maintain our local journalism and help us grow, as we ramp up ad sales locally.
You can click here to support us.
We thank you all for your consideration and supporting local journalism.
Login To Facebook From Your Browser To Leave A Comment