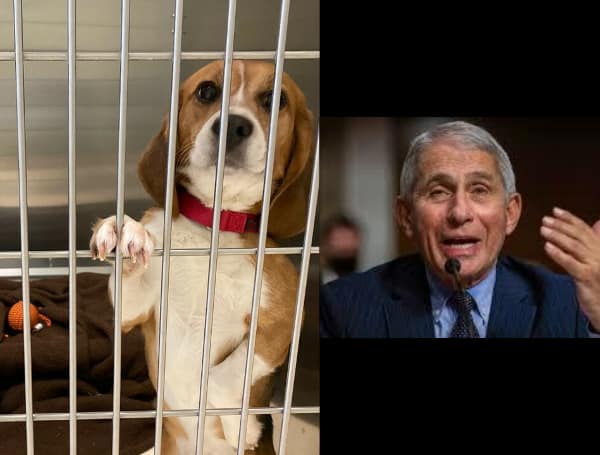 A taxpayers' watchdog group has sued the Biden administration to force the release of records of experiments Dr. Anthony Fauci's agency conducted on dogs and monkeys.
The White Coat Waste Project alleges in court documents that Fauci's National Institute of Allergy and Infectious Diseases, or NIAID, has sat on the group's requests for public records for a year or more while seeking to redact much of the information sought by WCWP.
"Our new lawsuits will help expose the full extent of NIAID's wasteful spending on cruel, outdated, and unnecessary experiments on dogs and monkeys. After all, taxpayers have a right to know!" the WCWP said in a statement.
WCWP is best known for revealing the agency's experiments on beagles, in which the dogs were afflicted with biting flies and ticks, force-fed experimental drugs, and had their vocal cords cut out so researchers did not have to hear their whimpers of pain.
The group also has exposed how NIAID owns and keeps "Monkey Island," a small island off the coast of South Carolina that is home to more than 3,000 monkeys used for experiments on deadly diseases.
In its recent court filing that dealt with dogs, the WCWP alleges Fauci's organization has sat on three records requests made since August 2021.
The group seeks records, including videos or photographs, that pertain to a canine-vaccine experiment at the University of Georgia, "drug toxicity testing" on dogs, and a contract awarded for unspecified research by a company called Emergent Virology.
As far as monkeys, the WCWP seeks documents from experiments that tested monkeys for reaction to and transmission of viral hemorrhagic fevers, which for example cause the Ebola virus, as well as studies that test pain thresholds without providing the animals anesthetics, and analgesics, and/or tranquilizers.
Justin Goodman, WCWP's senior vice president for advocacy and public policy, said in a statement, "We're taking Dr. Fauci to court because a growing majority of taxpayers oppose government animal tests and they have a right to know how Fauci and NIAID's white coats are abusing puppies and primates in wasteful experiments with their hard-earned money."
"Our viral #BeagleGate campaign first exposed how Fauci recently wasted millions of taxpayer dollars on unnecessary and barbaric tests in the U.S. and abroad where puppies were infested with hundreds of biting flies and ticks, force-fed experimental drugs, and even had their vocal cords cut out so they can't cry out in the lab," Goodman continued.
"We were also the first to uncover Fauci's maximum pain experiments on primates, and the secretive taxpayer-funded Monkey Island where NIAID keeps thousands of monkeys destined for deadly experiments."
"Our new lawsuit," he added, "will expose Fauci's secret spending on wasteful, widely-opposed animal tests so that we can stop the money and stop the madness!"
Visit Tampafp.com for Politics, Sports, and National Headlines.
Android Users, Click Here To Download The Free Press App And Never Miss A Story. Follow Us On Facebook Here Or Twitter Here.
Login To Facebook From Your Browser To Leave A Comment