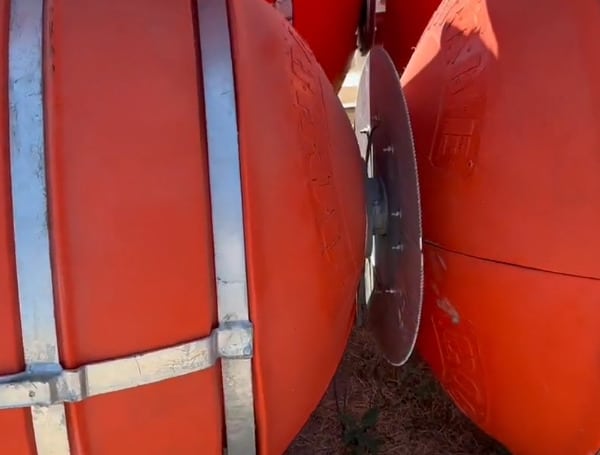 An international survey found that Republican Texas Gov. Greg Abbott's floating buoy barrier along the southern border mainly sits in Mexican territory, according to a Tuesday court filing.
The Department of Justice (DOJ) sued Abbott in July, alleging that he violated portions of the Rivers and Harbors Appropriation Act of 1899 for allegedly obstructing navigable waters and flouted approval from the U.S. Army Corps of Engineers.
The majority of the barrier is located in Mexico, according to a court filing citing a survey conducted by the International Boundary and Water Commission (IBWC).
In the news: Former Border Chief Says 'Chainsaw Devices' On Texas Gov. Abbott's Buoys Prevent Climbing, Not Dangerous
"A comparison of the recorded locations of the buoys to the official IBL, as defined in Minute 315, establishes that approximately 208 feet of the buoy line (in the upstream portion of the buoy alignment) are located within the United States, whereas approximately 787 feet of the buoy line (in the downstream portion of the buoy alignment) are located within Mexico," the filing stated.
Abbott announced in June that he would erect the barrier to control the flow of illegal immigration into his state. After an initial threat of legal action by the Biden administration, Abbott made clear that he would fight their concerns in court.
"In a late-night letter sent to me last Tour lawyers at the Department of Justice threatened to sue the State of Texas over the floating marine barriers we have deployed in the Rio Grande River in Eagle Pass. Texas will see you in court, Mr. President," Abbott previously wrote to Biden.
The Mexican government has also been critical of Abbott's buoys, saying they're a "violation" of Mexico's sovereignty.
"We express our concern about the impact on the human rights and personal safety of migrants of these state policies, which run counter to the close collaboration between our country and the United States federal government," the Mexican Foreign Ministry said in a recent statement after two bodies were found on or near the buoy barrier in the river.
In the news: Texas GOP Rep. Fallon Blasts DOJ On Special Counsel Appointment In Hunter Biden Probe
The Texas Department of Public Safety (DPS) said that the body found in the barrier was believed to have resulted from a drowning upstream.
A spokesperson for Abbott didn't immediately respond to a request for comment.
Android Users, Click To Download The Free Press App And Never Miss A Story. Follow Us On Facebook and Twitter. Signup for our free newsletter.
We can't do this without your help; visit our GiveSendGo page and donate any dollar amount; every penny helps
Login To Facebook To Comment