July 28, 2020
By: Staff Report
WASHINGTON, D.C. – A video that went viral on social media channels, was pulled down by the Big 3 on Monday (Facebook, Twitter, and YouTube). A group of Doctors gathered in front of the capitol building in D.C., to speak on the use of the drug Hydroxychloroquine.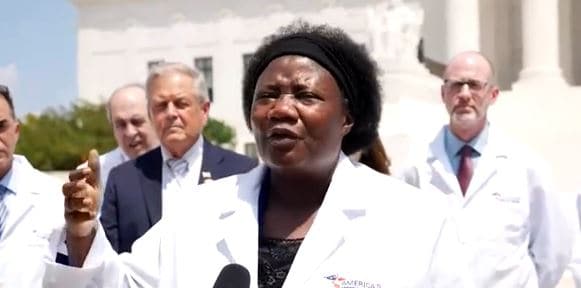 "I am here because I have personally treated over 350 patients with COVID. Patients that have diabetes. Patients that have high blood pressure. Patients that have asthma. All people, I think my oldest patient is 92. And 7-year-olds and the result has been the same," said Dr. Stella Immanuel a General Practitioner from Houston Texas.
She said she put herself, her staff, and other doctors she knew on hydroxychloroquine for prevention of COVID-19.
"We see patients, 10 to 15 COVID patients, every day, we give them breathing treatments. We only wear a surgical mask. None of us has gotten sick. It works," she added.
Dr. Immanuel said no one needed to die, as America's death toll for the virus reaches 148,000.
The FDA released this statement, "The FDA has determined that chloroquine and hydroxychloroquine are unlikely to be effective in treating COVID-19 and therefore we are revoking the emergency use authorization for these drugs."
In a study conducted by NIH in 2005 on the use of Hydroxychloroquine to prevent treat coronaviruses, particularly SARS-CoV, was referenced by the Doctors at during the video. That study is below.
Severe acute respiratory syndrome (SARS) is caused by a newly discovered coronavirus (SARS-CoV). No effective prophylactic or post-exposure therapy is currently available.
We report, however, that chloroquine has strong antiviral effects on SARS-CoV infection of primate cells. These inhibitory effects are observed when the cells are treated with the drug either before or after exposure to the virus, suggesting both prophylactic and therapeutic advantages. In addition to the well-known functions of chloroquine such as elevations of endosomal pH, the drug appears to interfere with terminal glycosylation of the cellular receptor, angiotensin-converting enzyme 2. This may negatively influence the virus-receptor binding and abrogate the infection, with further ramifications by the elevation of vesicular pH, resulting in the inhibition of infection and the spread of SARS CoV at clinically admissible concentrations.
Conclusion
Chloroquine is effective in preventing the spread of SARS CoV in cell culture. Favorable inhibition of virus spread was observed when the cells were either treated with chloroquine prior to or after SARS CoV infection. In addition, the indirect immunofluorescence assay described herein represents a simple and rapid method for screening SARS-CoV antiviral compounds.
Login To Facebook From Your Browser To Leave A Comment