June 26, 2020
By: Staff Report
TAMPA Fla. – We aren't there yet, but we are a lot closer to a baseball season than we once were.
After owners and players tried to pull themselves to pieces despite a global pandemic, baseball – yes, baseball – might be the first of the big four of professional sports to come out of the gate.
Who would have thought that a month ago?
True, it could all still blow up in the time it takes to corn swab noses and throats and find more COVID-19. Both the Dodgers and Twins have had a few players test positive. This is a new world, and that world could crumble at any moment.
But, for now, we have baseball, an ultra-short 60-game baseball season, the kind of baseball season we have never seen before or are likely ever to see again. Blink and you'll miss it. Every game will matter. It'll be the playoffs ever night. Dog days are gone. A game whose season is a forced march, a marathon, has just put on its sprinter's shoes. Stow the Astros' double-secret garbage cans. Let's rumble. It's going to go by so fast that the Tampa Bay Rays might not even have time for French lessons.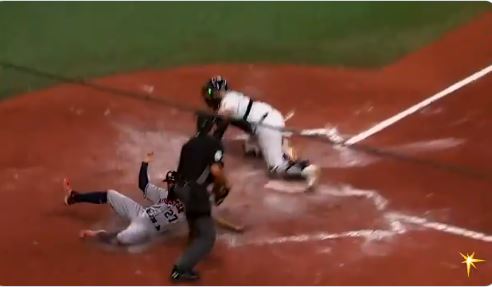 But they might have time to win it all.
You heard me right.
These Rays, baseball's mothers of invention, have a legitimate shot at a world championship. And, as a bonus, given the fact that there are no minor leagues this season, we might just get to see wondrous Wander France, the Rays' five-tool sensation and baseball's top prospect. This could be a lot of fun.
Repeating: The Rays have a real shot.
Granted, so does seemingly every other team in this extended lightning round. But Kevin Cash's upstart Rays, coming off 96 wins and the playoffs, might just have what it takes to take it all. They are built just right for this. And if they aren't, they'll rebuild on the fly.
Make no mistake: The start is everything. The Rays broke out 14-4 in 2019, and it set the tone for the season. It will be that way all over again, and then some. A five-game win streak will call for ticker tape. A five-game losing streak will be an earthquake.
A bonus will be rules tweaks that should have happened years ago: a universal DH and extra innings that feature a runner on second base, to begin with. There will be expanded rosters and COVID and non-COVID DLs. Unlike the NBA and NHL, baseball will try business as usual, with teams hosting games in their own parks, even if the parks remain empty.
That is right in the Rays' wheelhouse. Tell me another team that can easily adjust to playing home games in front of no fans. The Rays were built for this. The sounds of silence are routine.
True, there are a few possible obstacles in a hyper-short season. The Rays roster, from top to bottom, and full of possibilities and ever maximized during a long haul, 40 men strong. But will that matter in this sprint? Deeper might not be better.
Likewise, the Rays pitching staff, built top to bottom, chock full of starters, closers, and "openers," that lovable Rays-driven delight, might not be as well suited to a shortened season. A limited season might see teams go with its top starters as often as possible, and that could dull the edge of the Rays' edge. All that Rays depth, all those Rays options, might not matter as much.
Then there is the fact that a quick start could put anyone in the running. Teams that can't handle the haul of 162 games might fare just fine in the short term unless they are the Orioles, Tigers, and Royals.
And there is the schedule, which will feature 40 Rays games within the AL East and 20 against the NL East. The AL East was setting up nicely for the Rays, despite the Yankees being loaded, because the Red Sox are in transition. On the other hand, the NL East could be trouble, with the world champion Nationals, the ascendant Braves, the rising Mets and the Phillies, and Bryce Harper looking to breakthrough.
But the Rays have a real shot. This is an unusual season, but this is an unusual franchise, truly. That said, this season has real possibilities.
From Austin Meadows to the Lowes (not brothers) to Jim-Man Choi to Kevin Kiermaier, from Willy Adames to incoming homer guy Hunter Renfroe, and maybe with Franco to boot, this lineup seems capable of producing. And is it really a problem when you can start Charlie Morton, 2018 Cy Young winner Blake Snell, and Tyler Glasnow in a three-game series late in a season that is already late?
This will be like no baseball season ever. And it could all go down the tubes a serious outbreak in the ranks. But as long as games are played, as long as chaos needs to be embraced, don't bet against a team that deserves consideration, the team that has won 186 times over the last two seasons and that has fooled us time and time again. Chaos is the Rays' calling card, and it might be just the thing to finally produce a world championship dog pile in a fan-less stadium. Except no dog piles. Or high fives. Or even spitting.
Don't bet against Kevin Cash and the Rays.
Let the testing begin! The other tests, 60 games' worth, are on the way.
Who would have thought baseball could pull this off?
Well, the Rays can too. It would make perfect sense in an imperfect season.
Publishers note: While The Free Press will always be free for our readers, and ad-supported, we are asking our loyal readers to consider a monthly donation of $3 to maintain our local journalism and help us grow, as we ramp up ad sales locally.
You can click here to support us.
We thank you all for your consideration and supporting local journalism.
Login To Facebook From Your Browser To Leave A Comment