POLK COUNTY, Fla. – When composer Oscar Levant stated, "there's a fine line between genius and insanity. I have erased this line," he never knew his words would succinctly describe a creative quintet in Polk County 2020.
While Broadway and local theatres alike are dark or struggling to keep their doors amidst a pandemic, five friends decided to take a gigantic leap of faith and open The Thru→Line, a professional nonprofit theatre company in Polk County.
Executive director, Lydia Lea Real, Tony Murvin – artistic director, Lisa Negrón – marketing director, Omar Negrón – technology director, and Gretchen Suarez-Pena – operations director/playwright-in-residence, founded The Thru→Line. Creating a new theatre grew out of a conversation about missing it and how the face of theatre would be changed moving forward.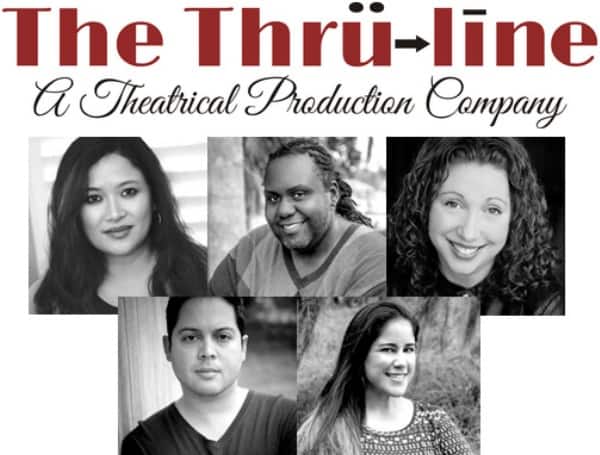 "Because we're crazy," explained Suarez-Pena, "I think Tony said it best on our website: so, we decide to start a theater company! During a pandemic!  We are also kind of crazy, but the best artists are! The face of our world has changed, so has theatre.  So, we figured, no time like the present to jump in and say, 'Hey, let's play!'"
The casual talks in June evolved into detailed conversations and incorporation in Florida approximately eight weeks later, on August 1.
The group credits Real for having the original concept twenty years earlier.
"She moved to N.Y.C. to pursue acting on September 9, 2001, and two days later, as everyone knows, tragedy struck. Months later, amidst the rebuilding and recovery, the conversation of beginning a small theatre company started with Lydia and her college friends. Nothing came from the conversation at the time, but it was an idea that resurfaced several times in her life. Finally, perhaps triggered by the events of 2020, the opportunity for The Thru-Line to become more than a thought presented itself. This is literally a 20-year-old dream come true!"
The Tribe, as they refer to themselves on their website, were inspired not only by missing the stage but also by the social unrest in the country. The Thru-Line reflects "being the change they want to see" in their first season, themed love.
"There has been a significant shift in awareness of inequality, fair representation, underlying racism, and other social areas of opportunity. As artists, we feel that it is our social responsibility to use our talents as a platform for change. In a world full of uncertainty and fear, why not spread some love and learn to play again."
The Thru-Line's first show, Couples, written by Suarez-Pena's mentor, Sean Grennan, about three different couples rediscovering their love in virtual couples' therapy, was met with an overwhelmingly positive response.
"When we auditioned for our first show, we had actors literally from all over the world audition. Someone from the Philippines auditioned. One of our cast members was from California, and the rest of the cast represented various parts of Florida. We also sold over 80 tickets to our first show that was completely virtual. The audience response was great. They loved the show," said Suarez-Pena.
Upcoming in 2021 is Qualia, about a woman in a post-apocalyptic world bonded with the A.I. computer that essentially keeps her alive. It explores the theme of love in a real unconditional manner and addresses what it means to be human. Auditions begin in January 2021.
Their third show will be a curated night of works written by Suarez-Pena that explores all kinds of aspects of love – family, friendships, lost love, etc. They will end the season with Shakespeare.
"He knows a thing or two about the universality of love," quipped Suarez-Pena.
The theatre will also feature workshops.
Said Real, "Amidst the chaos of 2020, The Thru-Line felt it imperative to elevate marginalized voices in our community of Polk County, Florida. Particularly, the groups we represent – Asian, Blacks, Hispanics, L.G.B.T.Q., and women. And although this list is not all-encompassing, this is how we are hoping to start. Each season you will see a common thread connecting the stories we wish to tell and the voices we elevate. We're pretty proud of our diversity, and we hope to continue that moving forward.
We also want to elevate the arts in Central Florida by creating a community that supports each other. The entertainment industry, by nature, can be cutthroat and competitive. We believe that this is unhealthy and counterproductive for the growth of art. We believe that we can elevate our theatre company by elevating other companies. We have already begun to form relationships with other organizations that share a similar mission, including Powerstories, Outcast Theatre Collective, and Polk Pride. We hope to create a strong alliance with organizations that want to play with us to support, promote, and elevate each other. We believe there is a need for a theatre company like ours in this area. We are a proud B.I.P.O.C. theatre company, and our intention is to bring more diversity in the arts to Polk County."
For more information, to volunteer, casting information, or submit work for consideration, visit https://www.thethrulinecompany.com.
Publishers Note: While The Free Press will always be free for our readers, and ad-supported, we are asking our loyal readers to consider a monthly donation of $3 to maintain our local journalism and help us grow, as we ramp up ad sales locally.
We thank you all for your consideration and for supporting local journalism
Login To Facebook To Comment