Photos and Story by Geoff Fox
Tammy Holt said she was shocked when she and several friends recently walked into The Vineyards Trattoria and Pizzeria for the first time.
The location at 250 Apollo Beach Blvd. has been home to several restaurants over the years, and Holt was skeptical about The Vineyards despite reading positive online reviews.
"I was immediately amazed at how clean it is," Holt said, as she sipped a cocktail at the bar. "The ambience in here is not the old Apollo Beach, and this building doesn't even have the same feel. We need more good restaurants in Apollo Beach. We need to support and appreciate what our little community has."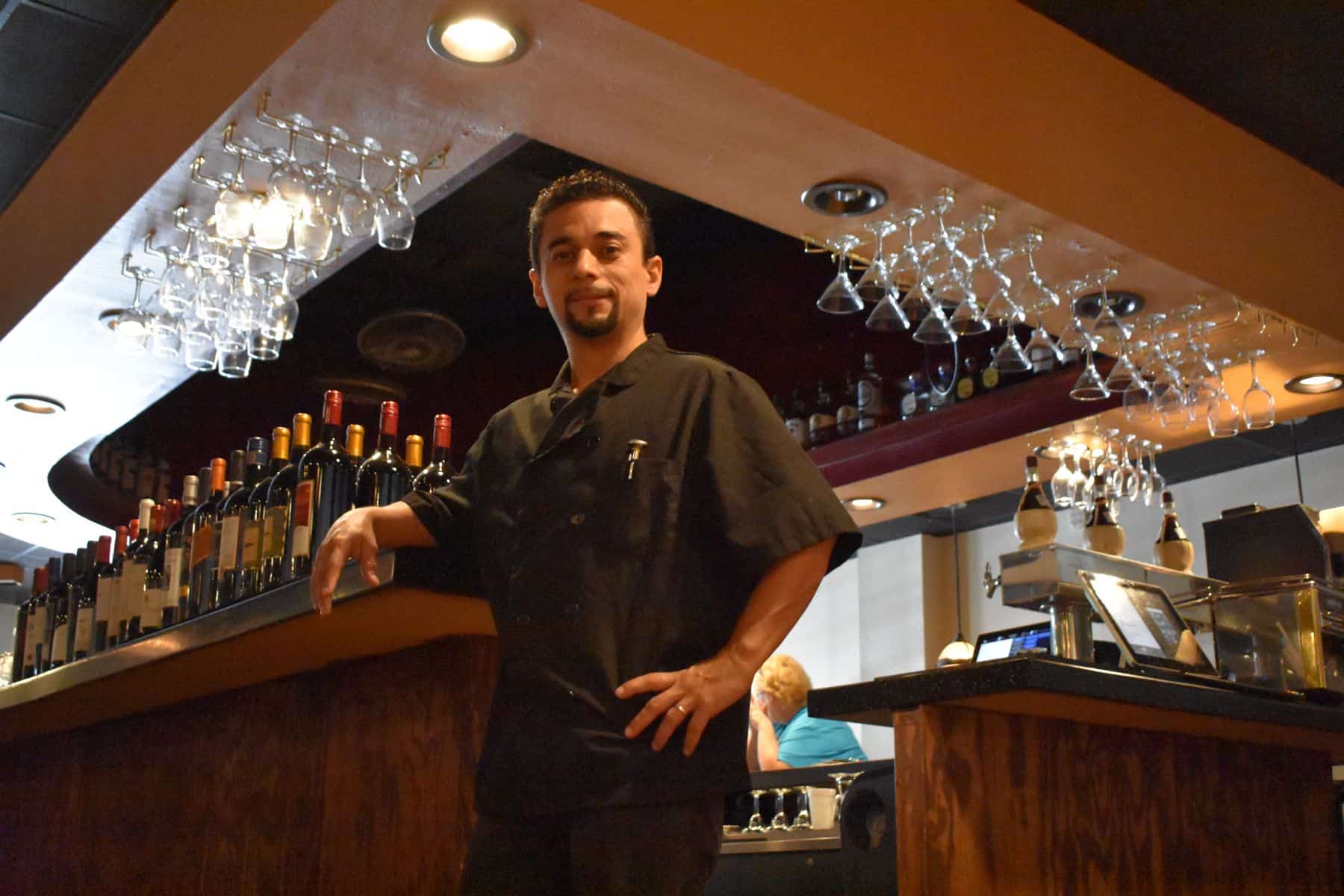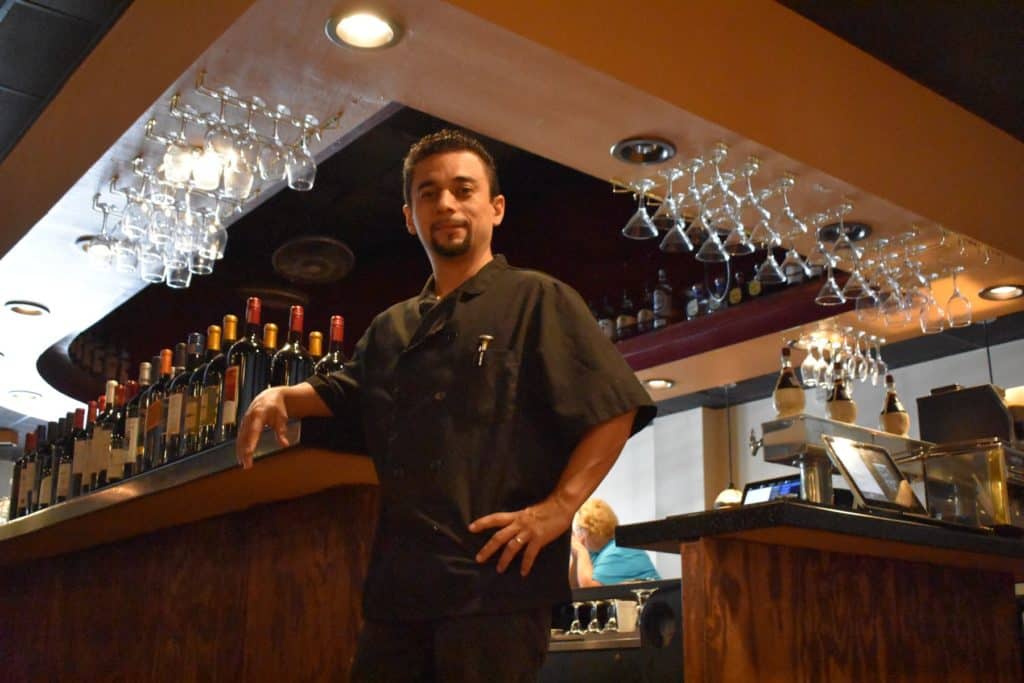 Merlin Calero opened the 4,100-square-foot restaurant in late July. A longtime restaurateur, he opened the first Vineyards location in Newport News, Virginia, several years ago.
His career in the industry started when he was a 12-year-old growing up in Long Island, New York. Calero's older brother worked at an Italian place called Doraldo's, which was run by first-generation Americans from Italy.
"I started out cleaning up tables and taking out the trash," said Calero, 41, of Ruskin. "At the end of the first day, they asked if I was coming back. I got a free slice of pizza, a free soda and $10. I was like, 'Yeah, I'll be back.'"
Calero stayed at the restaurant for several years, eventually working in the kitchen, where he learned to make the kind of authentic Italian-Sicilian dishes that are now on The Vineyards' lunch and dinner menus.
The restaurant's signature pasta dishes include penne formale (penne pasta sautéed with shrimp, breaded chicken, and sundried tomatoes in a pink cream sauce), linguini con vongole (linguini with fresh middle neck clams and chopped clams in a garlic white wine sauce or marinara sauce), trietto ala vodka (medley of gnocchi, four cheese ravioli, and tri-colored tortellini sautéed with tender pieces of chicken and pancetta in The Vineyards' popular vodka sauce) and seafood cannelloni (pasta filled with ricotta cheese, lobster, scallops and shrimp in a crab meat vodka sauce topped with fresh mozzarella).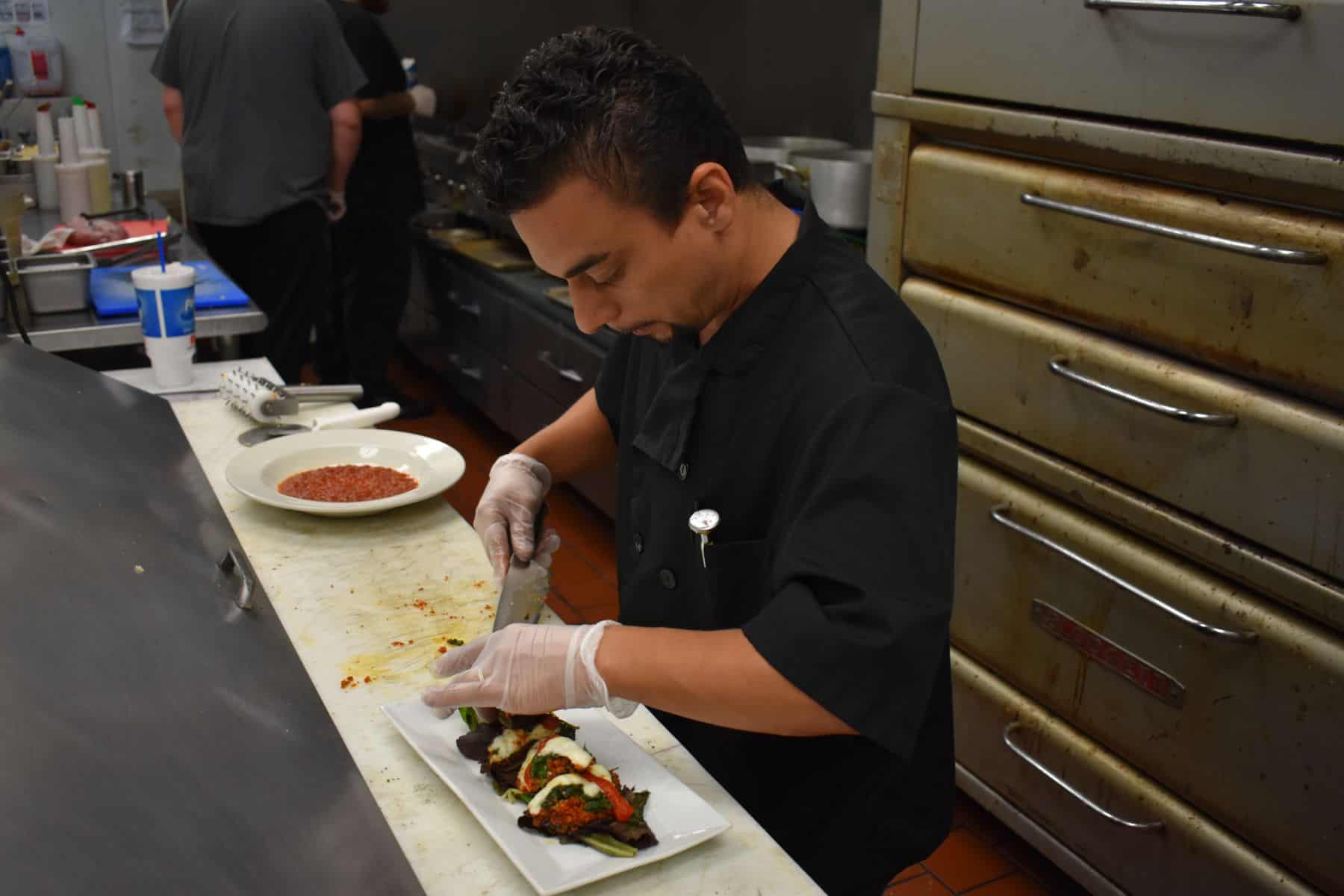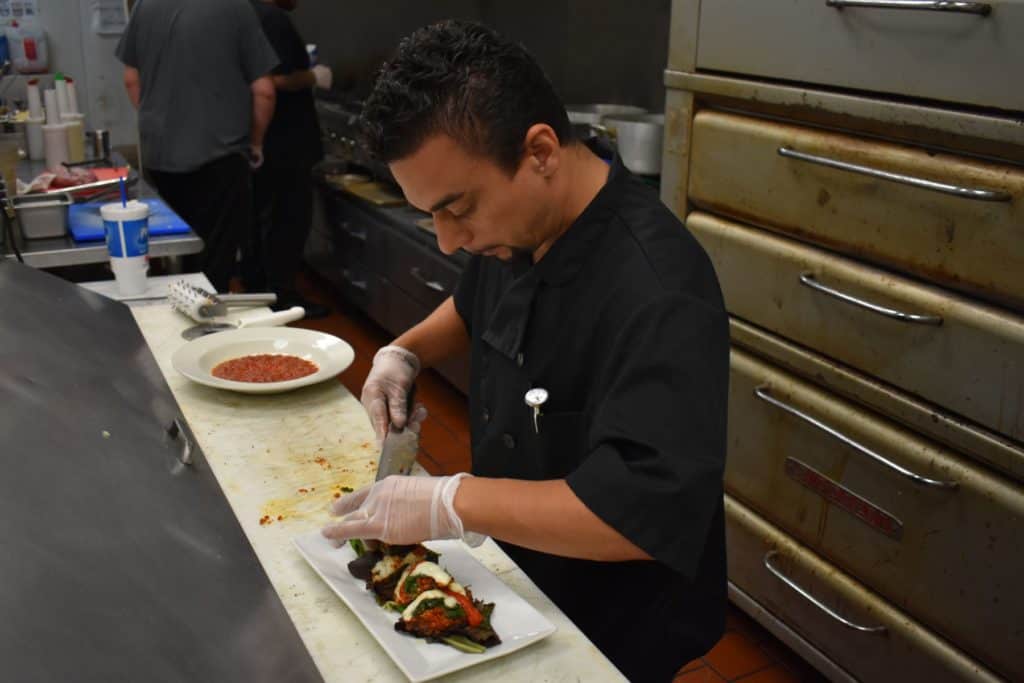 Antipasti, or appetizers, include fried calamari, portabella ripieno (portabella mushroom stuffed with baby spinach, roasted red peppers, seasoned breadcrumbs and baked with mozzarella cheese), gambaretti fradiavlo (sautéed shrimp and kalamata olives in a spicy garlic marinara sauce, topped with goat cheese) and bruschetta (fresh, oven-baked focaccia bread topped with diced Roma tomatoes, red onions, garlic, basil, olive oil and balsamic vinegar).
Other offerings include hand-tossed pizza, lasagna, chicken and veal parmigiana, surf-and-turf with cheese ravioli, salmon piccata and frutti de mare (shrimp, calamari, clams and crabmeat served over fetuccine in a creamy garlic Alfredo sauce), as well as an array of salads.
The restaurant has a high-end ambience, with low music, soft lighting and tables covered with clean white linens.
Calero and wife Carolina moved from Virginia to Florida in 2012. The couple, who are raising four children, moved south to attend a Bible school, but, as Calero put it, "God had other plans."
He said he looked for a suitable location for a couple of years before he stumbled upon the spot several months ago.
"It just looked like a really good spot," Calero said. "Apollo Beach is a really good area without a lot of dining options, and there are still a lot of people moving in."
Since opening the restaurant, Calero has hired 26 employees, 10 of whom work full-time.
On a recent weekday Sandy Memoli, a New York native who married into an Italian family, enjoyed a portabella ripieno as she hung out with friends.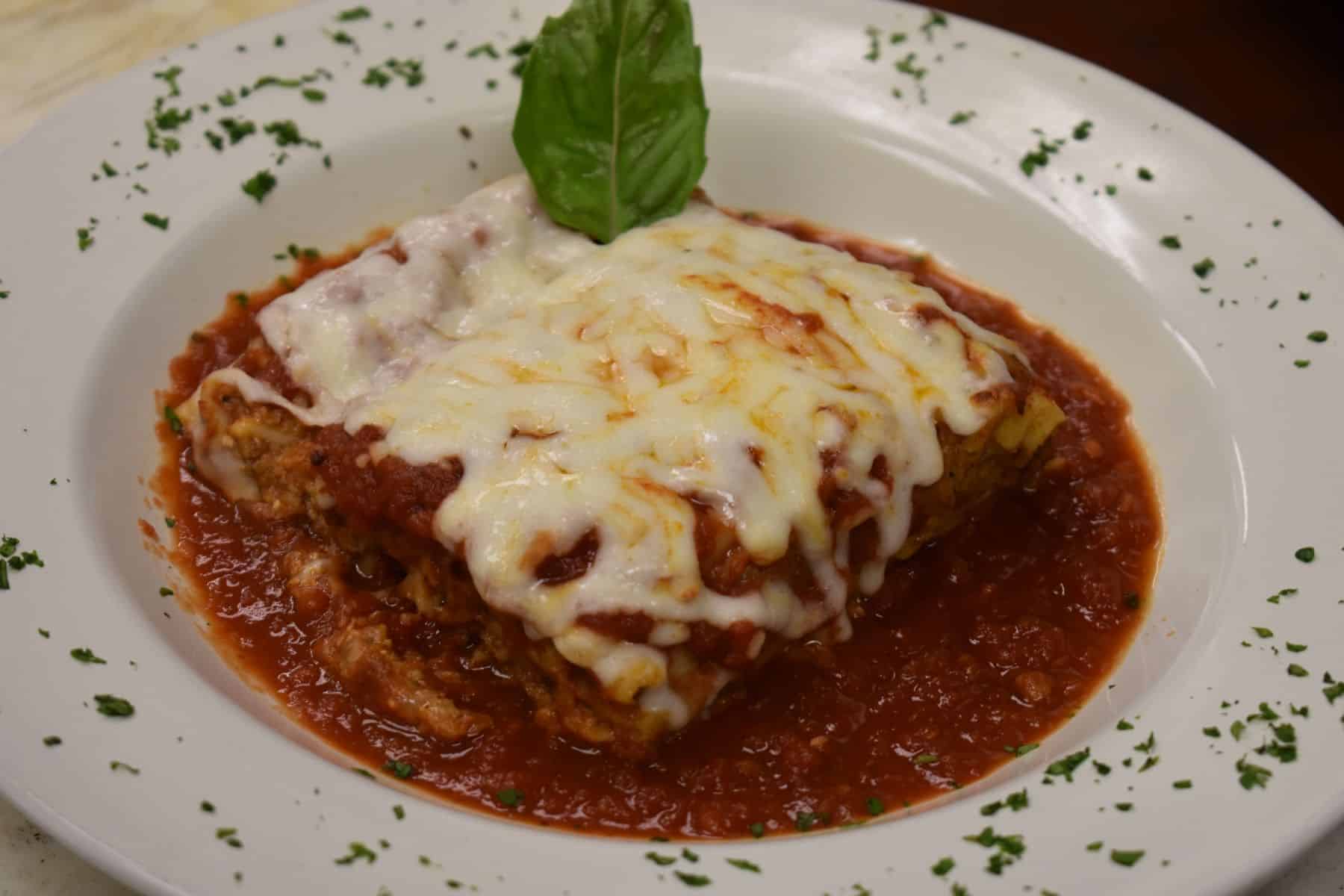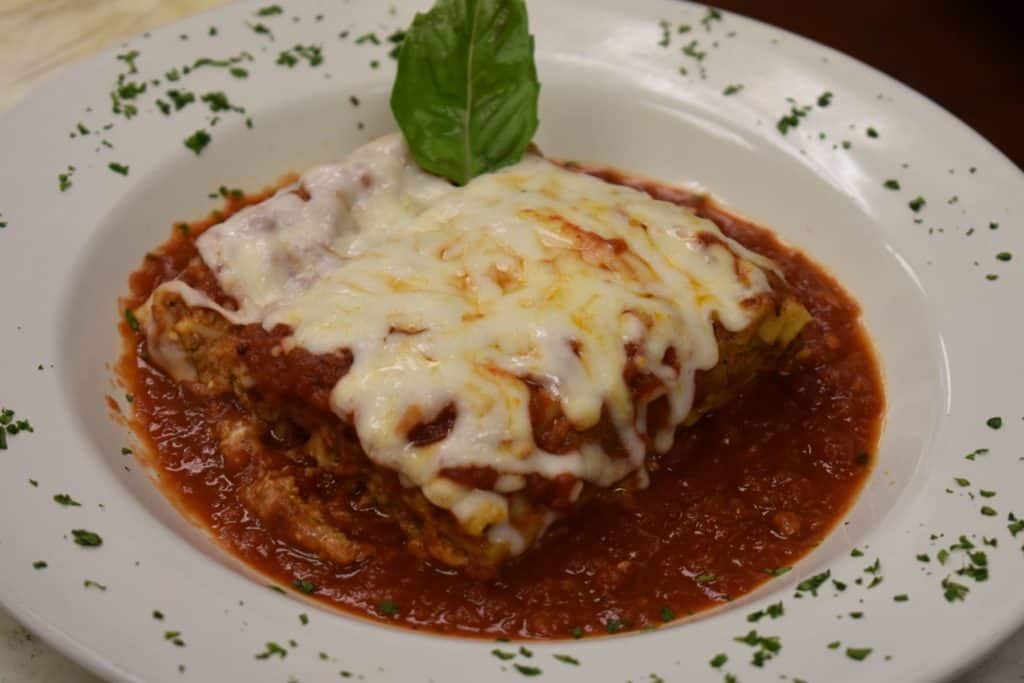 "I've been here three or four times already, and I get this every time," she said of the appetizer. "It's usually pretty busy in here, but it's really nice and clean. I'm used to Italian food and seafood, and the food here is very flavorful. We've sent quite a few people over here."
For information about The Vineyards, visit www.thevineyardstrattoria.com, call (813) 645-2119 or email thevineyardsab@gmail.com.
Login To Facebook From Your Browser To Leave A Comment