TAMPA, Fla. – This week, the day begins between 1:30 PM and 3:30 PM. Students trek to the bathroom before starting class and wash their hands. When the CDC protocols went into effect when the pandemic hit, TRIBE Seminole Heights, located in Seminole Heights United Methodist Church (no affiliation), was already ahead of the curve. Kids already traveled as a group to wash their hands before beginning an activity.
"I was a germaphobe long before it was cool," joked Tribe founder Kristen Brown.
Closed for several months, TRIBE and Brown are happy to welcome back their students, though now greatly reduced to 25% capacity. To accommodate social distancing in the classroom, classes are reduced to half of the normal student population, and Brown, instructor volunteers, and participating families wear masks. At the close of each day, TRIBE is sanitized and disinfected.
"We closed for Spring Break and didn't get to reopen till six months later."
When Brown opened TRIBE in 2019, her goal was to make fun activities and events for babies, children, and teens in a safe environment. In her first year open, TRIBE served over 700 families.
"We did that on a budget of only $6,000," she said. "We are run completely by volunteers. PreCovid, we had about 130 volunteers, and we are currently below 50. We have an urgent need for volunteers."
If you've never heard of this nonprofit community center, you're missing out on an opportunity for your child to discover music, painting, sewing, ballet, yoga, gardening, laser tag, pottery, gaming, coding, lego building – among the many options available. Volunteers, carefully screened and background-checked by the center, teach these weekly classes in a classroom with cameras and a supervisor.
"We have a lot of safety precautions in place," she said.
While Brown could have easily charged $10 or more per class, as she was a single mother, she didn't want to burden other single parents, with half of a paycheck going to their child's class participation fees. She knew she had to create TRIBE to be affordable and make classes accessible to everyone.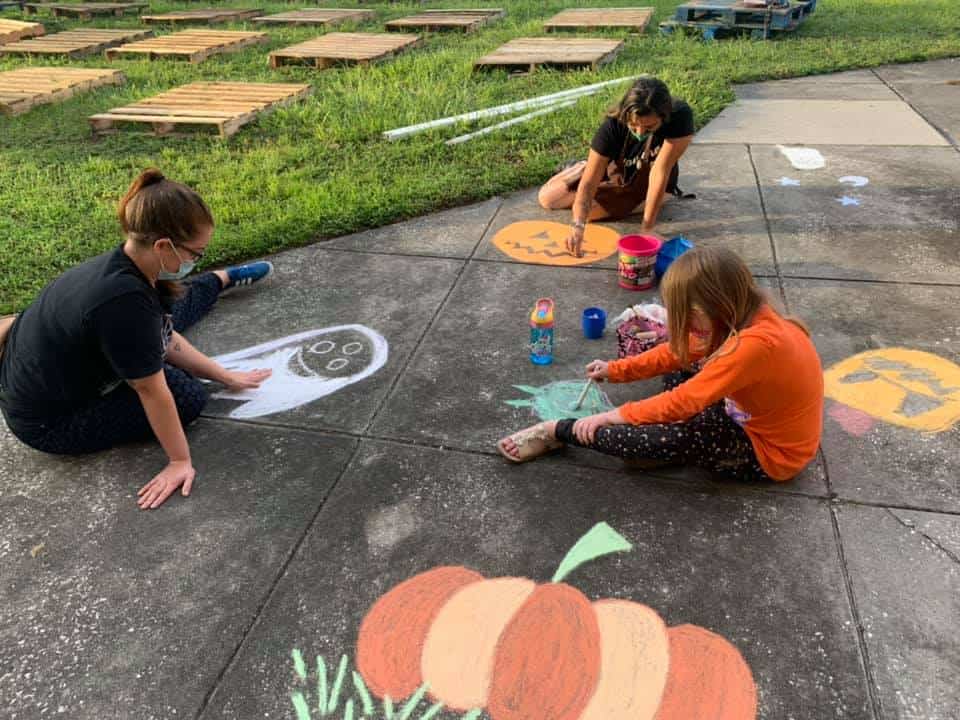 "I felt frustrated for all the families that I knew that did not have the means, and I thought it was possible to do this, so I just felt led to."
At TRIBE, each class is at an extraordinarily low price of $5 per drop-in class, with no long-term commitment.
Although most of the activities are geared to elementary students, five to ten years old, the center also offers classes for babies, toddlers, preschoolers, and a few teen' options.
TRIBE also features a community closet where they give away free clothing and shoes to families.
"While we're always accepting clothing donations, our greatest need is time and money. We are struggling for volunteers. What we really need are financial contributions."
Brown's goal is to hire someone to run the center, but they need a substantial budget to do that.
"We are a totally grassroots effort. We don't receive any funding, grants, sponsorship, no major donors of any kind. We are made up of tiny contributions from folks in the neighborhood. Everything we use in our facility is used and donated. Though that's amazing, it's not sustainable. We really need help to either obtain funding or sponsorship or increase our major gifts."
For the families lucky enough to secure their reserved spot before the free sold out event this Friday, TRIBE decked out their 5-acres of their property with a guided path full of Halloween activities, games, and fun displays called Spooky Stroll.
This is just one of the many free community events that Brown promotes on the nonprofit's Facebook page for families.
"To witness this miracle is probably the greatest joy in my life. It's amazing to see the way the community has come together and made TRIBE happen. It's very powerful. I'm just lucky enough to be in the front driver's seat to witness it really well."
To learn more about TRIBE Seminole Heights, to volunteer, or donate, please visit https://www.tribeseminoleheights.com.
Publishers Note: While The Free Press will always be free for our readers, and ad-supported, we are asking our loyal readers to consider a monthly donation of $3 to maintain our local journalism and help us grow, as we ramp up ad sales locally.
We thank you all for your consideration and for supporting local journalism
Login To Facebook From Your Browser To Leave A Comment