August 24, 2020
By: Staff Report
MORGAN CITY, LA. – Marco is clearly weakening tonight. Data from an Air Force Reserve Hurricane Hunter mission showed that flight-level and SFMR had decreased along with a substantial rise in central pressure. In addition, GOES-16 1-min satellite data show the surface center well displaced from the deep convection, and it appears that Marco is decoupling from its mid level circulation to the northeast. The initial wind speed is set to 50 kt, and that could be generous.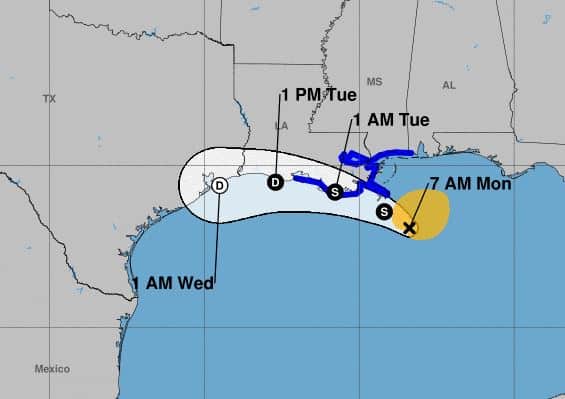 Gusty winds, dangerous storm surge, and heavy rainfall are expected from Marco along portions of the Gulf Coast beginning later today. Interests in these areas should follow any advice given by local government officials.
Tropical Storm Laura could bring additional storm surge, rainfall, and wind impacts to portions of the U.S. Gulf Coast by the middle of the week. This could result in a prolonged period of hazardous weather for areas that may also be affected by Marco. Interests there should monitor the progress of Marco and Laura and updates to the forecast during the next few days.
THE HURRICANE WARNING FROM MORGAN CITY LOUISIANA TO THE MOUTH OF THE PEARL RIVER, HAS BEEN CHANGED TO A TROPICAL STORM WARNING.
THE HURRICANE WATCH FOR LAKE PONTCHARTRAIN…LAKE MAUREPAS AND METROPOLITAN NEW ORLEANS HAS BEEN DISCONTINUED.
THE TROPICAL STORM WATCHES WEST OF INTRACOASTAL CITY LOUISIANA AND FROM THE MISSISSIPPI/ALABAMA BORDER TO THE ALABAMA/FLORIDA BORDER HAVE BEEN DISCONTINUED.
SUMMARY OF WATCHES AND WARNINGS IN EFFECT…
A STORM SURGE WARNING IS IN EFFECT FOR….
MORGAN CITY LOUISIANA TO OCEAN SPRINGS MISSISSIPPI
LAKE BORGNE
A TROPICAL STORM WARNING IS IN EFFECT FOR…
INTRACOASTAL CITY TO THE MISSISSIPPI/ALABAMA BORDER
LAKE PONTCHARTRAIN…LAKE MAUREPAS…AND METROPOLITAN NEW ORLEANS
Login To Facebook From Your Browser To Leave A Comment