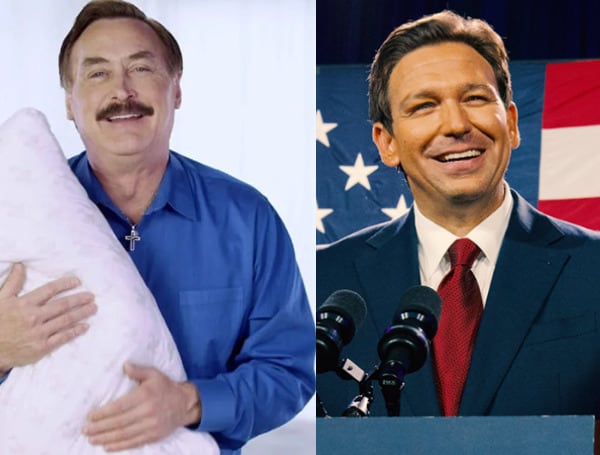 Mike Lindell, My Pillow guy, may have finally jumped the shark.
Lindell, a ubiquitous TV presence through commercials for his My Pillow company and a prominent Donald Trump supporter, said he was "going after" Florida Gov. Ron DeSantis' win in South Florida.
He questioned the outcome of the Republican incumbent's victory in heavily Democratic, predominantly Hispanic Miami-Dade County, where DeSantis became the first Republican governor to win since Jeb Bush in 2002.
"I look at deviations, everybody. That's a deviation," Lindell said last week during a broadcast of his podcast "The Lindell Report."
"I don't believe it," Lindell continued in discussing the results with producer Brannon Howse.
In the news: Christian Orgs Continue To Make Amazon Smile's Naughty List
"I'm just gonna show everybody, just like we say about Democrats, where they stole their elections, …I want to find out what happened there because it's a deviation from (the) norm."
DeSantis beat Democrat Charlie Crist by 11 points in Dade County. He won the election statewide by 20 points.
In an interview with the anti-Trump website The Bulwark, Lindell seemed to question Florida's voting machines.,
"A Republican hasn't won Dade County like DeSantis did. I just want to find out why that's a deviation. Find out why it happened and if it happened, if there was problems with the election, things with the machine or whatever. If something happened, I want to know it happened," said Lindell, who also seeks to become the chairman of the national Republican Party.
"We already know all the cheating that went on and stuff in all these other states against Republicans, but we know six Democrats it happened to too," he added. "These machines need to go. They're defective. They gotta go."
There have been no allegations that Dade County's voting machines were defective, its results were tainted, or that DeSantis or his campaign did anything nefarious there.
Liddell, however, did uncover something: That most conservatives have no use for his smearing the popular GOP governor. Lindell's evidence-free questioning found plenty of critics on social media.
In the news: Op-Ed: How Do We Get Our Nation Back On Track?
For example, Ryan Saavedra of The Daily Wire tweeted, "Conspiracy theorist Mike Lindell says he is going to Florida to audit Governor Ron DeSantis' (R) historic re-election victory because there is no way DeSantis did as amazing as he did."
"Absolute clown show, for sure," he added.
Former Newsmax host John Cardillo tweeted, "Lindell needs to go away. DeSantis did well in FL because he did an amazing job for FL. Lindell's BS is pathetic, and he should stop listening to grifters using him for $$$."
On Twitter, Joe Cunningham, an editor for the conservative website RedState, used Lindell's comments to mock his sales pitches: "I mean, DeSantis' victory margins are just as insane as THIS AMAZING NEW DEAL ON MYPILLOW IF YOU GO TO MYPILLOW DOT COM AND…."
Android Users, Click Here To Download The Free Press App And Never Miss A Story. Follow Us On Facebook Here Or Twitter Here. Signup for our free newsletter by clicking here.
Login To Facebook From Your Browser To Leave A Comment