Yahoo News journalist, Michael Isikoff, confirmed the felony counts that former President Trump will face, and Trump is calling on Manhattan District Attorney Alvin Bragg to be indicted.
According to Isikoff, Trump will be placed under arrest on Tuesday and informed that he has been charged with 34 felony counts for falsification of business records, according to a source who has been briefed on the procedures for the arraignment of the former president.
One charge that was expected is a falsification of business records.
In the news: Trump Lawyers Oppose Cameras At Tuesday's Arraignment Avoiding "Circus-Like" Event
"The charge of falsification of business records is normally prosecuted in New York state as a misdemeanor," the report said. "But Bragg's office bumped up all the charges to Class E felonies — the lowest level of felonies in the New York State penal code on the grounds that the conduct was intended to conceal another underlying crime, according to the source."
On Monday, Trump called on Manhattan District Attorney Alvin Bragg to indict himself.
"Wow! District Attorney Bragg just illegally LEAKED the various points, and complete information, on the pathetic Indictment against me. I know the reporter and so, unfortunately, does he. This means that he MUST BE IMMEDIATELY INDICTED. Now, if he wants to really clean up his reputation, he will do the honorable thing and, as District Attorney, INDICT HIMSELF. He will go down in Judicial history, and his Trump Hating wife will be, I am sure, very proud of him!" Trump said on Truth Social.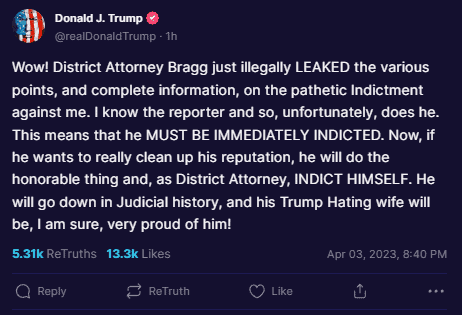 According to Isikoff, a New York City Police "arrest report" detailed many of the pieces of information about Trump's felonies.
Isikoff also said that Trump would not be subjected to a mug shot, which hasn't previously been known. Previous reports by Rolling Stone confirmed that Trump wouldn't be handcuffed, which the Secret Service shot down immediately amid the security negotiations with the courthouse.
Android Users, Click To Download The Free Press App And Never Miss A Story. Follow Us On Facebook and Twitter . Signup for our free newsletter .
We can't do this without your help; visit our GiveSendGo page and donate any dollar amount; every penny helps.
Login To Facebook To Comment