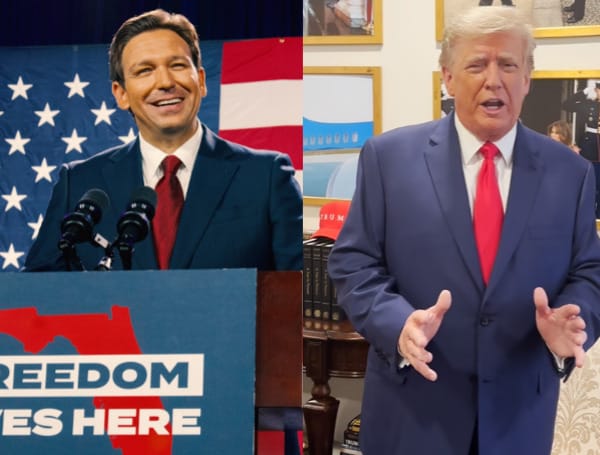 Former President Donald Trump claims a tearful Ron DeSantis literally begged him for an endorsement during his 2018 gubernatorial campaign, saying he was ready to drop out of the election if he didn't secure Trump's blessing.
According to The Daily Wire on Friday, the 45th president gave his version of events from five years ago, saying the current Republican governor of Florida had "tears coming down from his eyes" as he pleaded with Trump to save his flailing campaign.
"Ron DeSantis got elected because of me. You remember he had nothing. He was dead. He was leaving the race," Trump claimed in an interview with conservative podcaster Hugh Hewitt.
In the news: VIDEO: "Explosion In The Sky" Caught On Camera In Billings, Montana, After Military Jet Zooms By
"He came over, and he begged me, begged me for an endorsement. He was getting ready to drop out. I gave him an endorsement, and as soon as I gave that endorsement, in fact, I said you're going to have a hard time."
Continuing, Trump claimed DeSantis said, "If you endorse me, I'll win."
"And there were tears coming down from his eyes," Trump added. "He said if you endorse me, I'll win. I said, 'You know what, Ron was one of 150 people that was on television.' I mean, Jim Jordan was the best, and others were great. But he was one of 150, Hugh, that was on television, and he was supporting me on the impeachment hoax number one, and a little bit on the impeachment hoax number two. And I said I don't know [Republican candidate] Adam Putnam, so we'll do it."
Trump has ratcheted up the rhetoric against Florida's popular governor, yet DeSantis has declined to engage directly.
As one example, a reporter recently asked DeSantis about Trump's criticism.
In the news: Florida Gov. DeSantis Admin To Revoke Venue Liquor License That Allowed Kids To See 'Sexual' Drag Show
"I roll out of bed, I have people attacking me from all angles. It's been happening for many, many years," DeSantis said.
"The good thing is, is that the people are able to render a judgment on that whether they re-elect you or not. And I'm happy to say — you know in my case — not only did we win re-election, we won with the highest percentage of the vote that any Republican governor candidate has had in the history of the state of Florida. … That verdict has been rendered by the people of the state of Florida," DeSantis said.
Android Users, Click Here To Download The Free Press App And Never Miss A Story. Follow Us On Facebook Here Or Twitter Here.
Login To Facebook From Your Browser To Leave A Comment