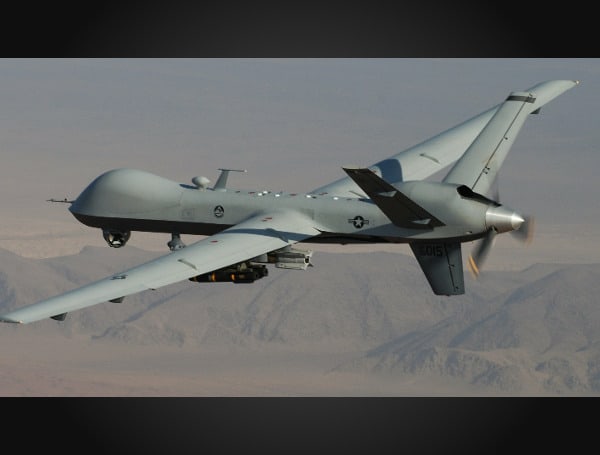 A Russian aircraft slammed into the propeller of a U.S. surveillance drone operating over the Black Sea on Tuesday as the U.S. military condemned Russia for what it characterized as a dangerous display of unprofessional behavior.
Two Russian Su-27 aircraft intercepted a MQ-9 surveillance drone flying through international airspace, repeatedly sloshing fuel over the system and ducking in front of it in an "unprofessional manner," U.S. European Command (EUCOM) said in a statement.
One of the Russian jets struck the drone's propeller, forcing the U.S. to terminate it over international waters and bring the drone down.
In the news: DeSantis Fires Back At Biden For Criticizing Florida Policy
Asked if the Russian Navy is attempting to recover the drone, Brig. General Pat Ryder said Tuesday, "I'm not going to get into that."
"Our MQ-9 aircraft was conducting routine operations in international airspace when it was intercepted and hit by a Russian aircraft, resulting in a crash and complete loss of the MQ-9," U.S. Air Force Gen. James B. Hecker, commander of U.S. Air Forces Europe and Air Forces Africa, said in a statement.
"In fact, this unsafe and unprofessional act by the Russians nearly caused both aircraft to crash," he added.
EUCOM warned such incidents could increase the risk of escalation between the two countries as both the U.S. and Russia remain in a period of heightened tensions over the war in Ukraine.
Russian aircraft have conducted several reckless or unsafe interceptions of manned and unmanned American and allied aircraft over international airspace, including over the Black Sea, according to EUCOM.
In the news: Alabama Man Sentenced In Multi-Million-Dollar Healthcare Fraud, Kickback Scheme
The latest one is the only known to have resulted in a loss since the Ukraine war began.
At least two interceptions of Russian aircraft occurred near Alaska in 2023, according to media reports.
In February, according to CBS News, two U.S. F-16 aircraft conducted a "routine" intercept of four Russian military aircraft, including a bomber and SU–25 fighter jets, in international airspace near Alaska. A similar incident occurred in October.
"U.S. and Allied aircraft will continue to operate in international airspace, and we call on the Russians to conduct themselves professionally and safely," Hecker said.
Android Users, Click Here To Download The Free Press App And Never Miss A Story. Follow Us On Facebook Here Or Twitter Here. Signup for our free newsletter by clicking here. We can't do this without your help; visit our GiveSendGo page and donate any dollar amount; every penny helps.
Login To Facebook From Your Browser To Leave A Comment