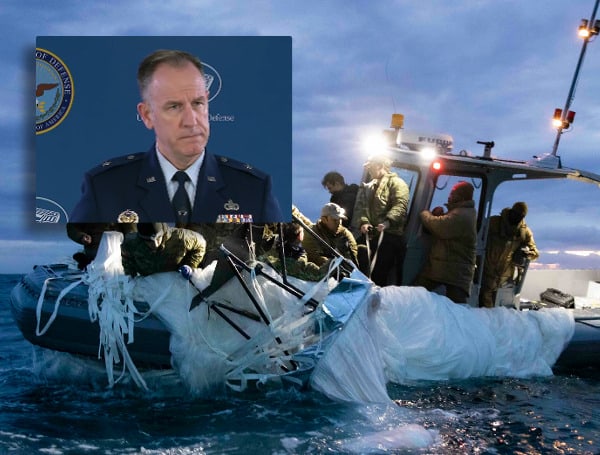 The Federal Aviation Administration (FAA) has abruptly canceled a "national defense airspace" over part of Lake Michigan, the organization announced after officials confirm to ABC that a 'high-altitude" object was shot down over Lake Huron Sunday.
The FAA says it closed down the area to allow the U.S. military to examine a "potential contact" that was soon determined not to be a threat.
"Pilots who do not adhere to the following [procedure] may be intercepted, detained, and interviewed by law enforcement or security personnel," the FAA wrote in an initial Sunday announcement, adding that such pilots may face deadly force in the air.
In the news: US Takes Out 'Unidentified Object' With F-22 Over Canadian Airspace
"The FAA briefly closed some airspace over Lake Michigan to support Department of Defense activities. The airspace has been reopened," the FAA said in a statement.
Three U.S. officials told ABC News that a "high-altitude object" was shot down Sunday afternoon over Lake Huron. According to one of the officials, the object was shot down by a U.S. military aircraft.
The operation marks the third day in a row that an unidentified object was shot down over North American airspace.
"Just got a call from @DeptofDefense — our military has an extremely close eye on the object above Lake Huron," Slotkin said in a tweet on Sunday. "We'll know more about what this was in the coming days, but for now, be assured that all parties have been laser-focused on it from the moment it traversed our waters."
There's no indication at this point that the unidentified objects have any connection to China's surveillance balloon, but it seems that national security officials across the continent remain on edge.
The FAA last established a national defense airspace over Montana this weekend in reaction to an unidentified flying object.
In the news: Airspace Over Montana Temporarily Restricted As DOD Investigated "Object" Saturday
The Department of Defense (DOD) imposed a flight restriction over Montana on Saturday to investigate a possible fourth object flying over Montana but could not make a positive identification, according to a statement.
The Federal Aviation Administration (FAA) briefly closed the airspace over Montana for DOD-related activities at 7:20 Eastern Standard time, according to an FAA NOTAM.
The airspace was reopened later Saturday night.
Republican Rep. Matt Rosendale, Republican Sen. Steve Daines, and Democratic Sen. Jon Tester, all representing Montana, said the DOD had communicated to them a new airborne object — the third identified in U.S. airspace since Thursday — could be crossing the state.
In the news: US Takes Out 'Unidentified Object' With F-22 Over Canadian Airspace
"I am in direct contact with NORCOM and monitoring the latest issue over Havre and the northern border. Airspace is closed due to an object that could interfere with commercial air traffic — the DOD will resume efforts to observe and ground the object in the morning," Rosendale said in a statement on social media.
"I am aware of the object in Montana air space and remain in close contact with senior DOD and Administration officials. I am closely monitoring the situation and am receiving regular updates," Tester said in a separate social media statement. "I will continue to demand answers for the American public."
North American Aerospace Defense Command (NORAD) and U.S. Northern Command implemented a temporary flight restriction to protect commercial air traffic during operations, accordign to the DOD.
However, they said it did not clearly identify any unusual objects.
"NORAD detected a radar anomaly and sent fighter aircraft to investigate. Those aircraft did not identify any object to correlate to the radar hits," the statement said, adding that NORAD will continue to monitor events.
In the news: Florida GOP Rep. Anna Paulina Luna Calls Washington Post Report 'Completely False'
Just hours before the object was identified over Montana, a U.S. fighter jet shot down an object in central Yukon, Canada. Joint U.S. and Canadian forces tracked and intercepted an unidentified object that traversed Alaskan and Canadian airspace at an altitude of 40,000 feet, defense officials from Canada and the U.S. confirmed.
On Friday, U.S. jets assigned to U.S. Northern Command took down a high-altitude object off the northern coast of Alaska at Biden's order. U.S. officials said the object was traveling at an altitude of 40,000 feet and could therefore pose a threat to commercial air traffic, justifying a military response.
"Montanans still have questions about the Chinese spy balloon that flew over our state last week. I'll continue to demand answers on these invasions of U.S. airspace," Daines said in a statement.
Android Users, Click Here To Download The Free Press App And Never Miss A Story. Follow Us On Facebook Here Or Twitter Here. Signup for our free newsletter by clicking here.
Login To Facebook From Your Browser To Leave A Comment