Texas Senator Ted Cruz was allegedly spotted boarding a plane with his family to Cancun, Mexico, according to Fox News, the Associated Press and CNN.
The story comes amid the ongoing crisis in Texas, where millions were left without power in freezing temperatures due to a winter storm.
A Republican source told Fox News that the allegations Cruz was traveling to the Mexican city are true. "The photos speak for themselves," the source said.
Cruz acknowledged how serious the crisis is in a tweet Tuesday, saying, "A blizzard strikes Texas & our state shuts down. Not good." Cruz also Thursday lauded a furniture store owner who, according to FOX 26 in Houston, allowed 1,000 people in his store amid the power outages.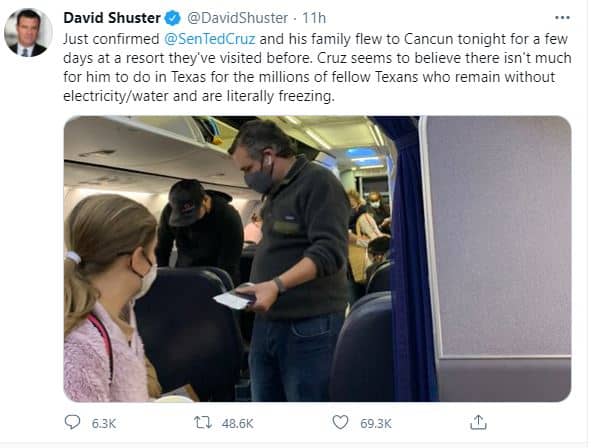 Cruz was facing criticism earlier this week during the Texas power outages as a tweet resurfaced of him mocking California's "failed energy policies" when it experienced outages last August 2020.
Sen. Cruz issued a statement about his Cancun trip Thursday afternoon, "With school canceled for the week, our girls asked to take a trip with friends. Wanting to be a good dad, I flew down with them last night and am flying back this afternoon."
At least 30 people have died in connection to this week's winter storm in the US, the Associated Press reported. Freezing temperatures are expected to continue in part of Texas on Thursday.
Login To Facebook From Your Browser To Leave A Comment