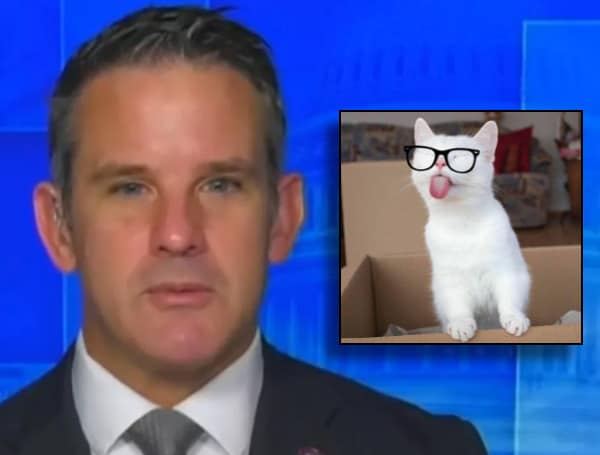 The Twitter user known as Catturd just made news for battling against Florida's Democratic Agriculture Commissioner Nikki Fried, as The Free Press recently reported.
Now, Catturd is taking on another Trump hater: U.S. Rep. Adam Kinzinger.
Kinzinger, a left-leaning Republican from Illinois, threatened Catturd with a beatdown after a social media post mocking the war in Ukraine.
The post featured a cartoon figure lying prone and simultaneously crying and peeing himself. The tears and urine were colored to resemble Ukraine's flag.
Catturd posted in response, "It's dumb that I'm laughing way too hard at this."
Yet Kinzinger was not laughing.
The triggered liberal GOP congressman, who opted for resignation over trying to defend his seat after the Democrat-led Illinois Legislature redrew the boundaries of his district, pledged violence, as those on his side often do.
"Literal evil. If I met you in person it would not end well… for you. Sicko," Kinzinger tweeted in reply. "Trolls who have never done a thing in their life pretend to be patriots and laugh at real warriors."
Kinzinger claims in his Twitter profile to be a lieutenant colonel in the Illinois National Guard.
Kinzinger should probably thank Elon Musk for taking over Twitter. After all, the platform's previous regime used to throw people off routinely for even suggesting violence, even when they didn't. Just as former President Donald Trump.
In the news: Rep. Matt Gaetz Calls On House Republicans To Defund Special Counsel Trump Investigation
Catturd had his own response: "Sitting congressman threatens violence against a U.S. citizen over laughing at a meme they found funny. I can't stop laughing at this infant."
Others on the right also took the opportunity to shame the Illinois congressman.
Conservative author and analyst Kurt Schlichter tweeted, "My favorite part of this is this soon-to-be unemployed nobody with boundless self-regard is in a fight with a guy who calls himself feline poo. And is losing."
Country music singer John Rich added, "Ya know you've hit rock bottom when you start threatening a cat."
GOp Rep. Lauren Boebert observed, "@AdamKinzinger taking time out of his day to threaten to beat up @Catturd2 over a Twitter meme really underscores why he retired in shame."
Alex Bruesewitz, a political consultant with a firm called X Strategies LLC, tweeted, "Yesterday, 11/21/22, will go down as one of the darkest days in the history of democracy. A United States Congressman named @AdamKinzinger, some know him as "booster seat Kinzinger," threatened to physically assault a cartoon cat named @catturd2. I'm shaking."
With laughter, no doubt.
Visit Tampafp.com for Politics, Sports, and National Headlines.
Android Users, Click Here To Download The Free Press App And Never Miss A Story. Follow Us On Facebook Here Or Twitter Here.
Login To Facebook From Your Browser To Leave A Comment