The House on Thursday passed a bill that could prevent another "Tiger King." In a 272-114 vote, the House passed legislation known as the 'Big Cat Public Safety Act, which would ban private ownership of big cats such as tigers, lions, leopards, cheetahs, jaguars, or cougars'. The legislation would make it illegal for someone to breed or own big cats without an animal exhibition license from the U.S. Department of Agriculture but would grandfather in current owners if they register with the U.S. Fish and Wildlife Service and abide by federal regulations.
In other news, the stimulus or COVID doesn't seem to be a priority to our friends in the US House.
One may have to ask themselves, is COVID-19 really that bad? Maybe it's coming to a quick end and things will be normal again? NOPE.
When priorities in our US House seem to be f**king Joe Exotic and Big Cat legislation, while millions of Americans are dying, struggling to keep their heads above water, businesses are closing, and crime is skyrocketing? Are you shitting me?
Who the hell could afford to buy a big cat anyhow? Well, maybe a movie star, but I have news for you movie stars, you're a dying breed as well. (Google search Mr. Beast, that's what the cool kids watch)
Or wait, Nancy "Let them Eat Cake" Pelosi says they are close to a stimulus bill. This is great news, right?
NOPE.
This bipartisan piece includes money for broadband, but no real stimulus. Yes, folks, the internet is included.
In October, President Trump offered up a $1.8 trillion package with $300 billion dollars going to key fiscal relief for state and local governments.
However, House Speaker Nancy Pelosi rejected the offer, calling it "one step forward, two steps back," but somehow agrees that the much smaller package, with no money to the American people, is a much better idea.
Tennessee Republican Congressman Mark Green said in a tweet on Wednesday, "Small businesses have closed their doors. Children remain home from school. Meanwhile, @HouseDemocrats' priorities for the week include legalizing pot and canceling the Tiger King."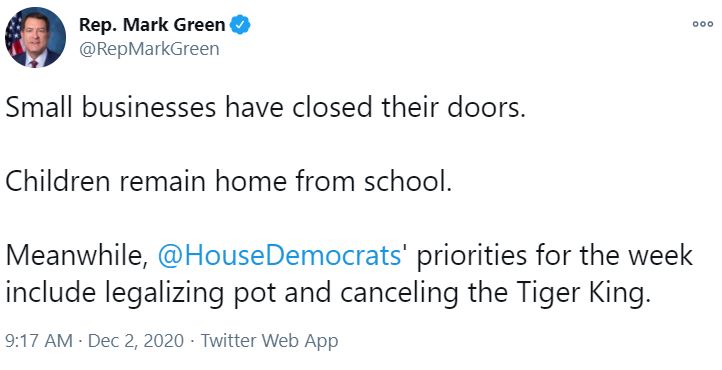 I agree with you Rep. Mark Green and thanks for speaking the truth. What bullshit is this? Joe Exotic has 3 hots and a cot behind bars, which is a lot more than some everyday Americans have right now.
Publishers Note: While The Free Press will always be free for our readers, and ad-supported, we are asking our loyal readers to consider a monthly donation of $3 to maintain our local journalism and help us grow, as we ramp up ad sales locally.
We thank you all for your consideration and for supporting local journalism
Login To Facebook From Your Browser To Leave A Comment