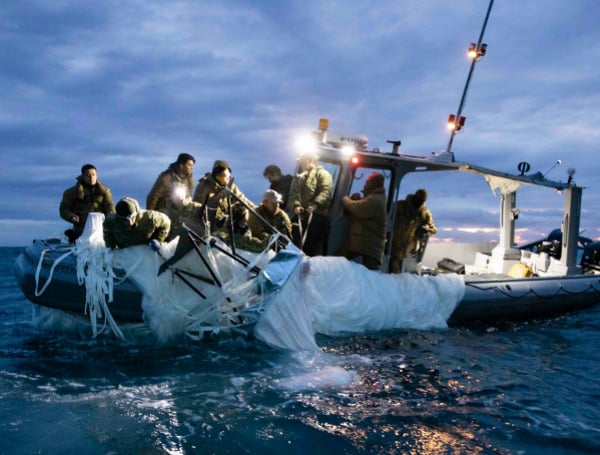 A senior State Department official with the Biden administration told CNN that the Chinese surveillance balloon, which was shot down by an F-22 Raptor on Saturday, was operating with electronic surveillance technology capable of 'monitoring' US communications.
The balloon "was capable of conducting signals intelligence collection operations" and was part of a fleet that had flown over "more than 40 countries across five continents."
According to CNN, it was "part of a PRC (People's Republic of China) fleet of balloons developed to conduct surveillance operations" with a manufacturer tied to China's People's Liberation Army (PLA), the official told the outlet.
"We know the PRC used these balloons for surveillance," the official told CNN. "High-resolution imagery from U-2 flybys revealed that the high-altitude balloon was capable of conducting signals intelligence collection operations."
In the news: State Senate Signs Off On Immigration, Florida Election Bills
"The high-altitude balloons' equipment was clearly for intelligence surveillance and inconsistent with the equipment onboard weather balloons. It had multiple antennas to include an array likely capable of collecting and geo-locating communications. It was equipped with solar panels large enough to produce the requisite power to operate multiple active intelligence collection sensors," the official added.
The Chinese spy balloon is just one component of a massive military surveillance campaign that operates out of a strategic military base and has completed "dozens" of missions.
The U.S. State Department has begun briefing relevant partners on what U.S. intelligence agencies have retroactively identified as a concerted effort by the People's Liberation Army to deploy balloons for espionage purposes, officials familiar with the matter told the Washington Post.
Beijing's spy balloons have collected information about military assets in Japan, India, Vietnam, Taiwan, and the Philippines, as well as the U.S., the officials said, speaking on condition of anonymity.
In the news: VIDEO: Pentagon Says US Collected Valuable Intel Waiting To Shoot Down Chinese Spy Balloon
"What the Chinese have done is taken an unbelievably old technology, and basically married it with modern communications and observation capabilities," one official told the Post. "It's a massive effort."
China already spies on adversaries through a vast constellation of satellites, but the country's military planners have found cause to build a fleet of surveillance balloons that can traverse the globe at altitudes upwards of 60,000 feet, officials told the Post.
The People's Republic of China (PRC) has orchestrated "dozens" of missions since 2018, the officials added, although they could not determine the exact number of balloons China's military has or continues to operate.
Separately, officials confirmed to the Post that the balloon intercepted off the Hawaiian coast in 2022 and another spotted above Japan in 2020 were likely part of the spying campaign.
In the news: VIDEO: The Moment An F-22 Raptor 'Takes Down' The Chinese Spy Balloon Over South Carolina
The Department of Defense previously revealed that surveillance balloons had been spotted in several countries across five continents but did not specify when intelligence agencies picked up on the balloons and their possible use in the surveillance of strategic sites.
In hindsight, intelligence agencies attributed airships that previously escaped unidentified to China, officials told the Post. Some of those balloons circumnavigated the globe.
U.S. agencies have collected information about the balloons, garnering insight into the technology and capabilities China is able to employ against adversaries, the Post reported.
Some of the crafts have electrooptical sensors or digital cameras that can capture incredibly detailed images, while others possess radio signal and satellite transmission capabilities, officials told the outlet.
The balloons deploy out of at least one location — Hainan, China, a southern coastal island that hosts several PLA bases, the Post reported.
Deputy Secretary of State Wendy Sherman briefed roughly 150 personnel staffing 40 embassies about China's balloon spying campaign on Monday, a senior administration official said, according to the Post. U.S. embassies around the globe have received "detailed information" on how to communicate U.S. knowledge of the program to allies.
In the news: Trump, Former Team, Deny Biden's Pentagon Claim Floated About Chinese Spy Balloons
That includes countries whose military assets garnered heightened attention from Beijing, according to a separate senior administration official. "Many of them recognize that they, too, may be vulnerable or susceptible to this or an object of interest to the PRC," the official added.
The Chinese Foreign Ministry said again on Tuesday the most recent balloon was a weather collection craft blown off course, a claim Pentagon officials have denied.
Android Users, Click Here To Download The Free Press App And Never Miss A Story. Follow Us On Facebook Here Or Twitter Here. Signup for our free newsletter by clicking here.
Login To Facebook From Your Browser To Leave A Comment