July 27, 2020
By: Tiffany Razzano
TAMPA, Fla. – In late February, as April Griffin read the news about COVID-19 spreading across the country, she worried about the virus coming to the Tampa Bay area.
She also wondered how this growing crisis might affect the renovations underway at the historic bungalow she and her husband owned in Seminole Heights. They were planning to put it on the market in the spring.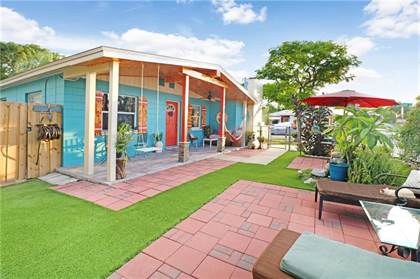 Griffin suggested that her contractor prepares for whatever was coming by purchasing all the supplies he might need immediately.
"I knew we were coming to a slow down," she said.
Even thinking ahead, they were delayed a bit as Florida's economy shut down. They didn't get their home on the market until early June. By then, the state had eased restrictions on businesses and people leaving their homes. They weren't prepared for what happened next, though.
Their first showing took place on a Friday, within a couple of days of listing the home. They had a socially distanced open house planned over the weekend. By that Monday morning, they had three offers on the table.
They had done a lot of work at the home. And Griffin put a lot of effort into staging the abode. Still, they were surprised to have an offer so quickly. They even turned down an offer above the asking price because the terms of the sale didn't work for them.
"I always pray for the best and prepare for the worst. I really tried not to have too many expectations. We were very pleasantly surprised by the number of strong offers," she said.
Across the bay, in Gulfport, Lori and John Russo also put their home on the market during the pandemic.
They did so a bit earlier in the crisis – March 9 – before Florida's economy shut down. They were ready to live on their boat full time and plan to eventually travel when it's safer to do so. They thought selling their home sooner, rather than later, would be ideal, though, Lori said.
"I just didn't think it would happen so quickly," she added.
They had an offer within days of putting it on the market.
Real estate professionals across the Tampa Bay area say they are seeing and hearing many stories similar to what the Griffins and Russos have experienced.
Despite the pandemic and the temporary shuttering of the economy, homes are being scooped up quickly.
From May 2019 to May 2020, pending sales actually increased 5.5% year over year in the Tampa Bay region, said Darlene Davenport, president, Greater Tampa Realtors.
That figure statewide is only 2.3%, she added. "That shows how active we are in our area. It's pretty impressive."
She expects these numbers to continue in this direction.
The reason for this increase despite the global health crisis and concerns about the economy? A lack of inventory.
This is an issue that pre-dated COVID-19, said Cyndee Haydon, president, Pinellas Realtor Organization.
"We started 2020 with 20% fewer homes for sale. There was a lack of homes for sale in the United States, but especially in the Tampa Bay market," she said. "Prices continue to rise, and pending sales are almost double what's coming on for sale. We have a shortage, but we're not fixing it."
This lack of inventory is driving up home prices.
"It's simply supply and demand," Davenport said, adding that the median home price for May was up 6.3% over last year.
The only area that saw a bit of "a pause" after the pandemic hit was the condo market, Haydon said. This is likely because some of these communities only allowed access to condo owners during the shutdown, she added. Also, buyers are hesitant about communal living.
"You know, pushing the elevator button and getting on with other people. Getting mail near other people. Pushing a door near other people," she said.
Single-family homes, on the other hand, are in high demand. These homes are averaging "twentysomething days on the market," she said.
Homes in the $270,000 to $400,000 to price range have been the most sought after during the pandemic, Davenport said. In this area, she's mainly shown to "first-time homeowners, young couples purchasing their second home and mature couples downsizing." Often, these homes only last days on the market.
This doesn't surprise Mike Gallo, president, West Pasco Board of Realtors. "It's a very, very hot market."
Many were bracing for the worst when the economy shut down, he said. "But it hasn't been as bad as people expected. We're not expecting the market to collapse. It's not going to be 2006 again."
Initially, as people were laid off from their jobs, there were concerns about who would be able to afford to buy a home during the economic shutdown, he said. Many of those laid off were in the restaurant and retail industries, though, and likely weren't on the market for purchasing a home anyway, he added. Meanwhile, many in other industries were able to continue working from home, during the shutdown.
"So, they weren't really affected financially," Gallo said. "And if they were, they were able to get loan modifications to keep their house. We're not going to see foreclosures like we did 10, 12 years ago."
There are no signs of the activity falling off, either, even during the typically slow summer months.
Out-of-state buyers who would usually purchase their second or retirement home in the spring, couldn't this year because of the pandemic. But now they're ready to buy.
"The snowbirds are here now," Davenport said. "Normally, they're here buying in the winter into March. They weren't able to do that this year. So, they're buying now."
As for the lack of available homes in the region? There's only one answer, she said: new inventory.
"There are only so many homes. We're down to a month or two months of inventory," she said. "The builders are building as fast as they can."
Publishers Note: While The Free Press will always be free for our readers, and ad-supported, we are asking our loyal readers to consider a monthly donation of $3 to maintain our local journalism and help us grow, as we ramp up ad sales locally.
You can click here to support us.
We thank you all for your consideration and supporting local journalism.
Login To Facebook From Your Browser To Leave A Comment