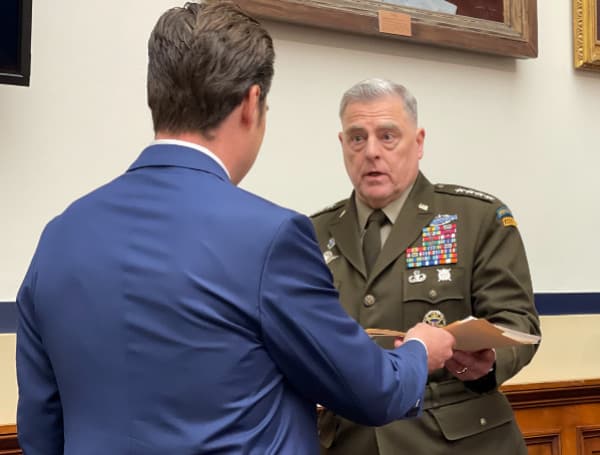 During Wednesday's House Armed Services Committee (HASC) hearing on the "FY24 Defense Budget Request," U.S. Congressman Matt Gaetz (FL-01) grilled Secretary of Defense Lloyd Austin and Chairman of the Joint Chiefs General Mark Milley on Drag Queen Story Hours occurring on U.S. military installations across the country.
In response, Austin, without evidence, claimed Drag Queen Story Hours were not occurring on military installations.
"When confronted with the evidence, he repeated the misstatements," Gaetz's office.
In the news: Rep. Gaetz Finds Another Country To Bring American Troops Home From: Somalia
During the same exchange, General Milley admitted he was "unaware" these events were occurring on installations but committed to ending Drag Queen Story Hours on military installations altogether.
---
---
"Rep. Gaetz has repeatedly challenged SecDef Austin and General Milley on their continued failure in leadership over the U.S. Armed Services. In July 2021, Rep. Gaetz took SecDef Austin to task for his politicized role in leading the Department of Defense (DoD) to embrace and teach "woke" ideology, Critical Race Theory, at our nation's military academies," said Gaetz's office. "SecDef Austin denied the teaching of Critical Race Theory in the military. However, a month prior in front of the same House Armed Services Committee, General Milley publicly defended the U.S. military's teaching of Critical Race Theory and expressed a longing to internally reflect on his "White rage."
During a HASC hearing in September of 2021, Rep. Gaetz held General Milley and SecDef Austin accountable for the botched U.S. withdrawal from Afghanistan the month prior.
In the news: Rep. Matt Gaetz Votes No On Growing Department Of Education
Rep. Gaetz said that General Milley spent more time with Bob Woodward on the production of the book "Peril" than analyzing the very likelihood of the Afghan government collapsing.
"While Sec Def Austin and General Milley encourage wokeness in our military, America's capabilities are falling behind. During an April 2022 HASC hearing on "Operations in Cyberspace and Building Cyber Capabilities Across the Department of Defense," SecDef Austin infamously denied that America is lagging behind China in hypersonic capabilities, despite the Biden Administration's own Secretary of the Air Force and Commander of the U.S. European Command, as well as former HASC Chairman Adam Smith, all publicly acknowledging that China is more capable than the U.S. in the hypersonics arms race," said Gaetz's Office.
Amid a recruitment and retention crisis in the military, Biden's military leaders prioritized targeting and removing service members who sought exemptions to the COVID-19 vaccine.
At last month's HASC hearing on "COVID-19's Impact on DoD and Its Servicemembers," Defense Under Secretary for "Personnel and Readiness" Gilbert Cisneros disgracefully signaled that the Biden Administration's military has no plan to actively reach out and bring back service members discharged for refusing the COVID-19 vaccine.
During the HASC markup of the FY23 National Defense Authorization Act (NDAA) last year, Rep. Gaetz introduced an amendment to express the Sense of Congress that service members who were separated from the military after rejecting the COVID-19 vaccine mandate should be reinstated with their full rank and pay.
Android Users, Click To Download The Free Press App And Never Miss A Story. Follow Us On Facebook and Twitter . Signup for our free newsletter . We can't do this without your help; visit our GiveSendGo page and donate any dollar amount; every penny helps.
Login To Facebook From Your Browser To Leave A Comment