Opinion By L. A. "Tony" Kovach
"Politics is a dirty business," said author Will Shetterly, who added "but if you do not do politics, politics will be done to you." The case can be made that via political maneuverings – domestic and international – the public is exposed to paltering, razzle-dazzle, smears, and head-fake tactics. One reason millions of Americans from all backgrounds do not vote is because they instinctively know that promises made by politicians to voters are often not kept. Thankfully, that's not true of every politician.
For those who missed the first two columns on the Tampa Free Press on affordable housing solutions linked here and here – those plans don't require new legislation or taxpayer-subsidized spending. Those fact-packed articles are examples in affordable housing of years of promises made to the public that have largely not been honored. In a similar fashion, this article will examine facts, evidence, and common-sense commentary about "Vlad the Impaler." That's the moniker former CNN reporter Chris Plante nicknamed the Russian President and uber-wealthy Vladimir Putin. Every element of the headline will be examined herein – Russia's Putin, Ukraine, USA, EU, NATO, oil, green energy, George Soros, paltering – and how these concerns cost you and your loved ones dearly.
"Scientia potestas est" – knowledge is potential power. Knowledge with appropriate action can make a positive difference in your life and that of those who care. That said, let's dive into the tangled web of truths, half-truths, and costly but clever deceptions – and how they impact millions.
Russia's 'Vlad the Impaler,' the Biden White House, Ukraine, and Impacts On You
History buff and self-proclaimed former Democrat, ex-CNN Washington DC reporter-turned talk radio star Chris Plante calls Russia's Putin "Vlad the Impaler." For political partisans who need trigger-warnings when uncomfortable truths are presented, hang on to your hat. One or more bubbles may be unapologetically popped on the left and right by the facts presented.
Plante's moniker for Putin has historic insights. Britannica says of the 15th century Romanian that he was cruel because he was: "Surrounded by enemies that included the Hungarians, the Ottomans, his younger brother, and Walachian nobility, Vlad employed extremely cruel measures to inspire fear in those who opposed him. He earned his nickname by impaling his enemies on stakes." Hold that thought, because history doesn't exactly repeat itself, but history does have echoes and periodically rhymes with past events. The reason history may rhyme is simple. While technology evolves, people remain people.
Human nature is what it is.
Like it or not, agree that he won the 2020 race for the White House fairly or not, Joseph Robinette Biden (D) is the White House resident. Biden was 44th President Barack Hussein Obama's (D) vice president when Putin-led Russia invaded the previously-held Ukrainian territory of Crimea. Beyond sanctions that clearly didn't work to deter Putin – then or now – Obama-Biden did little other than publicly complain.
Putin obviously knew what happened with Crimea under Biden-Obama. He also knows much more than what follows. One doesn't have to be a mind-reader or ex-KGB agent officer to realize that people like him rely on experience as well as intelligence assessments.
Before going deeper, consider some principles and keen insights the following quotes that follow reveal. We'll connect the dots between the following statements to current events. You won't likely find these in any other column or report on these headline topics from either left or right-leaning news media.
Jump back to President Harry S. Truman (D), who is known for a variation of a West African maxim previously shared by President Theodore "Teddy" Roosevelt (R): "Speak softly and carry a big stick; you will go far."
President Truman is credited with a quote – "You can't get rich in politics unless you're a crook." That's actually a paraphrase of what Truman said. Hold that thought about that clever quip.
"You can't get rich in politics unless you're a crook" noted, some say Putin may be the richest man on the planet. The way he purportedly hides or masks his money is why it is difficult to say what his precise wealth may be, unlike the more apparently traceable wealth of other ultra-rich people like Jeff Bezos, Mark Zuckerberg, Bill Gates, Warren Buffett, or George Soros.
As to Putin's wealth, it was estimated to be $200 billion U.S. dollars in 2017, per CNBC. That would have made him wealthier than Jeff Bezos' and Bill Gates' claimed net worth at that time combined.
Why does Putin's purportedly vast wealth matter when it comes to the Russian invasion of Ukraine?
Simple. Putin's lifestyle is unlikely to be hurt by the toughest of sanctions. It is even possible Putin and his allies could profit from sanctions. As stock values drop, he could acquire equities at a discounted value, if he wanted to do what certain American billionaires like to do.
Why aren't such points among the headlines or one-liners so many talking heads spout off about?
But there are other factors that arguably enter the geo-political and economic calculus Putin made when his Russian army, air, naval, paramilitary, and special forces were unleashed on Ukraine.
To be clear, Putin's actions merit appropriate condemnation.
But if someone condemns Putin, then someone should look around and see who else shoulders blame in this tragic and avoidable Ukrainian war. Because the conflict is harming innocent people who have little control over what their respective governments are doing. Meanwhile, some are profiting.
Ukraine for years has been listed as near the top of the list of 'corrupt' European nations. Per the Council of Europe (COE) in 2018, "Ukraine most corrupt country in Europe after Russia." 
Then VP Biden urged Ukraine in 2016 to fire chief prosecutor Viktor Shokin probing Ukrainian energy company Burisma his son Hunter Biden had a paying board-connection with. Politifact in 2019 agreed to the facts, but disagreed with the claim that Biden made his demand to fire Shokin based on his relationship with his son Hunter's business deal in Ukraine.
Since 2019, what the New York Post reported is that Hunter Biden's laptop turned up and specific claims were corroborated by former partner Tony Bobulinski. While denied, denounced, or decried by pro-Biden-leaning media at the time, left-leaning Politico reporter later confirmed (in 2021, well after the 2020 election) that the New York Post's claims were apparently true.
What Politifact's 'fact check' didn't update are the following.
Hunter Biden admitted to CBS that the laptop "certainly" could be his.
Left-leaning NPR had to make a correction in to their prior reporting: "The laptop story was discredited by US intelligence and independent investigations by news organizations," the book review by Ron Elving, senior editor of the publicly funded media organization, initially claimed.
NPR's correction says, "A previous version of this story said US intelligence had discredited the laptop story. US intelligence officials have not made a statement to that effect."
Recall that Bobulinski accused Joe Biden of getting a percentage of his Hunter's questionable payoffs.
Biden denies that, of course.
With those insights, the quote from Truman on corruption in politics begins to come into focus.
Biden has been in public service most of his life. How is it that he's amassed such a fortune, owns several mansions, and is the target of thoughtful and fact-packed probes by nonpartisan investigators like Peter Schweitzer? Keep in mind that China and Russia are de facto allies.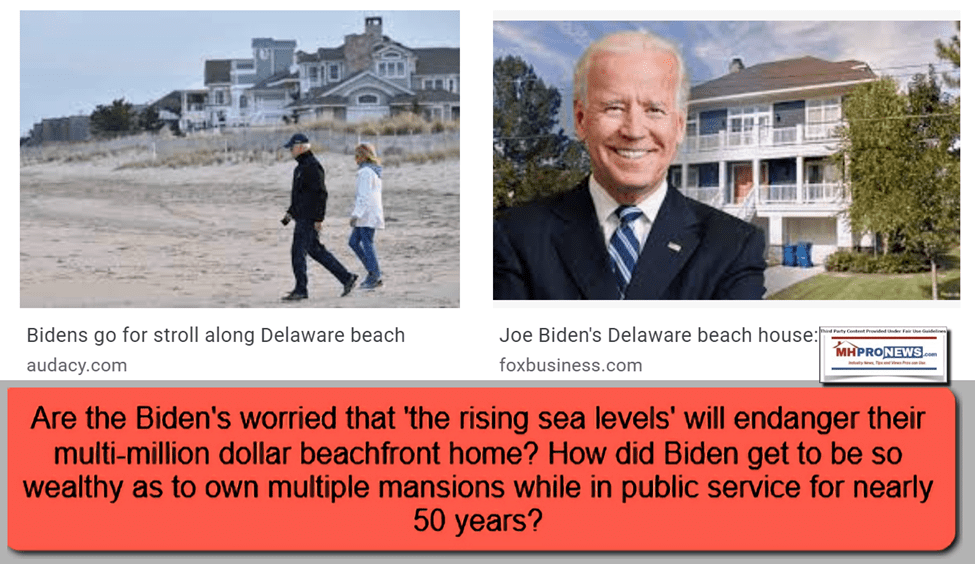 There are among the reasons Plante and some others disparagingly refer to the "Biden Crime Family." If so, is Biden's corruption so different than the allegations being made against Putin? Note, that's not to defend Putin. It is to say that when someone points a finger, 3 are pointing back.
But there is more to these long-festering Biden family corruption concerns.
Putin's team KNOWS these facts from news media accounts plus from the intelligence services at the Russian leader's disposal. That means such insights could be used as a form of 'blackmail' against the Biden leadership. Here's how. If the Biden team were to push Putin farther in word or deed than Putin will tolerate, then the Russian leader could easily pay for an American – or global – campaign to embarrass and humiliate Biden. Hold those thoughts, as we press on to more facts and insights.
Russian Oil, Keystone XL, U.S. Oil Leases, then Green Energy
When deposed 45th President Donald J. Trump left the White House, the U.S. was energy independent.
Starting on day one after taking the oath of office, Biden signed an executive order (EO) to halt the Keystone XL Pipeline.
The Wall Street Journal reported on 3.6.2022 that: "About 8% of U.S. imports of oil and refined products, or about 672,000 barrels a day, came from Russia last year, said Andy Lipow…" Per his website, Lipow is "President of Lipow Oil Associates, LLC. He has over thirty years of experience in the petroleum refining, trading and consulting industry."
Per Reuter's fact check, the Keystone XL "project [was] cancelled by Biden on his first day in office on Jan. 21, 2021, dealing a death blow to a long-gestating project that would have carried 830,000 barrels per day."
"The U.S. imports 670,000 barrels of crude oil and petroleum products each day from Russia," said Fortune which cited the U.S. Energy Information Administration, which said that accounts for 5% of U.S. crude imports.
Per Fox Business on 3.3.2022, "Had it [Keystone XL] not been canceled twice, though, during the Obama and Biden administrations, it would likely be near completion."
For clarity, let's sum those bullets up. Biden's day one Oval Office EO stopped the Keystone pipeline previously halted by Obama-Biden, but greenlighted by President Trump. Then Biden stopped new federal oil and gas leases on 2.22.2022. Two days later, on 2.24.2022 Putin apparently ordered the invasion of Ukraine. Why?
The prima facie case can be made that Biden placed himself over Putin's oil barrel.
Whatever Putin may be, he's not an idiot. Biden's decision on domestic production of crude and the Keystone pipeline made it easy on the Russian leader. Oligarch Putin merely had to consider the facts shown herein.
Furthermore, Biden 'predicted' that Putin would invade Ukraine.
"President Joe Biden said Wednesday he thinks Russia will invade Ukraine and warned President Vladimir Putin," said the AP on 1.20.2022.
According to the White House website on 2.24.2022: "And now it's unfolding largely as we predicted."
For clear and objective thinkers aware of the background presented herein, that Russian invasion prediction is nothing for the White House to crow about. Rather, it is tantamount to the White House saying, 'Mr. Putin, we use your oil, the U.S. now needs your oil, we're going to warn you not to invade Ukraine, but we still need your oil after you do invade.'
Let those facts and common-sense analysis sink in.
In essence, because the U.S. is buying Russian oil, the U.S. is bankrolling Putin's invasion of Ukraine.
Whatever aid is sent to Ukraine will pale compared to what is being paid for Russian oil as the price of crude skyrockets.
There is much more to this history about Putin, Biden, the U.S., and the Russian-Ukrainian war. But that's enough to pivot to the next relevant points.
Biden's & EU Green Energy Push and Ukraine
From an op-ed on The Remnant is this: "Germany once produced abundant reliable electricity from coal and nuclear power – the backbone for German industry. Then green ants started nibbling at this backbone, replacing it with wind-solar toys. Now Germany has expensive electricity, a grid in danger of collapse and must rely on imported gas from Russia, nuclear power from France, or hydropower from Scandinavia.
UK is also following similar foolish energy policies, even banning exploration of their own oil/gas resources." Author Viv Forbes didn't cite the sources for that, but the following video from Prager University makes some similar points.
Mark Mills, a Senior Fellow at the Manhattan Institute, is the Prager presenter. Mills cites several of his sources. Mills also 'does the math.'
There should be a separate op-ed that pulls the curtain back on the green energy and climate crisis issue. But let's keep it simple today and note the following related statements.
"Only seven countries have made commitments or efforts," to keep their Paris Climate deal pledges, said the Washington Post.
Per Climate Trade, two of the three top polluters are China #1 (which has about double the U.S. CO2 production), and India #3.
Reuters reported on 10.31.2021 that "nearly 200 coal–fired power stations under construction in Asia, including 95 in China, 28 in India..."
If China and India, much less other nations, don't abide by 'climate deals' – even if climate claims are true – there is literally nothing the U.S. could do to achieve the desired goals of domestic climate activists. Who says?
"Steve Koonin, former Undersecretary for Science in the Obama Administration, challenges the confident assumptions of climate alarmists," in this next Prager U video.
The illustrations below reflect changes identified by geologists for the area that today is the state of Florida.
The wild swings in sea levels/globe climate that caused these stunning differences in Florida's landmass predated the industrial era by tens of thousands of years. The blue represents prior and current Florida land.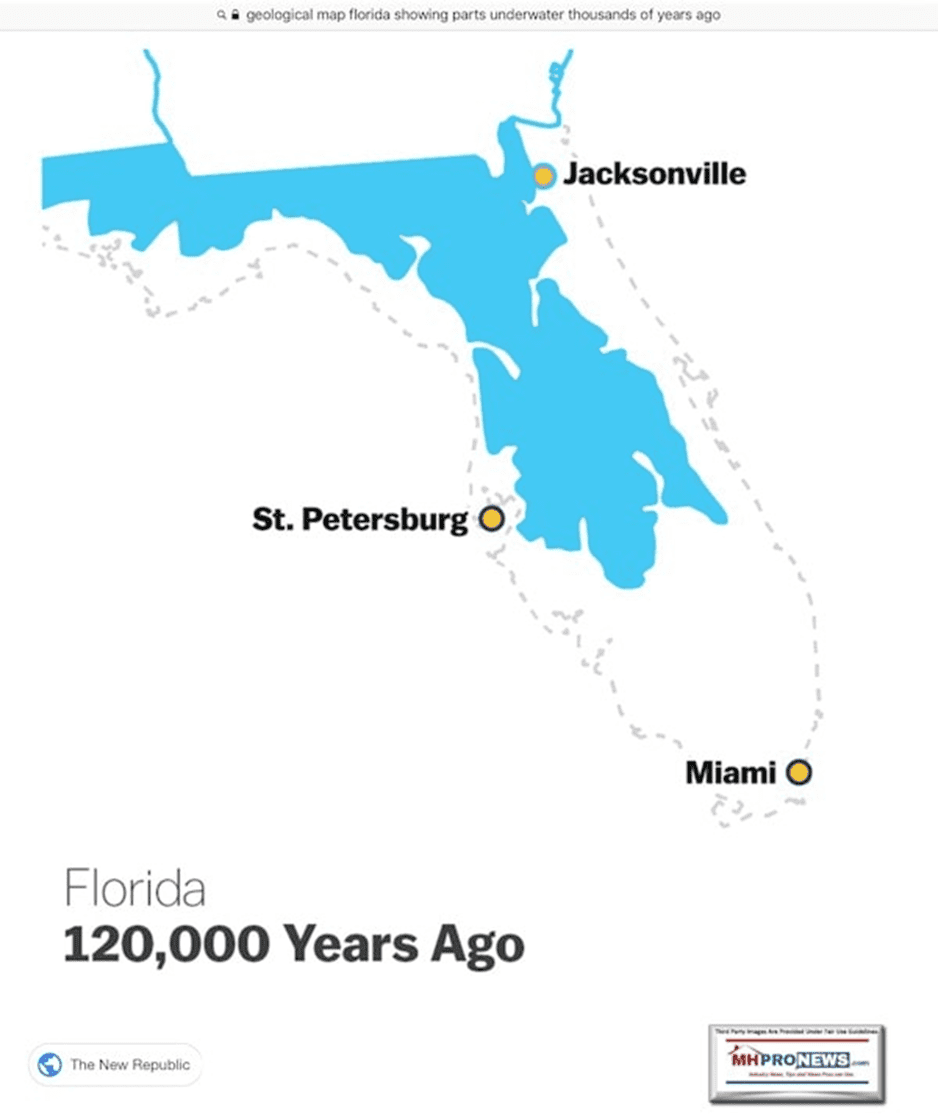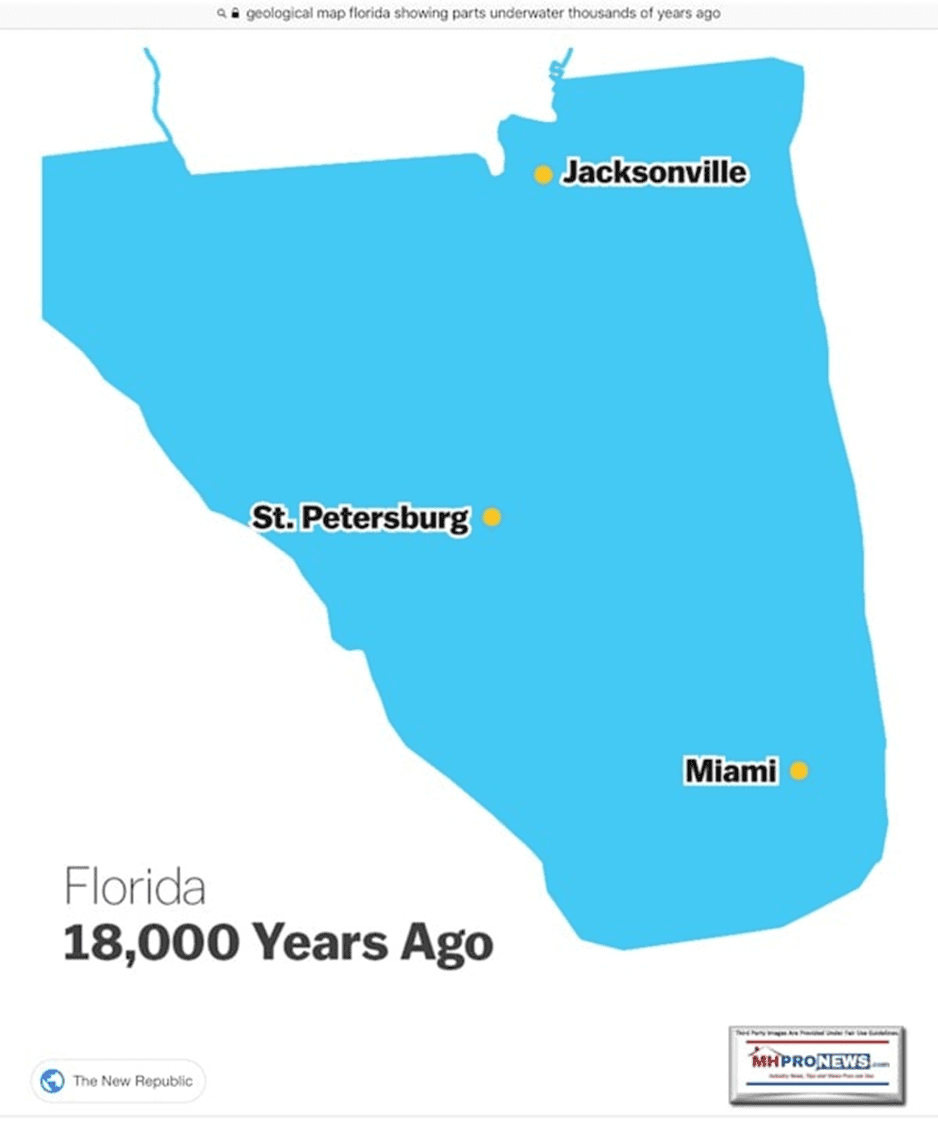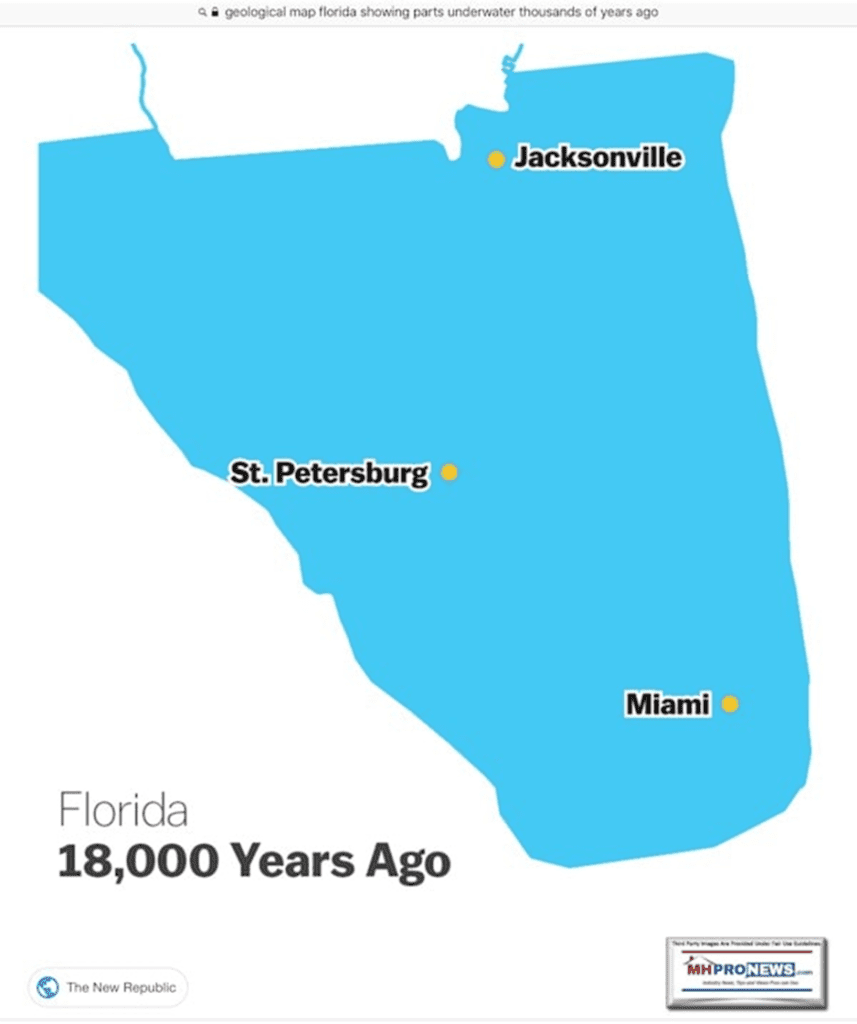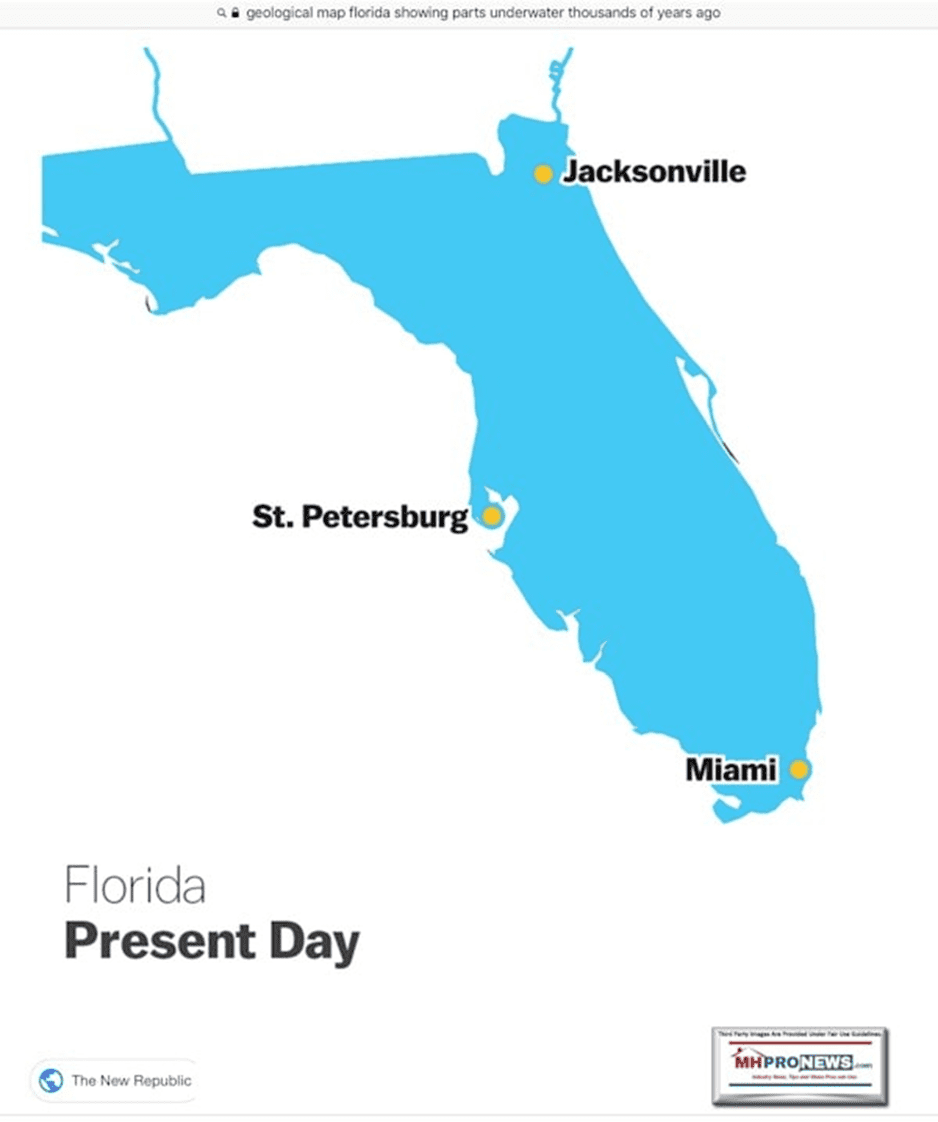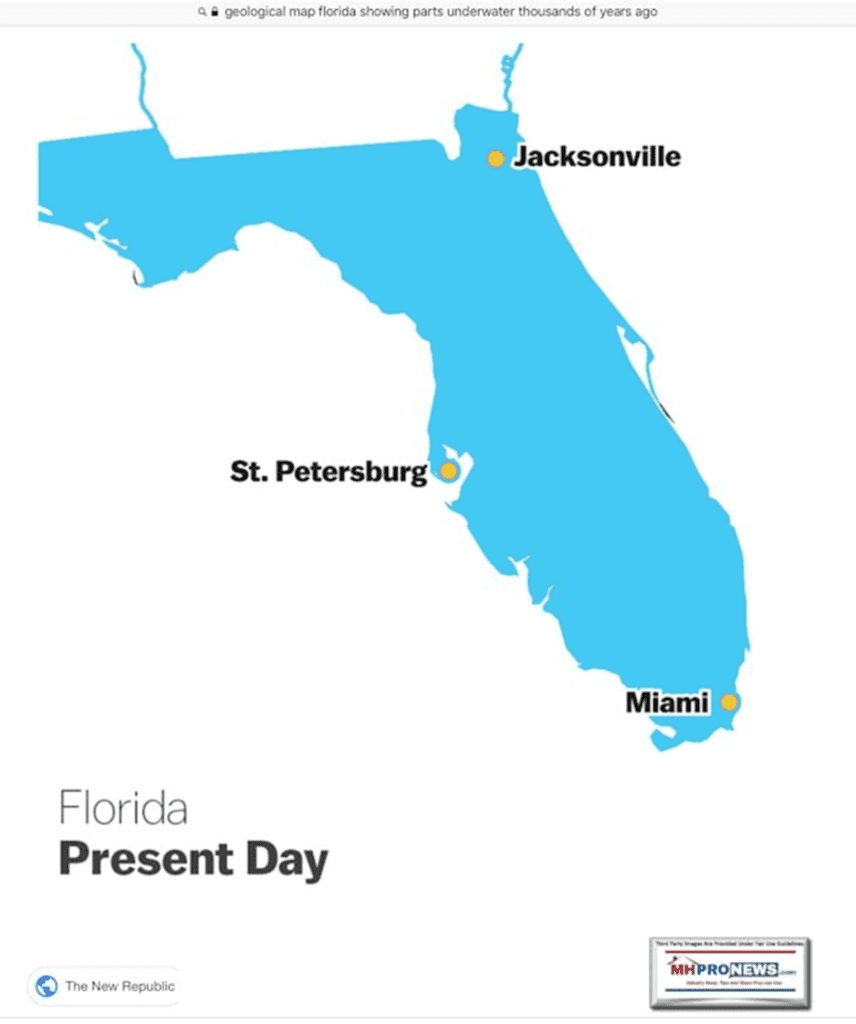 So, those three illustrations make these points.
Florida was once larger in size (lower sea levels) about 18,000 years ago than it is today.
Florida was smaller in size (higher sea levels 120,000 years ago) than today.
At a minimum, this evidence calls into question the climate activists claims about the 'science' of climate change being 'caused' by man made global warming. Cave men and ancient animals didn't have factories or cars.
Those facts are not an argument for pollution. Most of us don't want to drink polluted water, breathe polluted air, or eat contaminated foods.
Climate change 'became an issue' on June 23, 1988.
The climate activist Sierra Club said in 2018 that "For almost two decades, Democrats have had a near monopoly on the political conversation around climate change."
But decades before 'green' and the 'climate crisis' became a Democratic party thing, Republican Teddy Roosevelt promoted conservation and good stewardship of the environment dating back to plans for 1901-1907.
One takeaway from this segment is simple enough. Biden's reasons for shutting down the Keystone pipeline and other domestic energy production are weak at best.
But another takeaway goes to climate and energy costs.
An AP-NORC poll on 10.26.2021 claimed that on average Americans are willing to pay $40 more monthly to fight climate change.
CNET said on 3.7.2022 that "Prices at the pump on Monday averaged almost $4.07 a gallon: Filling up a typical 15-gallon gas tank once a week, that works out to about $244 a month."
That means that unless driving is curtailed, most Americans will be paying almost double what that AP poll claimed the public was ready to pay to 'fight climate change' – and there is still no solution for the climate crisis – much less for rising fuel costs, or the Ukrainian war. Once more, a few profit while most suffer.

Soros and Ukraine
According to Kateryna Smagliy, Counselor and Political Directorate of The Ministry of Foreign Affairs of Ukraine in an article posted on the Atlantic Council: "In total, [George] Soros has provided over $181 million in support of almost 17,000 civil society initiatives in Ukraine that were implemented by thousands of activists throughout the country." The Soros-funded Open Society foundation confirms that statement.
Smagliy went on to say with an apparent satirical twist in her punchline, "Soros is highly optimistic because Ukraine, he says, is "something of a miracle…made possible by people willing to sacrifice their lives for their country." Based on his confidence in Ukraine's future, he pledged last month to continue supporting IRF for the indefinite future, even after his lifetime.
And thus today, when Ukraine's oligarchs are still busy redistributing wealth and stealing from their own people, it is high time to reflect on Soros' philanthropy, acknowledge his numerous admirable achievements, and simply say "Thank you, George!""
Several takeaways from Smagliy's comments ought to be made. Soros, along with fellow oligarchs and 'philanthropists' such as Warren Buffett, Bill Gates, and other billionaires, could aptly be accused of what has been called "philanthro-feudalism."
An article on that topic philanthro-feudalism linked here connects the dots from that topic and the affordable housing crisis. That report and analysis is called "Ripping off the American Dream, Feudalism Rising…" It cites Peter Buffett, Warren Buffett's son who Influence Watch said runs a left-leaning Buffett-bucks funded nonprofit named the Novo Foundation.
Different but an apparent echo of the same theme philanthropy that doesn't solve the problems they claim to be fighting is the research from an award-winning documentary drama, Poverty Inc. It flatly said that if you want to end poverty, the poverty industry must go.
POVERTY, INC. | Official Trailer from POVERTY, INC. | The Movie on Vimeo.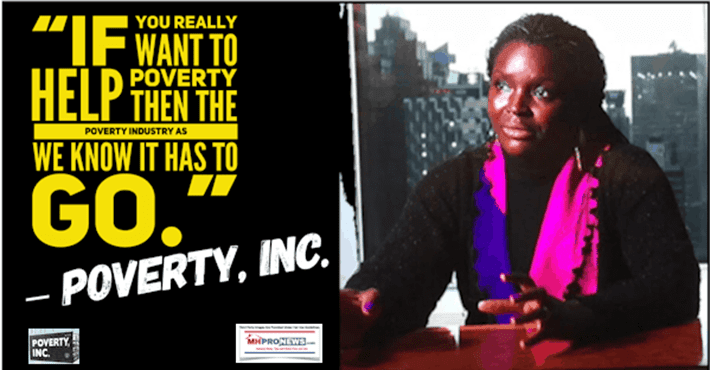 Beyond how American elites are using 'philanthropy,' it should be clear that Ukraine's political and economic system have been influenced by the likes of controversial billionaire Soros. Soros, per follow-the-money and facts-driven Influence Watch, has his own largely leftist agenda.
Let's sum up and draw toward a conclusion. We began with this quotation by author Shetterly.
"Politics is a dirty business, but if you do not do politics, politics will be done to you."
In the first in this periodic series of Op-Ed on TampaFP, we unpacked the claims and then examined the facts and historic background to what Florida Democrats and Republican Governor Ron DeSantis said about the housing shortage. Democrats and the Republican governor each admit housing needs fixing. But for whatever reason, neither has put to work a proven solution hiding in plain sight that was already passed into law by a widely bipartisan Congressional legislation and signed into law by then-President William Jefferson "Bill" Clinton (D).
That fact- and evidence-cited op-ed connects with the research on claims about little-known and routinely misunderstood new half-priced single-family homes that are available in this area and in every state of the U.S.
Those two nonpartisan and evidence-laced reports with analysis cites a plethora of facts to prove their points.
Similarly, this article provided sufficient evidence to make establish the following bulleted claims.
At best, Biden mishandled Putin. Given he knew Putin was serious about invading Ukraine, the time to stop Russia was before the invasion, not afterward. Putin's no boy scout in the tragedy of the Russian invasion of Ukraine, but neither is Biden.
At worst, this is a kind of domestic and international kabuki theater. The Ukrainian people, numbers of Russians who oppose the attack, neighboring nations that are taking in refugees from Ukraine are among the victims.
Also among the victims are Europeans and Americans who are paying more for oil, gas, and other energy costs. All other products will rise as shipping costs rise. Biden should have known that oil and gas would shoot up. Why? Because that is routinely what happens during a war when the area of conflict happens to be in an energy-sensitive zone.
The rationale for Biden's cancelling the Keystone pipeline and oil leases should be examined through the lens that every honest investigator uses: cui bono? Who benefits? There are winners and losers from the Biden regime's energy plans.
There are numerous voices on both sides of the green energy and climate change debates.  That too merits a closer look that could be done in a follow-up. But it is safe to say for now that it is not just 'science deniers' who dispute the green energy claims.
A principle of science advocated by lifelong Democrat Robert F. Kennedy Jr., J.D. – son of the assassinated U.S. Senator Robert F Kennedy (D) and nephew of the assassinated President John F. Kennedy (D) – is this. In lawsuits, both sides routinely bring expert witnesses. Cases Kennedy has been involved in and has made a reputation as a winner in court often involves "science."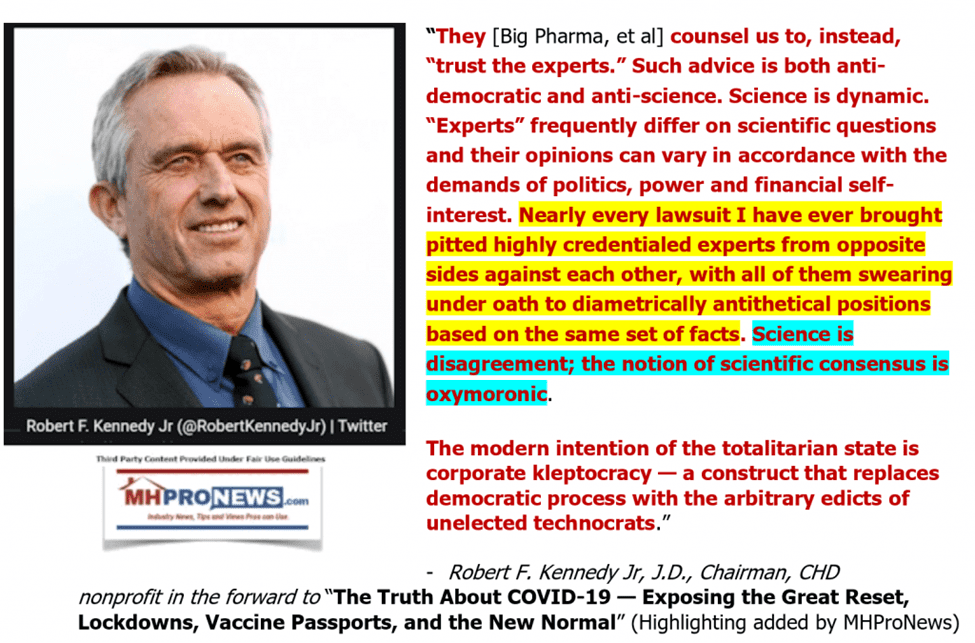 A "Kleptocracy is a government whose corrupt leaders use political power to appropriate the wealth of the people and land they govern, typically by embezzling or misappropriating government funds at the expense of the wider population," said left-leaning Wikipedia.
There is no need for conspiracy theories or hyperbole on numerous pressing issues that face our nation and much of the world.
What is needed are cool heads that examine sufficient evidence objectively.
People should understand what paltering is. Because paltering, half-truths, 'razzle-dazzle,' and other forms of head-fakes are part of the political game that even numbers of businesses engage in.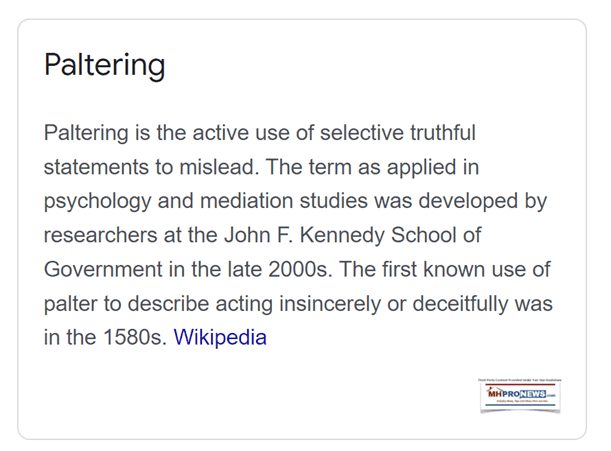 What the above and the affordable housing op-ed reports thus far have outlined is this. Government often fails do properly do what they are supposed to do.
Governments in the U.S. and abroad often show signs of corrupt behavior. That corruption is what R.F. Kennedy Jr has called a "Kleptocracy." That doesn't mean that every politician or every public official is corrupt. But it does mean that there is enough corruption and/or massively inept behavior that it would be bad judgment to simply take a politician at his or her word.
As someone commented: "In God we trust, but all others must bring evidence."
By accident or not, the U.S. under Biden is essentially supplying both sides – Ukraine and Russia – with financial and other support.
Given that Biden said they knew that Putin would attack, this current scenario was entirely predictable by top officials. Rising oil and fuel prices were all predictable. Even if a cease fire, Russian oil embargo, dubious deals with Iran, Venezuela, Saudi Arabia or any other 'new' developments occur, they would change nothing about this analysis.
Meanwhile, the latest estimates of those fleeing the conflict are around 1.7 million souls. Some are projecting that if the war continues that could swell to 5 million people moving toward the boarders of Poland or other nearby European Union (EU) nations. That too has ripple effects.
What should "We the People" do about such apparently messy situations in the U.S.?
That will be explored in a follow up on "Vlad, Biden, Rahm, and Reagan."
But suffice it to say for now, that like the affordable housing crisis, there are no new laws needed to fix the bulk of these issues. The legislation and legal authority to fix what has gone wrong already exists, as it does for the affordable housing crisis. The laws needed to fight corruption or inept behavior in government exist too.
In the meantime, share this column and the previous op-eds in this series with your circle of contacts. Because the 2022 midterms are coming up. We'll plan to talk about that in the future too. Because: "Politics is a dirty business, but if you do not do politics, politics will be done to you." Stay tuned to the Tampa Free Press for more in this periodic series. ##
L. A. "Tony" Kovach is a multiple award-winner in U.S. and European history, including the prestigious Lottinville Award from the University of Oklahoma. Kovach and his wife Soheyla are the co-founders and publishers of MHProNews.com and MHLivingNews.com. He and/or his publications have been referenced by others in mainstream media, the Consumer Financial Protection Bureau (CFPB), the National Association of Realtors (NAR) Journal of Real Estate Studies, federal, university-level, nonprofit, and other sources.
Visit Tampafp.com for Politics, Tampa Area Local News, Sports, and National Headlines. Support journalism by clicking here to our GiveSendGo or sign up for our free newsletter by clicking here.
Android Users, Click Here To Download The Free Press App And Never Miss A Story. Follow Us On Facebook Here Or Twitter Here.
Login To Facebook From Your Browser To Leave A Comment