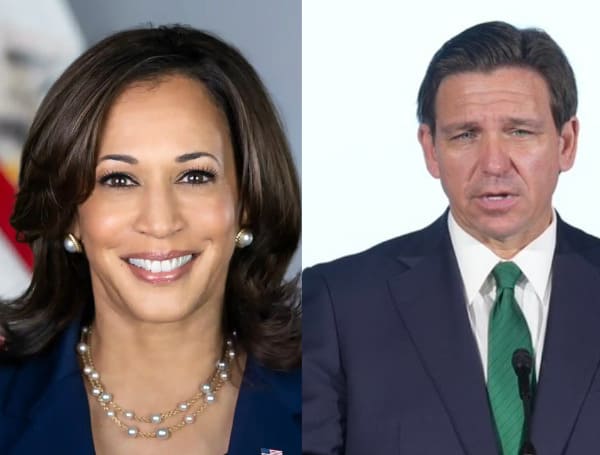 Vice President Kamala Harris on Tuesday rejected an invitation by Gov. Ron DeSantis to "discuss" controversial standards for African American history instruction.
The State Board of Education approved the wide-ranging standards last month, with part of the middle-school curriculum sparking a heated debate.
That part requires instruction to include "how slaves developed skills which, in some instances, could be applied for their personal benefit."
Related news: Gov. DeSantis Invites Vice President Harris To Discuss Florida Black History Standards
During a July 21 appearance in Jacksonville, Harris blasted the standards as "propaganda" being pushed on children.
DeSantis and state education officials, including Education Commissioner Manny Diaz Jr., have defended the standards. In a letter last week to school superintendents, Diaz wrote that the state will "implement these standards swiftly, transparently, and honestly."
DeSantis on Monday invited Harris to discuss the matter. "In Florida we are unafraid to have an open and honest dialogue about the issues. And you clearly have no trouble ducking down to Florida on short notice. So given your grave concern (which, I must assume, is sincere) about what you think our standards say, I am officially inviting you back down to Florida to discuss our African American History standards," DeSantis wrote in a letter.
In the news: IRS Whistleblower Says Prosecutors Sought Jail Time For $67,000 Tax Loss Case, But Gave Hunter A Pass
But Harris declined the invitation as she made an appearance Tuesday in Orlando.
"Now they attempt to legitimize these unnecessary debates with a proposal that most recently came in of a politically motivated roundtable. Well, I'm here in Florida. And I will tell you, there is no roundtable, no lecture, no invitation we will accept to debate an undeniable fact: There were no redeeming qualities of slavery," Harris said.
Harris spoke at the Women's Missionary Society of the African Methodist Episcopal Church Quadrennial Convention.
Android Users, Click To Download The Free Press App And Never Miss A Story. Follow Us On Facebook and Twitter. Signup for our free newsletter.
We can't do this without your help; visit our GiveSendGo page and donate any dollar amount; every penny helps
Login To Facebook To Comment