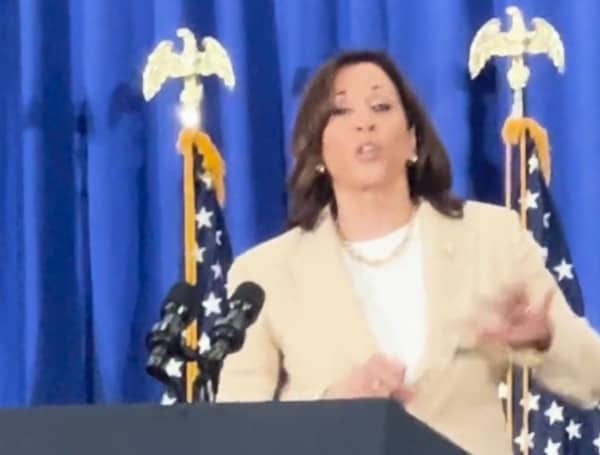 Vice President Kamala Harris laughed at a climate protester in Martha's Vineyard, Massachusetts, who disrupted her weekend remarks to criticize the Biden administration's climate policy in light of the Hawaiian forest fires.
A lone Climate Defiance protester interrupted Harris' talk at the Martha's Vineyard Regional High School, one of several stops on a "grassroots" fundraising tour in the ritzy vacation spot, footage of the incident appears to show, and according to local outlet NBC 10 Boston.
As the protester vocally confronted her about the Hawaiian forest fires, which have killed scores and devastated the island of Maui, Harris laughed and responded awkwardly, the footage shows.
In the news :Former Trump Admin Official Blasts Georgia DA Fani Willis Over Trump Indictment
"Excuse me, Madam Vice President Kamala Harris, we are in a climate emergency and in the midst of a climate emergency," the protester said. "Eighty people are dying, are dying in Hawaii, 80 people have died. Thousands are displaced by the climate chaos and we are there, we are wondering," he continued, before Harris interrupted him and laughed, saying "I'm speaking."
"Yes, I hear you," the Climate Defiance protester shot back. "I'm speaking," Harris repeated.
Climate Defiance is one of numerous disruptive green activism groups that receives funding from Climate Emergency Fund, a nonprofit which receives tax-deductible donations from many wealthy American liberals, such as Hollywood writer Adam McKay and a former attorney for disgraced sexual predator Harvey Weinstein.
Climate Defiance has made headlines this summer for having nine of its activists arrested for crashing the House office building, shouting down Democratic West Virginia Sen. Joe Manchin, and protesting against Energy Secretary Jennifer Granholm to bring attention to climate change, which the group considers to be "an existential crisis that threatens every fiber of every being in every corner of the world," according to its website.
In the news: Vivek Ramaswamy Backs Impeachment Inquiry Against Biden
The group uploaded footage of the weekend's protest to Twitter on Monday, and it characterized Harris' reaction to the disruption as "horrendous."
Neither Climate Defiance nor the White House responded to requests for comment.
Android Users, Click To Download The Free Press App And Never Miss A Story. Follow Us On Facebook and Twitter. Signup for our free newsletter.
We can't do this without your help; visit our GiveSendGo page and donate any dollar amount; every penny helps
Login To Facebook To Comment