Puppies are at a higher risk for contracting parvo than adult dogs. Parvo is a virus that attacks the gastrointestinal system and can be deadly. The virus is spread through contact with infected feces and can live in the environment for months. Puppies that contract parvo will usually show symptoms within 7-14 days.
While there are several horror stories of puppies contracting the parvovirus with devastating consequences, there are some treatments that offer favorable outcomes.
With early treatment, puppies have a good chance of recovering from parvo. To prevent your puppy from contracting parvo, make sure they are up to date on their vaccinations and avoid places where there may be infected feces. Let's take a closer look at puppies and the parvovirus.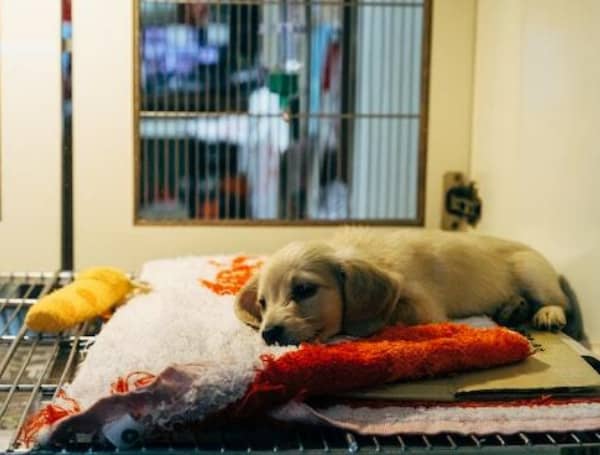 What are the signs of parvo in puppies?
As discussed, parvo is a virus that affects the gastrointestinal tract of dogs. While all dogs can be at risk of contracting the virus, puppies are particularly susceptible to the virus. If a mother is fully vaccinated against parvo, her puppies will inherit antibodies from the mother, which will protect them against the virus during the first six weeks of their lives. But, as the puppies begin to reach six weeks of age, their immune systems weaken, and the young pups become susceptible to the disease. It is a highly contagious disease and can be deadly.
A puppy with parvo is a very sick dog. Since the virus is common in young puppies, you should call your vet any time your puppy is feeling under the weather. However, you need to be aware of the specific symptoms of parvo in puppies so you can catch the virus early and get your dog to the vet. Early parvo symptoms in puppies include vomiting, diarrhea, loss of appetite, and lethargy. If you notice any of these symptoms in your puppy, it could be a sign of parvo or another serious illness. You should contact your vet immediately and let them know your suspicions and what symptoms you've observed. This will allow them to take the appropriate quarantine measures to prevent your puppy from infecting other dogs.
What is the treatment for parvo?
If your vet suspects that your puppy has contracted parvo, they can diagnose it through clinical signs and blood work. They may also run a test called an ELISA to search for virus antigens in your dog's feces. Additional diagnostic testing may also be performed if needed. Once a definitive diagnosis is confirmed, your vet will develop a treatment plan that is right for your puppy.
Unfortunately, there is no cure for parvo. Instead, your vet will offer your puppy supportive care over the course of the illness and attempt to treat the symptoms of the virus. The treatment for parvo is typically antibiotics, fluids, and a high-calorie diet. This will help reduce vomiting and diarrhea and ensure proper hydration and adequate nutrition.
If the puppy has not yet developed any serious health complications from the virus, then there is a good chance of recovery. However, if the puppy's intestines have been severely damaged by the virus, then he or she may require surgery and long-term care. Some puppies do not survive even with aggressive treatment. The dangers of parvo in puppies are primarily due to severe dehydration and lack of nutrients.
What are the chances of a puppy surviving parvo?
Parvo is a potentially fatal disease, and there is no one answer to how a puppy will respond to treatment. This is because there are so many factors that can influence the outcome. In general, though, puppies who are diagnosed and treated early have a better chance of making a full recovery than those who are not diagnosed until later in the disease process. Puppies who are very young or very old tend to be at the highest risk for death from parvo, as do those with compromised immune systems. The survival rate for dogs treated by a veterinarian is between 68 and 92 percent. Statistics also show that a puppy that survives the first three or four days of the illness usually makes a complete recovery.
Overall, the dangers of parvo in puppies are significant and can be deadly in some situations. The virus is highly contagious and can cause severe illness in puppies. It is important to take steps to protect puppies from exposure to the virus through regular vaccinations and to seek veterinary care if a puppy becomes ill.
Visit Tampafp.com for Politics, Sports, and National Headlines. Support journalism by clicking here to our GiveSendGo or sign up for our free newsletter by clicking here.
Android Users, Click Here To Download The Free Press App And Never Miss A Story. Follow Us On Facebook Here Or Twitter Here.
Copyright 2022 The Free Press, LLC, tampafp.com. All rights reserved. This material may not be published, broadcast, rewritten, or redistributed.
Login To Facebook From Your Browser To Leave A Comment