TAMPA, Fla.- The first game in Bucs history occurred 43 years ago, as the NFL's shiny new franchise opened against the Oilers inside Houston's famed Astrodome. Dispatched by head coach John McKay, a determined Bucs bunch left the visiting locker room and headed for the field.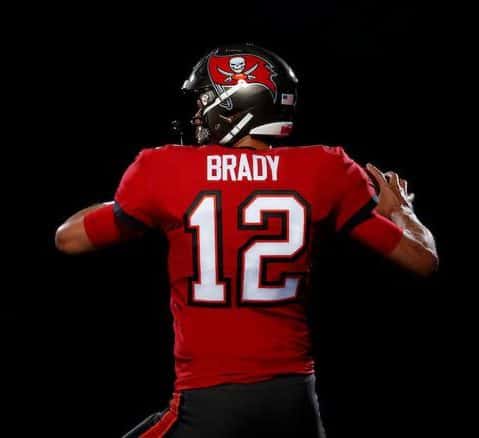 "We started walking," said Mark Cotney, a starting safety on that 1976 team. "And walking. And walking. What are we doing? We weren't even in a hallway after a while. It was like a narrow little walkway. We're having to line up single file. I'm thinking, 'We're freaking lost man.'"
The TV telecast opened with the Oilers on the field, but no sign of the Bucs. They were lost in the catacombs. Somewhere in there, one Buc, long forgotten, called out.
"I think we're going the wrong way."
He didn't know the half of it.
The Bucs were late to their first game. They lost 20-0 that afternoon, and an NFL record 25 times after that before they ever won.
Fast forward. Very forward.
Somehow, against all odds, the NFL season is here. Sunday, the Bucs begin anew, in a post-COVID way we never could have imagined, in another barn, the cavernous and mostly empty Superdome in New Orleans, against the Saints, a Bucs opener for the ages – and aged.
And Tom Brady will be quarterback.
Are the lost years at an end?
Jameis Winston, who will be a back-up QB on the Saints sideline, is a bad memory, nothing more. The TB12 era begins, in all its wonder, and wondering. For all the twists and turns it took to get here, this is the most anticipated opener in Bucs history. And it's the best story line in the NFL. Nothing else is even close.
The Bucs haven't made the postseason since 2007, the second-longest dry gulch in team history. But they have transformed themselves with one slick swoop, with the greatest quarterback of all time, a game changer for a new kind of Bucs season. Everyone wants to play with Brady. The apparent turnaround has been so remarkable that Bucs GM Jason Licht looks like a candidate for executive of the year, though Licht did have to cut Matt Gay, another one of his drafted kickers, a reminder that Licht is a dunce whom Brady has to save.
To the matchup: Act One will pit Brady against fellow future Hall of Famer Drew Brees, They are 43 and 41, respectively, football redwoods. You can cut them open and count the rings. Brees has one of them, Brady has six.
The bear is out there for both these guys. One day one or both of them will wake up and realize how old they are. Who will go first? Will this be the season when the bear hunts down Brady down, finally? He has looked good in the preseason, what there has been of it, anyway but preseason isn't season. 43 is 43. Brady takes fanatical care of himself to stay perpetually young, what he eats, how he hydrates, without so much as making a deal with the devil or eating one beating human heart. He's on the up and up. But one blind-side hit would change everything.
The question hangs in the air. Really, Brady's ability to cheat Father Time is the question that could make or break this Bucs season. He is the biggest question mark. The Bucs have superb receivers and approximately 1,000 tight ends. They have better running backs than in recent memory, including new addition Leonard Fournette. The offensive line, though weak on the right side, is generally passable.
The defense made great strides in the second half of last season. Shaq Barrett became a story book edge rusher. The Bucs have star linebackers in Lavonte David and second-year pro Devin White. The secondary will be better, especially with rookie Antoine Winfield Jr. And there is head coach Bruce Arians, a robust talent unto himself.
No, Brady and the age he is carrying, that's the biggest question mark. Will he defy his years? He really didn't play a great game in his final season in New England. He was even a dinker and dunker in his last Super Bowl campaign. I'm not sure Arians will have the patience or restraint not to push the outside of the envelope, testing Brady's arm, or what Mike Evans will do the 63rd time Brady goes to his buddy boy Rob Gronkowski instead of airing it out. Will the Bucs have the patience? Peyton Manning won a Super Bowl in Denver checking down all the way and letting the defense run the show. The Bucs, improved as they are, don't have that kind of defense.
And the years-long lament that Brady has never had talent like this around him, and that's why he was on a downward trend in New England, well now comes the acid test.
I can see the Bucs winning Sunday. A crowd won't be a factor. And they have won in New Orleans before, including that stunner a couple of seasons ago, when Ryan Fitzpatrick, super sub, became the talk of the NFL in place of Winston. Yeah, the 2018 Bucs began 2-0 that season. They finished 5-11, ushering in yet another coaching change.
You never know with the Bucs when it comes to openers. The worst was 2015. Lovie Smith's final Bucs season kicked off with a rousing disaster, a 42-14 loss to Tennessee in Tampa. Winston's first Bucs pass (like his last Bucs pass) was intercepted and returned for a touchdown. Marcus Mariota, the QB the Bucs didn't take in the draft, had four touchdown passes by halftime. The Bucs went 6-10. Tennessee went 3-13. Turns out both Winston and Mariota stunk.
But there is also the best: Bucs 13, 49ers 6 to open the 1997 season. Tony Dungy and defense trumpeted a new kind of Bucs. The defense knocked both Steve Young and Jerry Rice from the game. The Bucs announced their presence with authority, went 10-6 and won their first playoff game in 18 years.
What'll it be Sunday?
Brady and his teammates will find their way to this game. They don't feel lost anymore.
But are they going the right way?
Let's find out.
Publishers Note: While The Free Press will always be free for our readers, and ad-supported, we are asking our loyal readers to consider a monthly donation of $3 to maintain our local journalism and help us grow, as we ramp up ad sales locally.
We thank you all for your consideration and for supporting local journalism
Login To Facebook From Your Browser To Leave A Comment