Hillsborough County, Fla.- A 20-year-old Hillsborough County man is facing murder charges after he shot and killed a victim Sunday morning.
On March 7, 2021, shortly after 7:00 a.m., the Hillsborough County Sheriff's Office received a phone call from a complainant reporting that a victim had been shot on the 4000 block of Broad Street W in Tampa.
Upon arrival, deputies discovered a single victim with an apparent gunshot wound to the upper body. The victim was transported to a local hospital. Despite attempted life-saving measures, the victim died as a result of the injury sustained. 
Detectives learned that the suspect, Ledsuy Sanchez Sanchez, and the victim, who were known to each other, were involved in a verbal altercation prior to the shooting taking place. Sanchez Sanchez then attempted to tamper and conceal the firearm and other evidence from the scene on two separate occasions.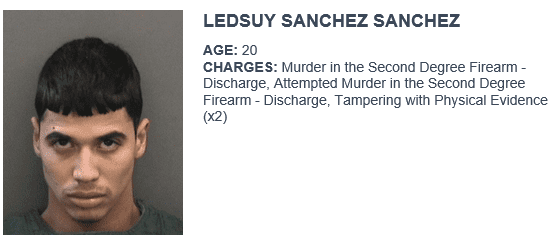 "Our team of detectives was quickly able to identify and take into custody this suspect, who knowingly and wrongfully chose to end another person's life," said Sheriff Chad Chronister. "While we will never be able to rewrite this story, I hope the family and friends of the victim find some solace that this suspect will remain behind bars, where he is being held on no bond for the murder of this victim. " 
Sanchez Sanchez is facing charges of Murder in the Second Degree Firearm – Discharge, Attempted Murder in the Second Degree Firearm – Discharge, and two counts of Tampering with Physical Evidence.
Subscribe to our newsletter!
Login To Facebook From Your Browser To Leave A Comment