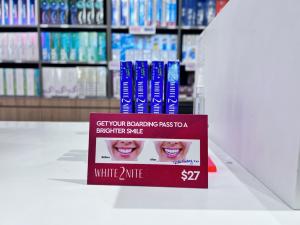 "Boarding Pass To A Brighter Smile"
WHITE2NITE, Natural Teeth Whitening Pen
3Sixty The Global Duty Free retailer offers WHITE2NITE, "The Natural Teeth Whitening Pen" in store and in flight.
MIAMI, FLORIDA, UNITED STATES, February 1, 2023 /EINPresswire.com/ — 3Sixty Duty Free, a global leader in omni channel retail solutions, has added White2Nite – "The Natural Beauty Teeth Whitening Pen" to its prestigious collection of beauty brands.
Developed by 40-year oral care beauty pioneer Dale Audrey, RDH is the first to bring to market White2Nite, the Natural Beauty Pen to their in-flight magazines and duty-free store locations around the world. The products are now available on Virgin Atlantic, EL AL & Rwanda Air, as well as 3Sixty's online stores for home delivery and all their physical retail locations.
"In our world today, everyone can use a smile and White2Nite will now offer that to millions of passengers together with our valued partnership with 3Sixty, a world-class operator with beautiful stores and the greatest product lines on the planet," said CEO Dale Audrey RDH.
As the global markets turn towards record levels of travel, more natural and environmentally friendly products are in demand by today's consumers. White2Nite and Dale Audrey RDH have led in the natural space since 2007, selling at Whole Foods and other premium retailers in US and Canada, as well as having incredible traction in beauty through high-end spa and salon partners.
3Sixty's Vice President of Perfume and Cosmetics, Jeanine Pollakusky said "This partnership with White2Nite aligns with 3Sixty's global retail strategy – joining forces with key vendors and bringing to market sustainable products to travelers around the world."
The Pen is designed to go anywhere and be used anytime with no trays or lights, and zero sensitivity while delivering immediate results. Imagine taking a flight across the pond and landing with a brighter smile.
"Today's consumers are looking for quality products developed by quality companies and sold through quality retailers. We have checked every box over the last 15 years to deliver only the best products to our loyal consumers. Now together with 3Sixty, we will be able to continue that long-term commitment to a broader market" says Roy Perlmuter President of Oral Fitness Inc, the parent company.
About 3Sixty:
3Sixty (formerly DFASS Group) is the world's leading inflight duty-free retailer, with a growing presence in airport duty free and duty paid retail in the Americas. 3Sixty specializes in helping consumers and businesses access the enticing world of travel retail. Our partnerships with suppliers of the world's premium brands, our global reach, innovative marketing, state of the art technology, customized training and motivation, competitive financial support, logistics and inventory-management, allow 3Sixty to offer seamless retail transactions to thousands of airline customers each day – on the ground and in the air. For more information visit 3Sixtydutyfree.com.
About WHITE2NITE
About WHITE2NITE /by Dale Audrey R.D.H./Oral Fitness Inc.
Founded in 2007, Oral Fitness Inc. by Dale Audrey R.D.H., brought a whole new kind of natural oral care product to the market. As the daughter of a successful periodontist, Dale Audrey R.D.H. witnessed firsthand the importance of proper oral hygiene. Fueled by a passion for helping consumers get the products they need to take care of their oral health, Audrey developed a line of all-natural oral health products that can be found available on the company's website and in stores across the U.S. including Whole Foods, Natural Grocers, Central Markets, Erewhon, Mothers Markets, Mom's Organic Markets, and many more. For more information about the company and to view its products, visit DaleAudrey.com.
Media Contact:
3Sixty
Rachel Hyatt
Corporate Communications
Tel: +1305 319 2450
Email: r.hyatt@3sixtydutyfree.com
Oral Fitness Inc Bio:
Media Contact
Barb Fein
Public Relations
Tel: +1877-866-8447
Email: sales@daleaudrey.com
Dale Ungar
Oral Fitness Inc
+1 877-866-8447
email us here
Visit us on social media:
Facebook
Twitter
LinkedIn
Instagram
YouTube
TikTok
Login To Facebook From Your Browser To Leave A Comment