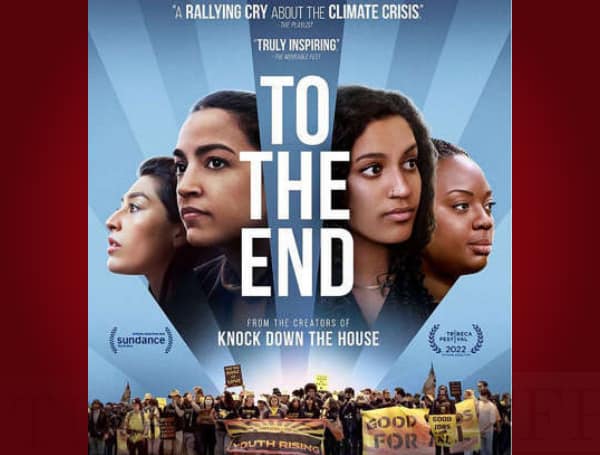 After an unexpected primary win in 2018, left-wing Democratic Rep. Alexandria Ocasio-Cortez burst onto the political scene with a demand for the Green New Deal, a massive boondoggle intended to overhaul the entire U.S. economy based on carbon emissions from, among other sources, farting cattle.
Last weekend, she released a new documentary about the effort to push through climate-change legislation, starring herself and some other green-energy activists, all of whom were women of color, by the way. Take that, Greta Thunberg.
Four years in the making, "To the End," according to the website for the film, "captures the emergence of a new generation of leaders and the movement behind the most sweeping climate change legislation in U.S. history."
That may be what it was about. But audiences could not have cared less, despite gushing reviews from left-wing media, such as The New York Times, which declared AOC "offers the best onscreen antidote to despair — she's funny, a canny political strategy."
In the news: Disney Sued By Investor, Saying Florida Governor DeSantis Brawl Put Stockholders At Risk
According to Fox News, the film debuted on more than 120 screens nationwide over the weekend.
It pulled in a paltry $10,000.
That amounts to about $80 per theater.
Conservatives hooted about AOC's massive flop, which consumed untold amounts of energy in theaters for a literal handful of fans in each.
Commentator Dinesh D'Souza, who himself has made documentaries, said on Twitter, "I'm laughing heartily because the new @AOC film on climate change 'To the End' got rave reviews from the usual robotic left-wing claque but still generated a miserable $80 per theater. Over multiple days with multiple showings, she sold around 8 tickets per theater. Major bomb!"
Another commenter on Twitter added, "Curious how many ticket buyers were able to make it 'to the end' of the film."
Fox News noted in its report of the big-screen debacle, "Several Oscar-bait films lauded during film festivals have struggled to excel in theaters this year, with critics attributing the audience drop-off to the rise in streaming platforms, audiences' increasing distrust in critic scores, and topics that do not interest a large swathe of the public."
"The latter factor may have been the largest contributor to the film's meager earnings, with climate change documentaries in the last several years failing to draw in a substantial audience."
Perhaps it was the casting.
Visit Tampafp.com for Politics, Sports, and National Headlines, or signup for our free newsletter by clicking here.
Android Users, Click Here To Download The Free Press App And Never Miss A Story. Follow Us On Facebook Here Or Twitter Here.
Login To Facebook From Your Browser To Leave A Comment