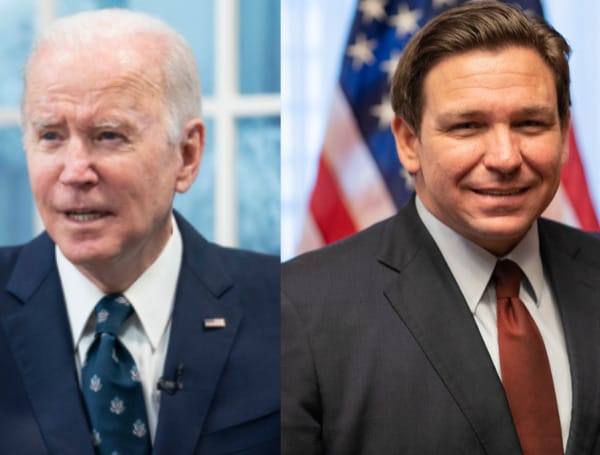 Hurricane Ian is set to literally swamp much of Florida's west coast with torrential rains, triggering an emergency response from state and local authorities about flooding and wind damage.
But amid what could be the worst storm the Sunshine State has faced since Hurricane Michael four years ago, President Joe Biden apparently cannot pick up a phone to ask Gov. Ron DeSantis what resources the state may need.
White House spokeswoman Karine Jean-Pierre told reporters at a briefing on Monday that Biden had approved an emergency declaration for 20 counties in Florida because "that is the most important thing, to make sure that we are there for them in this time of need."
"It's about the people of Florida. It's not about public officials, especially in this time," she added, according to The Hill, whose headline — "White House, DeSantis put politics aside amid Hurricane Ian response" — seemed to be betrayed a few paragraphs later.
"The administration was adamant on Monday that any strife with DeSantis would not hinder the federal response to a natural disaster, even if there is no direct contact with the governor. Jean-Pierre said Biden had not spoken with DeSantis about the impending storm," The Hill noted.
The Washington Examiner noted that Jean-Pierre "dodged multiple questions" about the lack of direct communication between Washington and Tallahassee.
And when she did respond, Jean-Pierre revealed that Biden apparently has a problem with GOP governors.
Pressed by reporters about the optics of refusing to talk with DeSantis, Jean-Pierre admitted that Biden also did not speak to Mississippi Republican Gov. Tate Reeves during the recent water crisis in Jackson, Mississippi, even though the federal government provided resources.   
Login To Facebook From Your Browser To Leave A Comment