California Governor Gavin Newsom may want to read the 'full story' before throwing a punch at a fellow governor.
In Hollywood Beach, Florida, nine people were wounded over the weekend when gunfire broke out along a beachside promenade, sending people frantically running for cover along the crowded beach on Memorial Day.
Two men who police believe were involved in the shooting have been arrested, and investigators were looking for three other people who could be connected to the incident, a police spokesperson said Tuesday.
In the news: One Suspect Detained In Florida Beach Shooting Of 5 Adults, 4 Children On Memorial Day
The shooting happened on the Hollywood Oceanfront Broadwalk near a convenience store, a Ben & Jerry's ice cream store, and a Subway sandwich shop. 
Police spokesperson Deanna Bettineschi said four children between the ages of 1 and 17 were hit, along with five adults between 25 and 65.
Police said five handguns were recovered, including two stolen, one from nearby Miami-Dade County and one from Texas.
This is where Newsom comes in: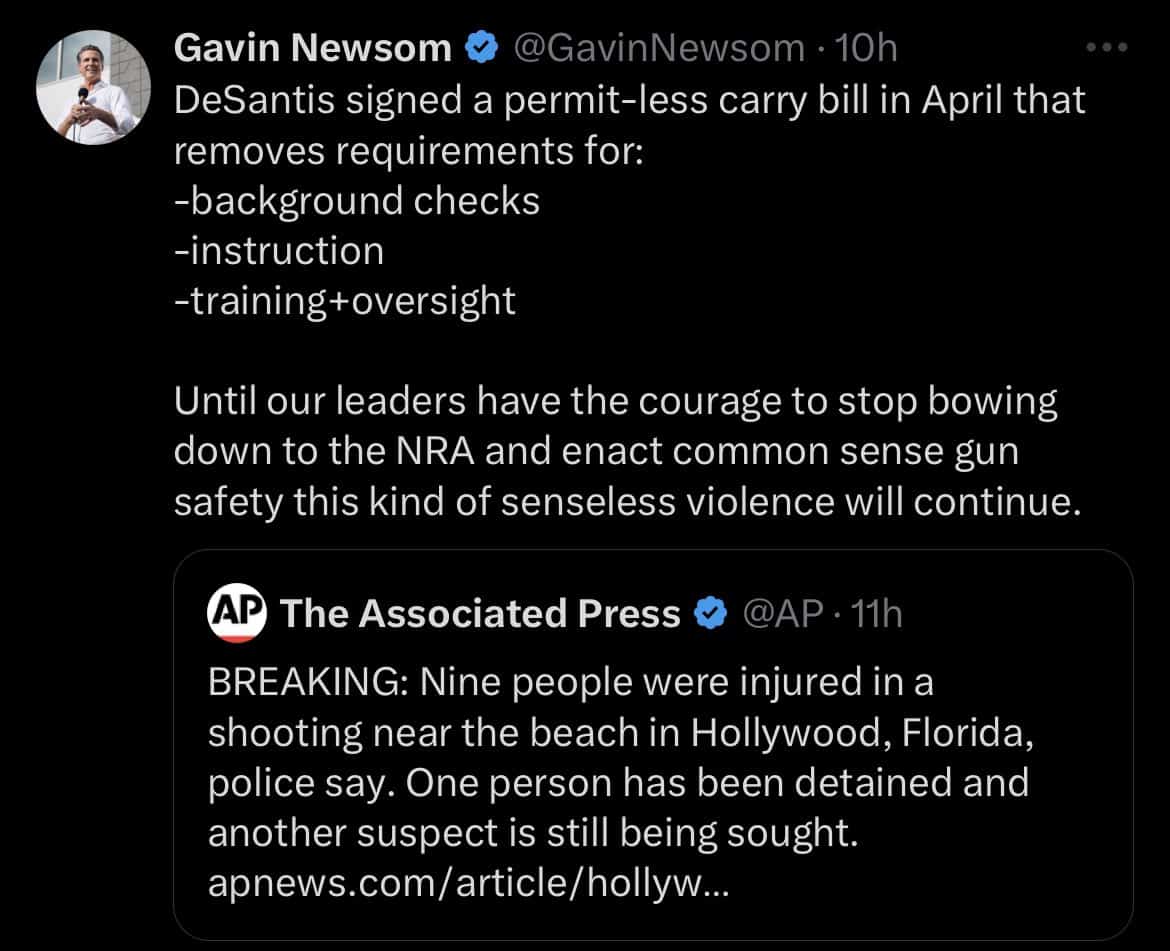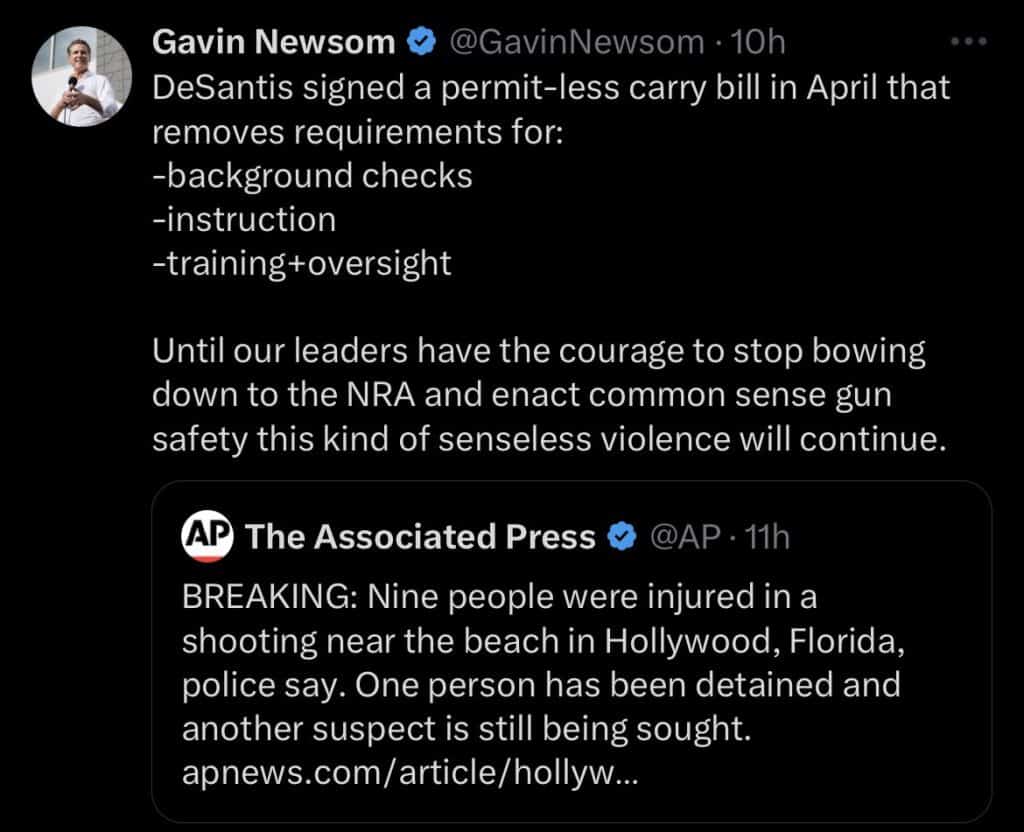 "DeSantis signed a permit-less carry bill in April that removes requirements for:
background checks
instruction
training+oversight
Until our leaders have the courage to stop bowing down to the NRA and enact common sense gun safety, this kind of senseless violence will continue," tweeted Newsom.
There's only one problem, actually two; the law that Newsom tweets about doesn't go into effect until July 1, 2023, and the suspect's police are looking for all appear to be young, possibly teens.
Not to mention, two of the handguns recovered by police were stolen.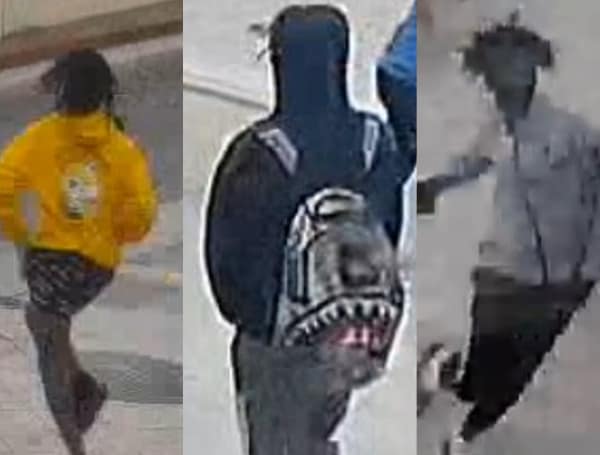 DeSantis press secretary Jeremy Redfern replied shortly afterward, noting that the bill Newsom referenced is not yet in effect.
"Hi Gavin," Redfern said. "How does a law that doesn't take effect until July 1st change this outcome?" 
Newsom's claims about the constitutional carry law removing requirements for background checks are also misleading.
The law allows eligible citizens 21 years of age and up to carry without asking the government for a permit or paying a fee. The legislation does not change who is eligible to obtain a carry permit, and those who still wish to get a permit may do so under the law. 
In the news: Florida Gov. DeSantis Says Debt Deal Doesn't Slow America's March Toward Bankruptcy
"Gavin Newsom's moronic effort to chastise DeSantis for signing Florida's permitless carry law shows a level of foolishness I didn't think was possible," said CCRKBA Chairman Alan Gottlieb. "Maybe Newsom was so busy railing against DeSantis he didn't notice three weekend shootings in Oakland, a triple-shooting Saturday in Garden Grove or shooting incidents in Fresno that left one man dead and another man wounded.
"For a man serving as chief executive of a state with horribly restrictive gun laws that haven't curbed the violence, Gavin Newsom has nothing to brag about," he continued. "California's gun laws didn't prevent two mass shootings in January of this year, or the Mojave shooting last month. The laws didn't stop the Isla Vista murders in 2014, or San Bernardino in 2015. Ten people were killed in San Jose in May 2021. Maybe Newsom wasn't in town in April 2022 when six people were murdered in a mass shooting in Sacramento.
"Look at any violent crime chart, and California always exceeds Florida in the number of homicides," Gottlieb added. "Newsom can bask in the warm glow of symbolism provided by Everytown for Gun Safety, which incredulously claims California gun policies save lives, even if the numbers disagree. Facts don't matter to the gun ban crowd."
In the news: Florida Gov. DeSantis Signs 'Constitutional Carry' Bill, Goes Into Effect On July 1, 2023
"Maybe Newsom is pointing a finger at Florida and DeSantis in an effort to distract public attention from his failures in his own state," Gottlieb said. "More people are leaving California and heading to Second Amendment-friendly states such as Florida and Texas. Maybe all of those people just want to live in a state that allows them the ability to defend themselves and fight back."
Some California Headlines From The Holiday Weekend:
3 Vietnamese men wounded at hot pot restaurant shooting in Garden Grove, California
California AG's office investigating deadly police shooting at Burbank Home Depot
2 Critically Injured In Garden Grove Restaurant Shooting
1 killed, 1 wounded in double San Jose shooting near Highway 87
Fresno police: Man in critical condition after Tower District shooting
Suspect shot by police after 4 people stabbed in Long Beach
Cemetery Worker Accused In Shooting, Had Brass Knuckles, Baton: SRPD
Android Users, Click To Download The Free Press App And Never Miss A Story. Follow Us On Facebook and Twitter. Signup for our free newsletter.
We can't do this without your help; visit our GiveSendGo page and donate any dollar amount; every penny helps.
Login To Facebook To Comment