PALM HARBOR, Fla. – Can you wolf down a burger and all its trimmings nearly the height of a human head in just 20 minutes? Dozens of confident entries coming from across Tampa Bay attest that many people think that they can.
On October 30th at 6 pm, following Covid-19 protocol, three socially-distanced, randomly-selected contestants will remove their masks to try their luck eating a newly-created Monster Burger at The Green Table Restaurant to celebrate Halloween.
Opened in 2018 by husband and wife team, Rafi and Niki Yezli, The Green Table Restaurant is an award-winning, vegan restaurant that offers a wide variety of farm-to-table, made-from-scratch meals. In the heart of Palm Harbor, the restaurant boasts both a 2020 Tampa Bay Times People's Choice Award and a 2019 Creative Loafing Best of the Bay Award.
At The Green Table Restaurant, the laminated menu had to be printed legal size to accommodate all the different meal options. A huge blackboard, nearly covering the left wall, features in colorful chalk the limited-time items, not on the regular menu – ideas that Niki dreams up that often become customer favorites and find themselves moved to the permanent menu.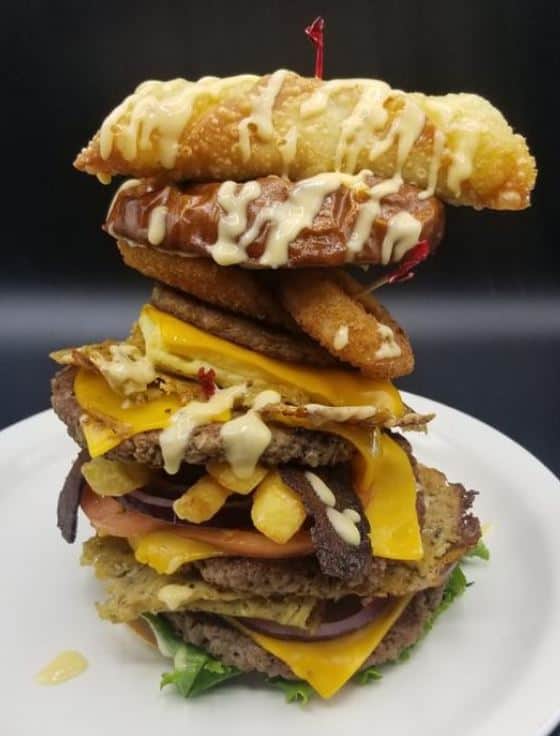 From brunch items like Tofu Scramble and vegan pancakes to lunch items of schwarma, gyros, salads, veggies, and burgers with names like Mack Stack, Tank, and Wowper, this restaurant features eclectic offerings to please even the most finicky eater. Niki and Rafi are also proud to showcase desserts from other local small vegan businesses in the area.
Niki recently launched Kitchen Whichery, her "plant-based magick" line of seitan and vegan sauces:  Maisy Naisy, Kettle Sauce, BBQ Saucery, and Lemon Tahini. 
Appropriate to keep the vampires away on Halloween Eve, competitors will be enjoying the garlic goodness of Maisy Naisy on their Monster Burger.
This Frankenstein of a burger is made up of three Impossible Cheeseburger patties topped with the restaurant's brand, Kitchen Whichery Seitan, vegan bacon, fried pickles, Just Egg patty, Impossible sausage, onion rings, fries, lettuce, tomato, onions, smothered in Kitchen Whichery Maisy Naisy Sauce, on a pretzel bun doused in melted beer cheese. If that's not scary enough, competitors must wash it down with a Pumpkin Milkshake.
"That's how we do the Monster Mash round here," joked Niki.
While it looks and, 5-star rating proves, it will taste absolutely delicious, you probably shouldn't eat for 12 hours before to make room for such a gastronomic undertaking. There's a $75 gift card on the line for the first competitor of the three to clean his plate.
If you on the brave side and have a mighty big appetite, The Monster Burger Challenge is still accepting submissions through today.
Learn more and register for your chance at http://thegreentablerestaurant.com/monster-burger-challenge-registration.
Publishers Note: While The Free Press will always be free for our readers, and ad-supported, we are asking our loyal readers to consider a monthly donation of $3 to maintain our local journalism and help us grow, as we ramp up ad sales locally.
We thank you all for your consideration and for supporting local journalism
Login To Facebook To Comment