If you're thinking of chartering a fishing boat in Tampa for the first time, you likely have a lot of questions. Any expert would tell you that if you don't have a lot of fishing experience, this is a great way to learn a lot in a short amount of time.
You'll gain incredible knowledge from expert anglers with decades of experience. This quick guide will help you prepare for your trip.
Things to Do Before You Go
Planning and preparing are the most important things to do leading up to your trip. If you're unsure about what to think about or what to consider, read through the following sections and you'll learn what steps you need to take before heading out on the boat.
Research Charters
The first thing you want to do is research charters in the area. There are many sites out there like Fishingbooker.com to help you learn about the best double threat charters, what makes them the best, and what an average fishing trip with them looks like.
Read about the crew and the captain of the boat. These people will determine how your trip goes. Some charters allow for things like alcohol while others have strict rules against it.
Think about where you want to go on the trip. Some charters are deep sea while others remain in the bay and surrounding canals. There are many charters that focus entirely on inshore fishing because they don't have the proper horsepower. Even the best saltwater trolling motor can't handle the ocean waves.
Decide on a Goal
Every fishing charter has certain characteristics that make it unique. Some focus on a specific species of fish while others are more geared towards educating people on deep sea fishing.
You want to think about what you're looking to get out of the trip. Much of this can be communicated with the captain and they can let you know if they are the right fit. Many will even recommend other boats that will take you to the places you want to go and provide the experience you want.
In some cases, there are charters that will focus more on the overall boating experience instead of a fishing trip. They'll have food, drinks, and relaxation time with a little bit of fishing sprinkled in. If you're traveling with family or children, this might be a better option for you.
Many charters will offer special rates and activities around holidays as well. Summer holidays like Independence Day and Memorial Day are great examples of this. They may also offer discounts for Veterans and Military members.
How Much Time Do You Want to Spend?
Spending an entire day on the water might seem like a dream but sunburns and motion sickness can quickly put a damper on your trip. For some, spending more than a few hours is out of the question. Be sure to ask questions about how long the trip is before committing to anything extreme.
Consider What's Included
Make sure you ask about the policies of the boat. Some things to consider are:
Alcohol
Smoking
Food
Gear
Fuel costs
Some captains have really loose restrictions while others won't allow you to drink, smoke, or eat and they'll require you to bring some of your own fishing gear. Most boats will make all of these policies crystal clear ahead of time, but just be prepared.
Preparing For Your Trip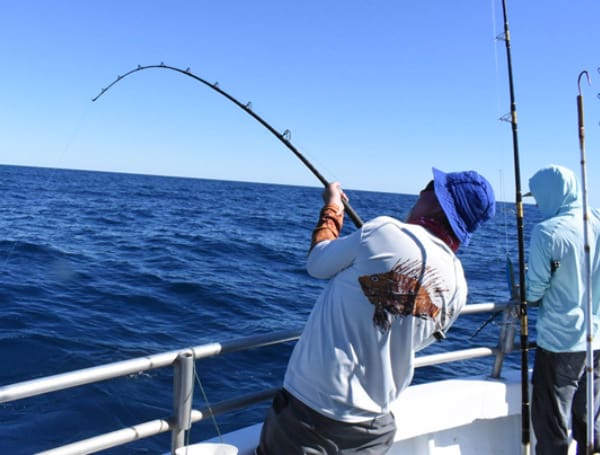 Now that you understand everything about planning your trip, let's talk about preparing for it. What you pack will depend on the season but there are some things you'll want to bring no matter what.
If you're looking for a quick list of things to bring, here it is:
Durable sneakers
Sunscreen
Sunglasses
Sea-sickness medication
Backpack or drawstring bag
Cooler for drinks (if permitted)
Plenty of water
Extra clothes
Make sure you bring a comfortable and sturdy pair of sneakers. If you hit rough water, you want to make sure you're not sliding around the boat. Sunscreen is another essential item that you'll need to protect you from the elements.
While this might not apply to everyone, sea-sickness can sneak up on you even if you've never experienced motion sickness in your life. If you hit a patch of rough water or some less than desirable weather, the water can get choppy really quick.
Bring a backpack or some type of storage bag to keep all your stuff and if allowed, a cooler with drinks of your choice is a nice touch.
While You're On The Boat
What happens when you get on the boat? You'll get introduced to the crew that will be assisting you. Some boats will have a full crew consisting of cooks, food servers, and fishermen while other boats may only have a captain and one deckhand. It all depends on what type of charter you're on.
Once you get on the boat, the captain will go through the plan for the day, explain some of the safety measures, and talk about where you're going and what type of fish you're after. This is your chance to ask questions if you have any.
Keep in mind that you may not be the only group on the boat. Some charters can fit 10-15 people so you will likely share the day with other parties.
The Most Recommended Charters In Tampa
If you're seriously considering a fishing charter in Tampa, here are some of the most recommended choices.
Final Thoughts
No guide is going to prepare you for what you'll experience on the boat but that's part of the fun.
You could end up having the best time of your life, catching a ton of fish, and creating wonderful memories with family and friends. Or, you could end up with nothing. That's the way the game goes but no matter what, chartering a boat is a great way to experience fishing with the help of experts who are there to ensure you have a good time.
Visit Tampafp.com for Politics, Tampa Area Local News, Sports, and National Headlines. Support journalism by clicking here to our GiveSendGo or sign up for our free newsletter by clicking here.
Android Users, Click Here To Download The Free Press App And Never Miss A Story. Follow Us On Facebook Here Or Twitter Here.
Login To Facebook From Your Browser To Leave A Comment