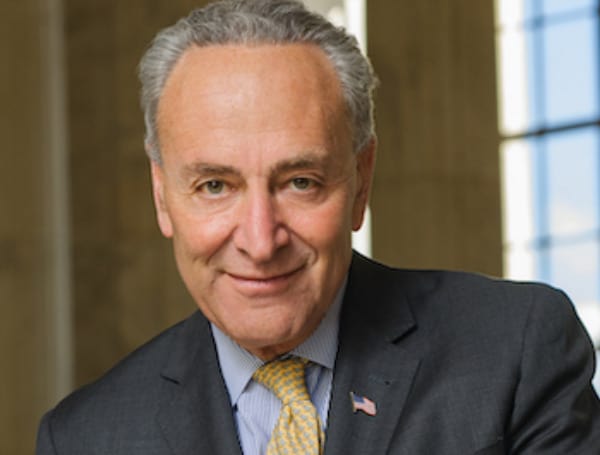 Florida Gov. Ron DeSantis' office fired back at a top Democrat's claim that America needs mass amnesty for millions of illegal immigrants because U.S. citizens are not "reproducing enough."
According to the conservative website Florida's Voice, a DeSantis spokesman asserted that the problem is not a shortage of workers. Rather, it is that Democrats in Washington have removed incentives for people to get back to work.
"We don't have a worker shortage, we have a skilled training shortage, and the federal government has incentivized people to remain out of the workforce," DeSantis' spokesman Bryan Griffin said Wednesday night.
Griffin was answering comments made earlier Wednesday by Senate Majority Leader Chuck Schumer.
As The Free Press reported, Schumer called for immediate legal protections for the "Dreamers," or illegal immigrants who were brought to America as children, and amnesty for the estimated 11 million illegal immigrants in the United States.
"We're short of workers," Schumer said at a Capitol Hill press conference.
"We have a population that is not reproducing on its own with the same level that it used to. The only way we're going to have a good future in America is if we welcome and embrace immigrants, the Dreamers, and all of them, 'cause our ultimate goal is to help the Dreamers but get a path to citizenship for all 11 million or however many undocumented that are here, and we will be pursuing that in the next Senate, in the Senate, the comprehensive immigration reform."
Yet with his remarks, as conservative commentator Ben Shapiro pointed out, Schumer is advocating for the "Great Replacement Theory."
The theory holds that liberal elites in the U.S. and other Western nations support mass, unchecked immigration from Third World nations as a way to dilute the political and cultural power of whites. The argument is that these liberal elites believe the newcomers will reward them politically for opening the gates to a rising tide of immigration.
Liberals have long criticized and dismissed the idea as both racist and a conspiracy theory.
Yet Schumer is outspokenly calling for it, first by seeking to grant 11 million illegals citizenship and then doing nothing to close the border Biden has thrown open.
In his comments Wednesday, the New York senator noted, "Latino voters and most Americans understand the stark difference between our values and those of Republican candidates."
Schumer's comments also revealed a blatant hypocrisy.
Schumer is one of the most radical advocates for abortion in Congress. It rings hollow for a lawmaker to complain that Americans aren't "reproducing" enough after brazenly supporting the slaughter of more than 60 million lives in the womb over the past 50 years.
In response to Schumer, according to Florida's Voice, Griffin added that Gov. DeSantis has championed workforce education and development to give current, native Americans the skills to succeed.
"Governor DeSantis wants Florida to become the best state in the nation for workforce development by 2030," he added.
As examples, Griffin pointed out that DeSantis has promoted technical job training and experience as an alternative to "traditional and expensive" four-year college degrees. Such training allows recipients to avoid debt, develop skills in desirable trades and boost self-sufficiency and "economic elevation."
Visit Tampafp.com for Politics, Sports, and National Headlines.
Android Users, Click Here To Download The Free Press App And Never Miss A Story. Follow Us On Facebook Here Or Twitter Here.
Login To Facebook From Your Browser To Leave A Comment