HILLSBOROUGH COUNTY, The Hillsborough County Sheriff's Office arrested three people who are believed to be connected to efforts to bring drugs into the Falkenburg Road Jail.
On March 30, 2021, intelligence was gathered that a nurse, employed by NaphCare, a company contracted by the Hillsborough County Sheriff's Office to provide medical services within the detention facilities, was bringing narcotics into the Falkenburg Road Jail facility.
Through investigative means, detectives were able to identify the nurse as Michelle Alaine Lipinski, 32, who was assigned by NaphCare to work in the detention facility in December of 2020.
The investigation revealed Lipinski was providing narcotics to an inmate, Seneca Oryan Dukes, 40, who was booked into jail on July 21, 2020, for active Violation of Probation warrants. Detectives learned Dukes was then selling the narcotics to other inmates within the detention facility.
On April 2, 2021, Michelle Lipinksi was arrested when she arrived at the detention facility for work.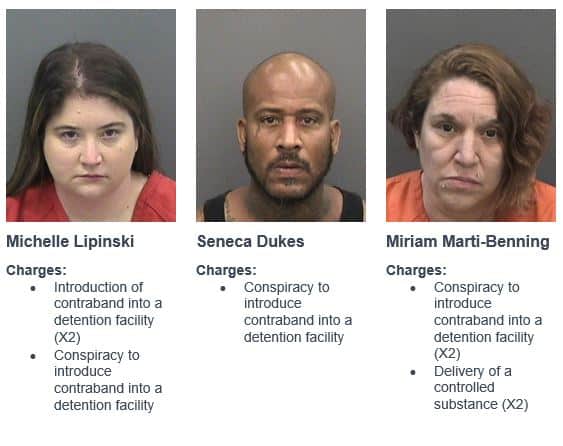 As the investigation continued, detectives connected a third person, Miriam Marti-Benning, 46, an associate of Dukes, to this crime. Marti-Benning was arrested on April 5, 2021.
During a post-Miranda interview, Marti-Benning told detectives she picked up narcotics, Heroin and Methamphetamine, from a man and brought them to Lipinski so that the drugs could be given to Dukes and then distributed to others within the jail.
OTHER NEWS: 60 Minutes Narrative On Gov. DeSantis and Publix Falls Apart
The investigation is ongoing to determine if other individuals are involved. All further updates will be provided by the Public Affairs Office.
OTHER NEWS: 2 Men On The Terror Watch List Apprehended Illegally Crossing Southern Border
Login To Facebook From Your Browser To Leave A Comment